For all your drywall repair needs, look no further than Mr. Handyman of Central MetroWest. Our experienced team is well-equipped to handle a wide range of drywall repairs. From mudding to sanding and joint taping, we'll get the job done right and have your drywall looking perfect in no time.
We serve Central MetroWest and the surrounding communities, including Hopkinton, Sheldonville, Woodville, Ashland, Milford, South Easton, North Attleboro, Bellingham, Southborough, Franklin, North Grafton, and Chartley.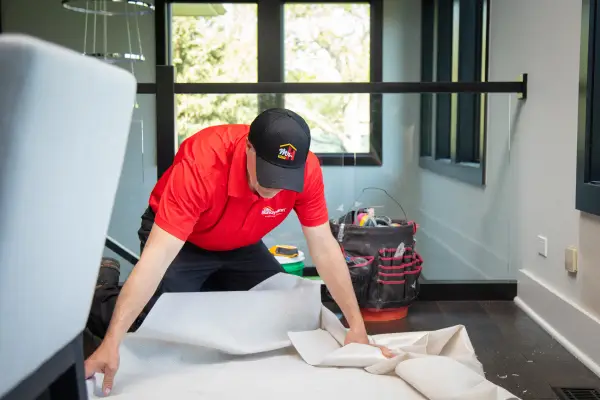 Drywall Repair Services
Our drywall repair services include fixing cracks, holes, and ceiling damage. Not only do we repair the drywall, but we also address the root cause to prevent future damage.
Drywall Ceiling Repair


Ceiling problems can be caused by a number of things, including water leaks, ventilation problems, and more. Our team will identify the cause and address it before we make drywall ceiling repairs so it doesn't happen again.
Drywall Crack Repair


Many things can create cracks in your drywall, including a house settling and excess moisture drying out. Our drywall pros can fix the crack and enhance the structural integrity of the drywall, restoring it to its original condition.
Drywall Hole Repair


Drywall holes can be the result of furniture banging into it, doors slamming into the wall, and more. Our experts know how much of the drywall to cut away and, depending on the size of the hole, how to make it structurally stable, whether by replacing the drywall or patching it.
Drywall Installation and Finishing


Our drywall installation and finishing work is second to none. Mr. Handyman provides a number of services, including finishing and repair work on sheetrock, cement board, gypsum board, green board, and more.
We handle every step of the installation process, including precise measurements, cutting, hanging, mudding, sanding, crown molding installation, and painting. You can rely on us for a comprehensive and professional installation experience.
If you're looking for a company that delivers all-in-one drywall services as well as a wide variety of related handyman services, call the experts at Mr. Handyman of Central Metrowest today!