Mr. Handyman serving Clairemont and La Jolla Areas understands hiring a drywall repair specialist can be challenging, often making you wonder if you are hiring the best person for the job. We know homeowners' challenges when inviting a repair specialist into their homes. However, we assure our clients we will arrive on time, uniformly, and ready to tackle any drywall repair, installation, or finishing needs.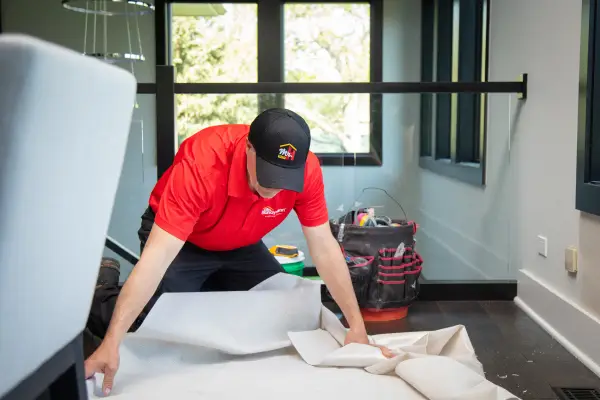 Drywall Repair Services
Mr. Handyman's list of local services provides household repairs and maintenance services for residents and business owners in Clairemont and La Jolla. Our drywall services include removing damaged drywall to spackling minor scratches and holes. No matter the size of the issue, Mr. Handyman is ready to tackle the job.
Drywall Ceiling Repair
Ceilings come in all shapes, sizes, and textures, but Mr. Handyman can handle any drywall ceiling repair job you have for us. Our service professionals repair cracks and holes and replace wet or damaged drywall for the damage to worsen. So whether you have a smooth ceiling or a ceiling finished with a texture, such as popcorn, we can get it done right the first time we come to your home.
Drywall Crack Repair
When a crack appears on your wall, it is best not to ignore it, pretending it is not there. If left alone, a small crack can grow, expanding across the wall and causing the paint to chip and flake away. Our drywall experts provide high-quality drywall crack repair services and will check for any underlying causes to help prevent future damage.
Drywall Hole Repair
No matter how often you tell the family not to play football in the living room, they will find a way to toss the ball around. However, everything is all fun and games until someone puts a hole in the wall. Have no fear; Mr. Handyman is here to help with drywall hole repair and fix any issues caused by kids, pets, and even adults.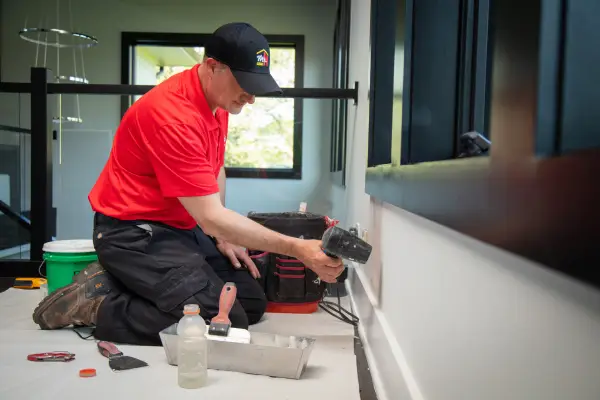 Drywall Installation and Finishing
Many pieces are required when finishing drywall installation, making it similar to a puzzle, requiring all the smaller parts to make the finished product look fabulous. We do more than repair drywall at Mr. Handyman. We will install new drywall and add all the finishing touches, including taping, sanding, and painting. Schedule an appointment with us today and experience our Neighborly Done Right Promise™, which ensures high-quality drywall repairs and peerless customer satisfaction standards.