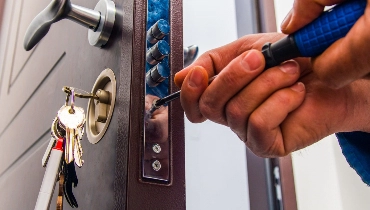 Boulder door repairs aren't usually something that is on a homeowner's mind until doors stop functioning properly. It may start as a squeaking hinge or inoperable latch that feels like a mild annoyance and turn into an inconvenience that you can no longer stand.
You use many of your entryways on a daily basis, whether on the interior or exterior. Need a snack? Open the pantry. Need to take a nap? Shut your bedroom for a little R 'n' R. But, as reliable as your doors are, they may still become damaged as time goes by through overuse and the occasional accident. You must therefore take good care of them to avoid costly repairs and replacements. Getting those routine repairs done is always easier with help from a knowledgeable Boulder handyman.
Why Should I Care About My Entrances?
Entrances are an important part of your home's flow and design. Front entrances allow you to gain access to the outside world and retreat into the comfort of your own space. Interior entrances provide privacy, separate different regions of your home, and hide clutter. When they don't operate as you'd like them to—whether from small issues like broken springs to big problems like a front entrance that won't lock—you may find yourself irritated at best, and concerned for your safety at worst.
Determining the cause of door damage isn't so simple, as doors are complex units with many different parts that may wear down over time. But with special attention from the team at Mr. Handyman of E Boulder, Broomfield & Erie, you can have peace of mind that these problems will be fixed promptly.
Our team of hardworking technicians provides expert repairs and aims to achieve complete customer satisfaction no matter how big or small the job is. Our team is proud to be locally known throughout the Boulder area for the reasonable prices and quality repair, installation and routine maintenance services for residential customers and business owners alike. Ensuring we have satisfied customers is always our top priority.
Curious to learn more? Below, we've provided a few of our top maintenance tips to help you avoid needing future door repairs in Boulder, CO and how our team at Mr. Handyman of E Boulder, Broomfield & Erie can keep your entrances in tip-top condition.
How Do I Avoid Boulder Door Repair?
Great question! Preventative measures are key for keeping all areas in your Boulder home looking their absolute best. This is true for your entrances as well, although many Boulder homeowners don't realize their entrances can be maintained. With enough upkeep, you may be able to avoid Boulder door repair services altogether (barring an accident or storm damage). Fortunately, there are several preventative measures you can take to keep your entryways in great shape for longer.
Dust Regularly
This may sound obvious, but you'd be surprised at how many people neglect to dust their entrances! As time goes on, dust accumulates and can deteriorate the small parts, like hinges, that hold your entrances together.
And, it's not just interior entrances that should be cleaned on a regular schedule. Our outdoor entrances are usually covered in a fair bit of debris—even if they don't look it. Not only are clean entrances considerably more appealing to look at and even increase your property value, but they also prevent paint damage and more. The best way to clean any exterior surface is by hiring a pressure washing service.
Check for Cracks
Cracking is typically caused by an impact. Common causes include dogs jumping and scratching exterior doors as a request to be let in, or if a ball gets thrown too hard against the entrance's panel. Sometimes, cracks can be caused by the natural settling of your Boulder home. Cracks almost always get worse, so if you see damage forming it's important to call a Boulder handyman professional to repair the issue as quickly as possible.
Tighten Hardware From Time to Time
Entrances get a lot of use, so in turn, a lot of pressure is put on the tiny hinges and other hardware that connect the panel and frame. Over time, these pieces of hardware will become loose, causing the entrance not to work properly. Fortunately, this is an easy fix. Simply grab a wrench and/or a screwdriver and adjust the hardware every couple of months.
Check Weatherstripping
Weatherstripping ensures your entrances seal properly when closed. It looks like a small strip that runs along the frame's base. Weatherstripping is constantly getting rubbed against the floor and is exposed to dirt, dust and the elements. This exposure and buildup mean that it will start to break down as enough time goes by. Replace weatherstripping promptly when you notice an issue to prevent drafts and excess moisture from seeping into your Boulder home.
Balance Check
While opening and closing your entrance, pay closer attention than you regularly would and observe how it swings. If it seems nicely balanced and moves smoothly, you're good to go. If something is off, you may have an issue. Poorly balanced entrances are more likely to get damaged or become inoperable.
If you have a feeling that something isn't right but you're not quite sure what's going on, give one of our expert Boulder handymen a call right away.
What Common Boulder Door Repairs Should I Know About?
It can often be quite obvious when there is a problem with your entryway, but you might not always know who to call to fix the problem. That's where the team at Mr. Handyman of Boulder steps in. Each of our technicians is highly trained and very proficient at completing a wide range of door repairs in Boulder, CO. Some of the repairs we can assist with include fixing:
1. Inoperable Knobs
Though they're incredibly common, knobs that don't function properly require immediate repair. Whether you're experiencing issues with locks, it seems to stick or just spins when you turn it or the latch won't make contact with the strike plate, our talented and experienced handyman experts can determine the cause of the problem and get it fixed in a timely manner to solve this safety hazard. Sometimes a simple adjustment is all that is needed, and other times your knob may just need to be swapped out for a new one.
2. Annoying Sounds
Squeaking noises are undoubtedly irritating. They can leave you feeling agitated even if the rest of your day was going well—especially if your partner keeps going back and forth through the offending entrance. But luckily, this problem can be repaired in no time thanks to the expertise of our handyman professionals.
The source of this problem tends to be your hinges. It may be that the hinges have loosened over time and require a realignment, or they're simply overdue for a quick spray of WD-40. They may also be damaged in some way, in which case they will need to be replaced. Once replaced, your service technician will take care to properly align the panel with the frame to ensure your door does not stick or rattle.
3. Problems Closing and Reopening
Are your entrances sticking when you try to open them, or getting stuck on the frame or carpet when you try to close them again? If so, it's time to set up an appointment for our Boulder door repair service. This issue isn't just annoying—it can also put your safety at risk in an emergency. You count on your entrances to open and close securely so that you can quickly evacuate your home in the event of a gas leak or house fire. If your entryways aren't opening and closing with east, then give our friendly team a call. We can help your entrance return to its former function.
Once again, this problem is evidence of an alignment issue. There are multiple reasons why this may occur, including:
Foundation settling or shifting, which is common with new homes, can result in movement that impacts the precise carpentry that was put into the door installation
Improperly tightened hinges
Latches are misaligned
Latches are too high or low
Wood warping as a result of seasonal humidity and temperature fluctuations
4. Broken Latches
One of the key reasons we have entrances is to keep pests, people and the elements out when needed. Entrances are part of the overall safety and security of our homes. Exterior entryways that do not properly lock can lead to safety hazards such as home invasions and loose pets.
There are multiple causes of latches that don't, well, latch properly. However, most commonly the issue is a warped and twisted frame, and a misaligned latch bore—the hole within the strike plate on the door frame. If the latch cannot connect to the latch bore, you will not be able to lock your door.
5. Loose, Tight, Rusty or Damaged Hinges
Hinges are solely responsible for holding that heavy panel in place. So, it's natural for brackets to go through some serious wear and tear. Consistent use, dust, humidity and cold spells slowly damage your hinges. Additionally, if exposed to moisture, hinges can corrode.
If the corrosion is extensive, hinges will become brittle and may break. While it's unlikely that all hinges will break at the same time, if all are already damaged and one break, the load of the panel will be divided between the remaining hinges, which can cause them to reach their breaking point as well. In this unlucky situation, the falling panel may cause drywall and floor damage, or may even injure a nearby family member.
6. Misaligned Wheels
Sliding doors have just as many common issues as their hinged counterparts. Many Boulder homes feature several types of sliding doors, such as bi-fold closets, sliding glass patio doors, and shower doors. Misaligned wheels and damaged tracks can cause the door to stick. This can make it almost impossible to use the door properly, which can be a major inconvenience when you're running late for work. Don't waste time pulling on a stubborn closet door. Once you hire our talented Boulder handyman experts to fix the problem promptly, you'll wish you hadn't waited so long.
7. Installing a New Door
Rather than fuss with repairs, would you prefer door installation? Perhaps your current model is too old for your home or doesn't suit your personal tastes. Or maybe it's damaged beyond repair and the cost of repairs is simply not worth it when you could install a brand-new model. We get it, sometimes, accidents happen, and repairs won't always cut it.
When it comes to choosing panel replacements, there are tons of options for Boulder homeowners to consider. Perhaps this is a good opportunity to install a metal door instead of one made of wood for added security. Or maybe you want a model with a peephole, so you don't have to open the door to strangers.
Choose Mr. Handyman for Boulder Door Repair and Maintenance Service Today!
If you need Boulder door repairs, then put your trust in a reliable service tech at Mr. Handyman of E Boulder, Broomfield & Erie. Our Boulder door service is truly excellent. We can complete a wide range of repairs, from fixing damaged hinges to misaligned wheels and track damage. Our strategy for providing outstanding customer service every time is quite simple: we work hard to provide efficient service, and we ensure that we complete all our work according to the same standards we'd want to be done in our own homes.
We Can Fix the Following Entrances:
Screen doors
Storm doors
Interior and exterior doors
Sliding glass doors
French doors
Pocket doors
Sliding barn doors
Closet doors
And, it's not just Boulder door repairs that our team can assist with. From minor home repairs to a major remodel, our team has the training and experience to complete a wide range of improvement projects in your Boulder home. We've established a reputation for ourselves as a leading home services company through our friendly service, affordable prices, professional approach to project delivery and high quality of workmanship. In fact, we've helped numerous homeowners throughout the Boulder area, including in Erie, Broomfield, Frederick and Longmont.
Say goodbye to annoying door damage with help from our Boulder door repair experts. Book a service appointment today for any repairs and replacement services you may need by giving our knowledgeable and exceptional customer service representatives a call.