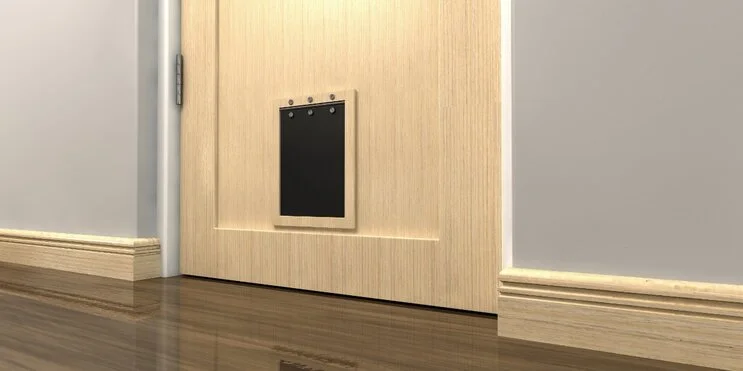 Your dog is a part of your family; there is no doubt about that. Despite their need for attention, they become independent creatures that know very well when they need their potty breaks. Unfortunately, they haven't grown thumbs yet to open the door. So, some will sit nice and stare at you with those large puppy eyes, whereas others will eye the door, requesting a walk. However, if you're fully in tune with your pet and share the same routine, you will likely sense what they want and when they want it, and in many cases, Keller dog door installation will meet both your needs and your pet's needs.
Dog owners that work full-time either train their pup to stay home alone and guard the house, or they drop him or her off at the doggy daycare to eliminate the loneliness and anxiety the pet would otherwise have to endure. It may not be all too obvious with some breeds, but all dogs hate to see their owner leave the house without them. Although daycares and dog walkers provide nice social activities, you'll never know how trustworthy some reviews are unless you have a friend that shares some personal experience with you. Or perhaps you have already tried out those social activities and realized that they either weren't right for your pup, or they came with costs that you just couldn't cover on a monthly basis.
Your local Keller handyman at Mr. Handyman of Keller, Roanoke, and Alliance has the ideal solution for you—a dog door installation! Keller, TX, pet owners with pet doors can breathe easily because they no longer have to rush home during their lunch breaks to let their pooch out. If you have a securely fenced yard, a reliable Keller dog door installation will give your pet the freedom and independence to do their business when it suits them, not to mention allow them to roam on your property. This way, they will feel more proud and less lonely.
As a locally-owned and operated business, Mr. Handyman's goal is to provide quality workmanship and dedicated customer service. All of our licensed service professionals have passed their criminal background checks and drug screens and bring many years of experience in home maintenance, repair, and improvement services. We are proud to be your "one-call does it all" team, and you can expect our uniformed team to arrive on time in a clearly marked van, ready to get to work and ensure your property is safe and comfortable for you, your family and your pet.
What's the Point of a Dog Door Installation in Keller, TX?
Our team of experts has completed multiple dog door installations. Keller, TX homeowners who choose dog doors often have interesting stories to share about negative daycare experiences or unreliable, expensive dog walkers that just weren't providing their beloved pets with the benefits they wanted for their dogs. Or their dogs didn't meet the requirements to be part of social activities. Whether your pooch is home alone for 2 or 5 hours in a row, we want to help pet owners choose what's best for their fur babies. So, we got creative in helping them safely connect with the outdoors with Keller dog door installation service.
Your Options for Keller Dog Door Installation:
Professional handymen care about safety when it comes to dog door installation and only use durable, shatter-resistant materials to prevent potential injuries. There are many options available to meet your needs, and no matter which you choose, your handyman will ensure your installation is done properly, as you could otherwise compromise your home's energy efficiency.
Screen Pet Doors
Screen doors for your pet might be the best option if you don't want to cut into your door or wall. This style can be added to your screen door, window screen, or porch screen. The material is typically made with durable, tear-resistant mesh and high-quality plastic, and they often have two sliding locks, allowing you to choose when your pooch can come and go. Various sizes are available; however, we recommend this type for small to medium-sized breeds.
Sliding Glass Doors With Pet Doors
If you have a sliding glass for a backdoor, our team of professionals can offer you two options. We could install a panel insert that slides into your door's top and bottom tracks and has the dog door installation at the bottom. Or, it's also possible to convert one of your sliding glass doors into a dog door. You could divide the bottom into two sections, with one featuring a safe dog door installation featuring a flap. Your expert Keller handyman will ensure the installation is done right without damaging your existing entryway.
Electronic Smart Dog Doors
Electronic dog door installations in Keller have become more frequent. Enhanced technology has enabled homeowners to remotely control their home systems, including their dog door. Alternatively, most systems provide pet collars with a corresponding microchip that will automatically open the flap. With all the pet products that are out there, this may be the best investment for smart home lovers. Whether you have a chihuahua or a golden retriever, there is a size that will work for you. The larger the breed, the more expensive the electronic smart dog door installation. Keller, TX homeowners, should keep those differences in mind when determining what will meet their needs.
All these systems are designed to make your life easier and help your pooch be more independent and self-sufficient. Giving them the freedom to roam on their own territory will help boost their confidence. Even though they may feel like a lone wolf sometimes, they'll have greater freedom, and they'll know they're doing their job in protecting you and their home. Knowing this will make you feel more secure and at ease too!
Keller Dog Door Installation—It's All About Size!
It's easy to find the type of installation you like because it looks great in photos, but considering your pet's size and comfort is essential before you decide on what you want, not to mention the state of your existing door. Not all doors are easily customizable or convertible.
Remember to take your pet's exact measurements and ensure they are already fully grown when you contemplate a Keller dog door installation. Although fully grown, some fluffy breeds tend to grow an even thicker coat as they age. It's best to always give them an extra two inches of space or more.
Measure their height when they're standing straight. The highest point is not their head because they will always duck as they come and go through the flap. Instead, measure to the tallest point on their back.
During the Keller dog door installation, we'll ensure the top of the flap is at least one or two inches taller than your measurement. This is for safety and comfort because all breeds tend to rush through their doggy doors when they believe a squirrel is on their territory. We don't want your pooch to get stuck or injure themselves when barging through.
Another thing to keep in mind is that your pet will lift its paw to step out and in. The lower the step-over, the easier it will be for them, especially if you have a senior; therefore, it should not exceed a third of their overall height.
You also want to protect your door's integrity and ensure your pet door installation won't compromise your door's functionality. Your service professional in Keller will carefully assess everything and provide you with safe options and door repair services if necessary.
Before we forget—the door width is just as essential! To get that measurement on paper, open your door wide enough to let your pet walk in. Measure this opening's width and add a couple of inches on top of it. That will be the width your pet door experts will work with.
Pro Tip: If you are worried about sizing mistakes, we recommend creating a flap replica according to your measurements. If your pooch isn't scared of cardboard boxes, these are the best ways to create a mock entry for them before the initial installation process.
Keller Dog Door Installation: Frequently Asked Questions
Every dog has their unique needs, and since there are so many types of pet doors, you want to make sure your pooch is comfortable passing through them. Some will need time to grow accustomed to the new way of freely going outside of their own will, and Keller homeowners may have to provide their fur babies with some assistance. Due to all those existing options, many questions have come to the surface, but our team of skilled handymen has answered them all.
Do Screen Pet Doors Let Bugs in?
This will depend on the type you choose. Flaps with metal or magnet frames are more consistent and reliable in closing, whereas others have a stronger swing mechanism that takes longer to close, and during that instant, bugs can indeed find their way in. As your local handyman, we are happy to tell you more about different frame types and what may best suit your needs.
How Much Does A Keller Dog Door Installation Cost?
Costs vary depending on the type you choose and your pet's size. You will find ready-made flaps online and in your local hardware store, but the art lies in the actual installation process and how your existing entryway is cut and treated. At Mr. Handyman, we're happy to listen to your concerns and offer you the best solutions as to which installation may best suit your pooch's needs. We also offer upfront pricing with no hidden costs. You won't make a mistake with the pros at Mr. Handyman; we have seen and done it all and want to give you and your pooch an excellent experience.
Can I Install A Flap Myself?
When taking on a DIY project such as a dog door installation in Keller, homeowners need to be aware of certain details that may require professional attention. But overall, it can be a DIY-friendly process, especially when opting for pet door installation panels that easily fit in your door track. However, when cutting is involved, it's crucial to inspect your materials beforehand and get the measurements down to the dot. You must also ensure that your installation leaves room for a lock or a steel plate whenever you need to keep the flap closed for a long period of time. Ensuring that these aspects of the installation are done correctly is vital, and it may not be easy for the average homeowner.
Our team of professionals has received amazing feedback from happy customers about our fast and efficient installation services that don't result in any damage or messes. If you're concerned about making a mistake during installation, or you'd rather leave the job to a professional handyman, we're here to help!
How Do I Know My Backyard is Safe?
When you hire a handyman, they will inspect your outdoor space to ensure your backyard is fenced and safe for your pooch to roam without supervision. You don't have a fence but still want a dog door installation? Keller, TX, property owners are in good hands! We are experts in fence installation and fence repair services. Whether you need a new gate with a secure lock or new boards, we can get the job done right.
We pay attention to the details, ensuring that your pet won't have a way to escape and that no intruder will trespass on your property. Another means of protection is installing a security camera with a clear view of your backyard. Some pet-inspired cameras also send owners bark alerts, so they can check right away if something is wrong.
Ready For Your Dog Door Installation? Call Mr. Handyman in Keller!
As pet lovers ourselves, we proudly serve residents of Keller and many nearby areas, such as Alliance, Trophy Club, and Haslet. You can always expect exceptional workmanship and outstanding customer service from the team of professionals at Mr. Handyman of Keller, Roanoke, and Alliance.
Give us a call to make a service request at a convenient time or to speak with our friendly customer service staff and find out more about how our popular services in Keller, TX, can make your home more comfortable and appealing. From floor installation to ceiling repair, your Keller handyman is all geared up to get the job done right!