Looking for quality drywall repair and installation services in Miami, Aventura, or Kendall? If so, look no further than Mr. Handyman. Our home repair pros are at your service for all kinds of drywall situations, including drywall repairs, drywall installation, drywall removal, and drywall finishing. So stop worrying about how you're going to handle the drywall portion of your project. Contact Mr. Handyman today!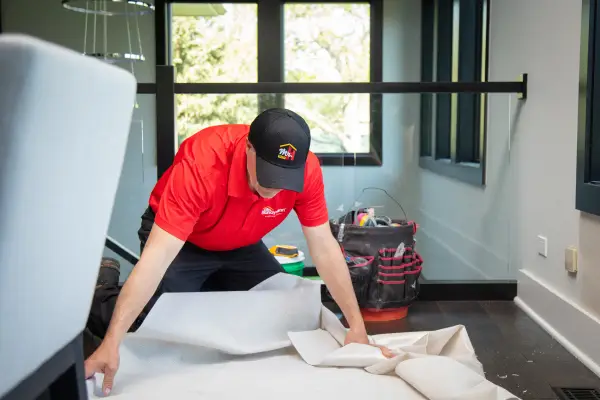 Drywall Repair Services
Whether you have a home or business, chances are you have drywall. And chances are you may have some kind of drywall repair need. Drywall is a sturdy and reliable construction material, but sometimes accidents happen. When they do, trust the experts to repair drywall quickly, cleanly, and professionally. This is where Mr. Handyman excels. We tackle any kind of drywall situation, no matter how small or large.
Drywall Ceiling Repair


Ceiling drywall often becomes damaged from moisture, mold, or other issues. When this happens, it's important to properly remove all the damaged drywall before installing new drywall. Otherwise, the water damage will simply spread. Other times, ceiling drywall becomes damaged when light fixtures are installed or moved. Whether you need a simple matter of making a drywall ceiling hole go away or a more significant drywall ceiling repair, Mr. Handyman is the service to call.
Drywall Crack Repair
If you have one or more cracks in your drywall, the problem might be related to the building settling. Whatever caused it, it's important to get it taken care of as soon as possible so you can restore your home's appearance and structural integrity. At Mr. Handyman of Miami, and Aventura to Kendall, our team of uniformed professionals will fix your cracked drywall and provide finishing services to ensure it looks as good as new.
Drywall Hole Repair


Holes in the drywall occur from countless everyday incidents, from hanging a picture to moving a couch. Holes in drywall are especially common in rental units, where they may have been concealed by previous tenants. Whether the holes in your drywall are new or old, contact Mr. Handyman to restore your walls to their original appearance.
Drywall Installation and Finishing


The professional team at Mr. Handyman is ready to work on large drywall installation and finishing projects, too. Whether you're a real estate investor looking to fix and flip a property, a homeowner looking to build an addition to the house, or someone tackling a larger construction project, Mr. Handyman of Miami, Aventura, and Kendall should be your first call!
We offer a vast array of drywall repair and installation services in the Miami area. Contact Mr. Handyman today to get started!