We proudly serve New Brighton and White Bear Lake customers with our expert drywall and other services. We're always ready to fix your drywall problems and install new drywall when needed. When your drywall doesn't look good, your home doesn't look its best. Drywall repair is necessary for anyone who wants to enjoy their home in its best condition. Every customer benefits from our Neighborly Done Right Promise™, which ensures you'll be satisfied.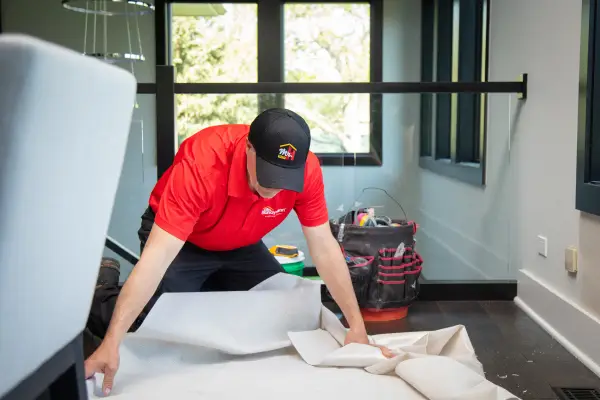 Drywall Repair Services
When repairing drywall in your home, you require a dependable company that eliminates any hassle. Your priority is an efficient job that delivers excellent results, and that's precisely what we provide. We aim to ensure a seamless process while leaving your home looking fantastic. Moreover, we take care of the clean-up, ensuring a hassle-free experience.
Drywall Ceiling Repair
Ceilings can cause drywall problems from lighting, ceiling fans, storms, and other things that affect them. We offer drywall ceiling repair to fix these problems. We can assess the situation with the ceiling drywall and let you know of the options for drywall ceiling repair.
Drywall Crack Repair
As a house settles, it is common for drywall to develop cracks. Addressing these cracks promptly before they worsen and cause more extensive damage is crucial. Our drywall crack repair services will effectively fix these cracks, ensuring high-quality work with a visually appealing finish.
Drywall Hole Repair
If you have one or more holes in your drywall, this can be the perfect place to harbor mold and pests. It's also an unsightly problem. We offer drywall hole repair to restore your drywall and make it look new again. It can add value as well as aesthetic improvements to your home.
Drywall Installation and Finishing
Mr. Handyman specializes in providing comprehensive drywall installation and finishing services, catering to projects of all sizes. Whether you have a minor repair or a large-scale installation, we are here to assist you. Enhance the appearance and functionality of your drywall by scheduling an appointment with us. Our team of skilled professionals is well-equipped to address various drywall issues.