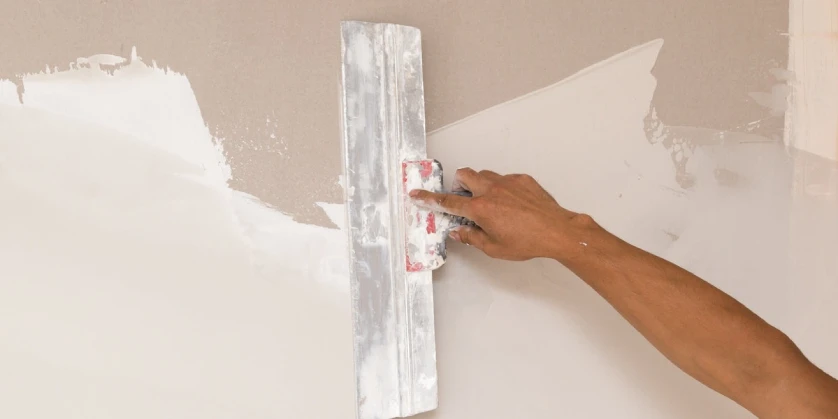 If you're like most West Palm Beach homeowners, the topic of drywall rarely crosses your mind—right up until it has suffered some unsightly damage like cracks, holes, or stains, and you can't help but look straight at the damaged portion every time you walk into the room. It's not just a cosmetic blemish, though. Damage to your walls and ceilings can actually make your house less comfortable, protected, and efficient, and when that happens, it's definitely time for West Palm Beach drywall repair.
But finding the right drywall repairman in West Palm Beach, FL, is not always an easy task. You need to find someone who is experienced and capable, but you also need to know they're going to be trustworthy and respectful of both your time and your property. This guide covers some tips on what qualities you should be searching for in a drywall repairman, plus the questions you should ask before you seal the deal.
Want to just get to the part where you have a qualified West Palm Beach handyman at your door to provide skilled drywall repair services? No problem! The team of service professionals at Mr. Handyman serving South Palm Beach is highly experienced with drywall repair in West Palm Beach and other nearby communities in this part of South Florida. We take pride in our workmanship and strive for customer service that goes the extra mile.
What to Look for In a Drywall Repairman
If you haven't had a reason to call a drywall repairman before, you may not be entirely sure what you should expect. But it will probably not come as a surprise when we tell you that, just like any industry or service, the work quality and service level vary based on who you hire. It's important to find an experienced drywall repairman who is capable of handling almost any type of damage and taking care of the entire process from start to finish. Here are some of the things you can expect our West Palm Beach drywall repair experts to do:
Put down a drop cloth to help catch sheetrock dust
Remove the old, damaged portion
Apply a self-adhesive mesh repair patch or a support piece for a medium-sized hole or a larger hole. Fiberglass mesh and diagonal mesh are also sometimes used.
Install a new panel or section of gypsum board, if necessary
Cover joints between panels or patches, and corners, with joint tape and drywall tape
Use a putty knife to apply joint compound over the tape
Sand down dried joint compound to create a smooth, even surface with a strong bond
Add a fresh coat of paint, so the repair is invisible
Clean up the mess from repair work
Rehang framed photos and curtains for the final touches
Questions to Ask Before Hiring a Drywall Repairman in West Palm Beach
Before you hire drywall repair companies, it's a good idea to give them a call and ask a few questions to make sure they're a good fit for your property, household, and drywall repair project. Some people feel uncomfortable asking, but any company that is proud of their work will be happy to tell you all about it, so don't hesitate to ask! Here are some questions you may want to ask before hiring a drywall service professional.
How much experience do you have with drywall services? As we all know, practice makes perfect. Someone who has at least a few years of experience under their belt will be able to deal with common damage repair quickly and efficiently and will have the expertise to come up with repair solutions for less-common problems or larger repairs.
Are you licensed and insured? You need to know that the person you hire has the training and certification to work safely and adhere to building codes. All the members of our handyman team are fully licensed and insured.
Can you show me photos of your work? As the saying goes, a picture is worth a thousand words. If they show you photo evidence of their work from their skilled technicians, you can judge for yourself if it's up to your standards.
Do you screen your employees with background checks? When you're letting someone into your home, it's important to know that they'll behave professionally and courteously at all times, which is why we screen our West Palm Beach drywall repair handyman team with an employee background check program.
How long will it take to complete the job? It's good to get an idea of how long it'll take so you can plan accordingly, but keep in mind it's only a rough estimate. They can't give you a firm timeline until they've been able to investigate the damage in person.
How are billing and payment handled? Find out what the expectations are for billing and payment so you can make sure that works for you and everyone are on the same page.
Who will clean up the mess? Sheetrock repair is a messy business, and someone has to clean up afterward—ideally, that person will not be you.
Now that you know what to ask before hiring a drywall repairman for your repair project, we invite you to give us a call and ask the questions listed above or any other questions that come to mind about drywall repair. West Palm Beach residents deserve the best, and that's what we aim to deliver.
Searching for the Best Drywall Repairman in West Palm Beach? Call the Pros at Mr. Handyman!
Whether you're in West Palm Beach or a nearby area such as North Palm Beach, Palm Beach Gardens, or Delray Beach, you can count on the team of professionals at Mr. Handyman serving South Palm Beach for outstanding drywall repair services and dedicated customer care. See what our satisfied customers have to say in their reviews.
Get in contact with us today by giving us a call to book a service request for a convenient appointment time or to speak with our knowledgeable customer service staff and find out more about why we're the number one choice for reliable handyman services in West Palm Beach, FL. We offer everything from drywall repair to exterior door repair.