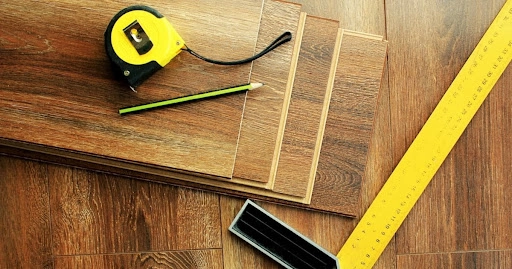 So, you're thinking of installing new floors. Perhaps you just moved into a new home and it needs a little work to turn it into your dream house. Or maybe you've been in your home for a while and it's time for a change. If so, we've got the information you need to explore your Maryland flooring installation options.
Renovating your floors is a big investment—and there are numerous considerations to make before starting the flooring installation project. For instance, a few key considerations to keep in mind include:
Your family's needs and personal taste
Structural considerations
The Maryland climate
Be sure to consider all your options before you make a commitment. To help you make the right choice for your home, the pros at Mr. Handyman of Anne Arundel and North PG have put together the following guide.
Consider Your Family's Needs
Your home is entirely your own, and you should feel like every corner of it is geared towards your unique style and needs. Every family is different—perhaps you have pets or small children. Or, maybe you're looking for a low maintenance material that requires basic cleaning to keep it in good shape. Use the following questions to guide your flooring installation decisions, and ensure you find a material perfectly suited for you and your family's needs.
Where Will My Floors Be Installed?
Different areas of your home have different flooring installation considerations. For instance, some materials, like hardwood, are prone to fading in the sunshine. So if you're considering installing floors in an area of your home that gets a lot of sun, perhaps choose a UV and heat-resistant material. Most synthetic options are made to be fade resistant.
Likewise, certain parts of your home will be exposed to more moisture than others. Living in Maryland, you're no stranger to humidity—especially if you live on waterfront property. In particular, your basement will have a high moisture content. Not to mention, basements in Maryland are prone to flooding. Thus, it's important to install a material that will do well in moist environments. This rules out carpet, hardwood, and engineered hardwood. Carpet in particular needs to be replaced in the event of any flooding, because it becomes a breeding ground for mold.
Lastly, consider how much foot traffic different parts of your home get. Bedrooms tend to have much less foot traffic than communal areas like the kitchen or front entrance. For high-traffic areas, you should install more durable materials.
Do I Need Pet-Friendly Floors?
If you have pets, you're likely familiar with the pitfalls of certain materials. Hardwood gets scratched very easily. While it's still possible to have pets and hardwood floors, they will need to be refinished frequently. This is a big project, and can get quite costly over time. Laminate can buckle when wet, which could be a concern if your pet has an accident. Meanwhile, cats and carpets are a disaster waiting to happen—especially if your cat likes to scratch.
A great material for pet owners is luxury vinyl tile (also called LVT). Scratch resistant, highly durable and easy to clean, LVT also looks fantastic. There are a wide variety of styles to choose from, including designs made to emulate real wood or tile. LVT is not the vinyl of your childhood—or your parent's childhood. These days it provides the same quality as a laminate option, but offers greater durability and is unlikely to buckle when exposed to liquids.
Do I Need Low Maintenance Flooring?
Certain materials take more work to keep looking their best. For instance, while ceramic or porcelain tile are both great options for homeowners who want an easy flooring installation option, quarried tiles tend to be more involved. Slate is one such material. While it's considered a luxury tile, slate needs to be sealed annually to prevent wear.
This is similar to hardwood, which will likely need to be refinished from time to time, depending how hard you are on your floors. Meanwhile, LVT is a great alternative that can look just like hardwood but wears much better.
Does My Family Have Allergies?
The main material to avoid when planning your flooring installation project if your family has allergies is carpet. Dust, dander, and all sorts of allergens are attracted to carpet—and this material is much harder to clean than non-carpeted surfaces.
What's My Personal Style?
Your unique design vision will impact what kind of flooring you choose. While you'll likely collect a few samples, and take photos of styles you like, to ensure they match the colors and aesthetic of your home, another good consideration is the size of tile or plank you choose.
For instance, if you prefer a more traditional look, then opt for smaller tiles and more narrow planks in darker tones. Warm, cozy colors tend to create a more classic look, and are commonly used in many traditional Maryland homes. Meanwhile, wide planks and larger tiles evoke a more contemporary feel—particularly in light colors. This creates a bright and clean aesthetic.
Structural Integrity Matters
One of the most important logistical factors to consider when planning a flooring installation project is the structural integrity of your home. Different materials are different weights and have their own unique construction needs.
Are My Subfloors in Good Shape for Installation?
Subfloors are the layer that goes below the top floor (the area you walk on) and above the joists. They must be in good condition before the top layer is installed. If damaged or uneven subfloors are not repaired before the top layer is laid, it could also get damaged as time goes on. For example, if the subfloor is sagging in some areas because the joists were laid too far apart, anything you put on top of it will also sag.
It's also important to note that tile should not be laid on top of a wood subfloor. Wood has a tendency to bend, which can cause grout, or even the tile itself, to crack. Thus, you'd need to hire tile repair services. When installing tile floors—which many Maryland homeowners choose for their bathrooms, kitchen, and foyer—it's best to first install a cement fiber board as underlayment.
This extra step does add to the installation cost, which is another reason why LVT has become so popular. It can be easily installed over a wide range of materials—including wood, and even tile.
Is My Home's Foundation Stable?
It's very important to ensure that your foundation is stable enough for flooring installation. How stable the foundation is will also impact what material you should choose. It's natural for foundations to shift over time, and some will shift more than others as homes settle. If your home is prone to settling, it's best to avoid tile—which can crack easily. A more flexible option would be laminate or LVT.
Will I Need Extra Room for My Floors to Expand?
Temperature changes and moisture could cause cracks in some materials without an expansion gap. For both laminate and vinyl, roughly 1/4-inch of expansion space should be left between the floor and wall. Otherwise, these materials may buckle as temperatures fluctuate. Likewise, roughly 1/4-inch of space should be left for tile, which may crack if it doesn't have enough "breathing" room.
Best Options for Maryland Flooring Installation
Different geographical regions have their own unique installation needs depending on weather patterns, climate, and risks—such as droughts, erosion, or flooding. Maryland is no exception. Particularly, as we touched on earlier, because of the state's humid climate.
What Are the Most Durable Materials?
All around, LVT and tile are by far the two most durable options for Maryland homeowners. Why? Because of their unique construction.
Tile
Made in a wide range of materials, the most common types of tile are ceramic and porcelain. Each of these come in infinite colors, sizes, and textures. What makes ceramic and porcelain tile so popular is their durability and strength. Each is fired from clay, although porcelain uses a specific kind of clay to be even stronger than its ceramic counterpart.
Luxury Vinyl Tile
Made out of layers of PVC (polyvinyl chloride), a kind of plastic, LVT is highly durable, flexible, and even water resistant. The top layer uses a photo applique to emulate real tile. Also called LVP (luxury vinyl plank), this option is designed to look like wood.
What Flooring Installation Options Are Best to Prevent Moisture Damage?
Moisture damage is a top concern for Maryland residents. Hardwood may warp and rot, carpet can breed mold when wet, and laminate buckles under too much moisture—so each of those options should be avoided.
LVT and tile are two excellent options. Tile is the traditional stand-by for homes with high moisture content, which is why it's commonly found in bathrooms and kitchens. LVT is a newer material on the scene. Since it's made primarily of plastic, LVT is a great alternative if tile isn't your top choice.
What Material is Best for Waterfront Properties?
If you live next to the water, it's even more important to carefully consider your flooring installation options. Both LVT and traditional tile are great options for your ocean front property.
How Often Do I Need to Replace My Floors?
The frequency at which you replace your floors largely depends on which material you choose, and how well you maintain that material.
Luxury vinyl tile: LVT typically lasts between 15 and 20 years.
Laminate: Usually, laminate's lifespan is between 15 and 20 years as well.
Ceramic/porcelain tile: These materials tend to have a lifespan of 30 to 50 years.
Hardwood: With regular refinishing, hardwood can last 30+ years.
Engineered wood: Typically, engineered wood lasts between 20 and 30 years, and can usually be refinished once during that time.
How Do I Maintain My Tile Floors?
One of the best ways to maintain your tile is to clean it properly. This involves regular sweeping, mopping with tile cleaner and warm water, and using grout cleaner regularly.
Along with regularly cleaning your floors, a great way to keep your tile looking great and functioning properly is with regular grout sealing. Not only does this help protect your grout from spills that may stain it, grout sealing also helps protect against mold and mildew growth, strengthens the material, and slows down wear-and-tear.
How Do I Maintain My LVT Floors?
The best way to take care of your LVT floors is to sweep them regularly and clean up any spills immediately. By keeping dirt and debris off the ground, you help prevent wear-and-tear. Mopping with floor cleaner and warm water from time to time will also help keep LVT in good condition.
Choose the Pros at Mr. Handyman of Anne Arundel and North PG for Your Flooring Installation Needs!
By now, you likely have a good idea of what type of flooring you'd like to install in your home. Yet, that is only half the battle. You also have to choose a flooring installation expert to handle the job for you.
How Do I Choose the Best Installation Service?
At Mr. Handyman of Anne Arundel and North PG, we have all your flooring installation and maintenance needs covered. Our service professionals have years of experience working in the trades, are highly trained, and are equipped with all the necessary tools to get the job done right the first time.
Not to mention, we're widely recognized for our dedication to outstanding workmanship and excellent customer service. There is a reason why we have a superior service rating!
Is My Flooring Installation Service Guaranteed?
Yes, at Mr. Handyman of Anne Arundel and North PG, we offer the Neighborly Done Right Promise. We are so confident in our work, that we stand behind it with this guarantee. If you notice an issue with your new floors, give us a call right away and our team will make it right.
How Do I Book a Flooring Installation Service?
Are you ready to schedule an appointment with our Maryland flooring installation experts? If so, we invite you to give us a call. We're honored to help customers throughout both Anne Arundel and North PG, including in
Bowie
, Laurel, and many nearby areas.