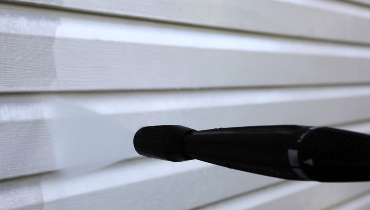 Coming home to a clean house is one of the most relaxing feelings. However, there are some challenges that can prevent and discourage us from actually getting the cleaning done.
In a 2017 survey, 54% said they lacked the motivation or didn't know where to start. 40% said they didn't have the time to clean and 39% attributed a lack of physical effort capabilities.
While inside the home, cleaning is something we need to take care of often, outside cleaning can get pushed to the side because of its difficulty. Power washing services are a great way to take advantage of all the benefits that outside-the-home cleaning offers.
After all, the exterior of your home comes in contact with a lot of hazardous and harsh elements. Sun, dirt, grime, smoke, car exhaust, mold, mildew, pests, rain, debris, ultraviolet rays, birds, and more can cause staining, damage, and health concerns.
When you hire a professional, you can avoid the many challenges that present themselves when it comes to cleaning. It will save you the time, labor, and effort to make sure you're doing things correctly.
Here are the top 7 reasons you should consider power washing services this fall!
1. Improve Home Value
Taking this extra step in caring for your home could increase the value by 5 to 10 percent!
Maybe you are planning to sell, power washing is a wonderful way to boost the value of your home. It will greatly improve the curb appeal and ensure that you are getting the highest price possible from buyers. This is one sure way to grab the attention of those looking. Your home will shine amongst the other listings.
Even if you're not selling, the neighbors will be jealous of the cleanest and prettiest house on the block. Down the line, you may be interested in selling and it will pay off to have taken care of the exterior of your home.
Power washing will make the color of your home more vibrant and keep it clean and fresh looking. But don't forget your sidewalks, driveways, decks, garage doors, chimneys, drains, gutters, windows, fences, stairs, walkways, garage floors, concrete, or tile patios and more. Discoloration from changing seasons can cause issues, and power washing is a quick way to freshen them up.
This service works wonders for several different issues all over the exterior of your house. Its multifunctionality can even liven up some of your outdoor furniture pieces. Stains, dirt, and dullness are unsightly.
You'll feel much better pulling into your driveway with a gleaming home and even better when the neighbor next door complements your home's new wash.
2. Sustainability
Choosing to use power washing professionals will allow you to contribute to water conservation and other causes of sustainability. To put that into perspective, if you DIY power wash, you could be using nearly 4 gallons of water per minute.
That is not the case with the pros, as they are trained in water conservation practices and have techniques to use runoff water that could be getting into your or your neighbor's yard. Doing it on your own could cause damage to you or your neighbor's property.
If you chose to hire someone, they also have the correct products to use. These are non-toxic and biodegradable cleaning solutions. In addition to the environment, your family members and pets will be safer with these options in comparison to the harsh cleaning products you can purchase on your own.
The DIY spot cleaning solutions just don't live up to the ability to clean off those harsh areas while staying eco-friendly of the professional-grade solutions. Plus, hiring professionally will save you time mixing your own solutions.
Tackling power washing on your own can be a dangerous game. When you power wash your home, you run the risk of injuring yourself or others.
3. Prevents Damage and Saves Money
Home power washing can help ensure that your home is living it's longest life. Failing to maintain the outside of a home can cut its time short. You want to make sure you get your money's worth when you purchase and invest in a home so continuing care is vital. Just like a car, having it regularly service will expand the quality and quantity of its life.
Plus, you'll save money when it comes to repairs simply because you'll need them less often. You may also need power washing services to maintain or use a warranty. Some warranties will require the area to be power washed before they fix the issue to ensure that the repairs will last.
Power washing removes environmental toxins such as algae, mold, mildew, dirt, and grime from the surface. All of these can cause long-term damage to the structure if they are left to sit. These types of toxins eat away at the materials and cause erosion.
No matter how clean you are keeping your outside area, these unwanted toxins will accumulate.
Again, power washing is better left to the professionals because there are particular settings for each surface. All homes are not the same. They are made out of different materials. They have the knowledge to ensure that unnecessary damage isn't done because of the incorrect settings.
You'll get the perfect customization out of power washing services with professionals.
4. Avoid Fines
Home Owners' Associations can be very particular. If your neighborhood participates in one, you're surely aware that there can be a number of rules and regulations to follow. There are standards for some areas and they will send out regular notices about what is appropriate.
If your home isn't living up to the standard you may get complaints leading to fines. This might seem a little bit unfair but it is important that all members of the community do their part to keep up the appearance of the neighborhood.
Power washing services are an easy and inexpensive way to make sure you won't be fined or complained about. You'll also have peace of mind about the higher standards in your community.
These regulations will help everyone's property value by making sure that your neighbor isn't letting their area become messy.
5. Safety and Hygiene
Not only does dust and mold affect the health of your home, but its inhabitants too. These toxins pollute the air quality of your home.
Summer and spring months can bring on the sneezing, coughing, stuffy noses, watery eyes, and headaches that no one looks forward to. Seasonal allergies can really affect overall health and well-being. According to the American College of Allergy, Asthma, and Immunology, allergies are ranked at #6 when it comes to the top causes of chronic illness.
Pollen and allergen build-up can easily be removed with these techniques to ensure you and your family are in tip-top shape.
Beyond allergies, mold, and mildew build-up can cause even more severe ailments to humans. Not taking care of this can cause issues with your respiratory system.
If you aren't concerned about the health of your home then think of how unsafe that lingering bacteria is for your family, pets, and visitors.
As mentioned earlier, power washing can be dangerous if done incorrectly. Professionals know how to handle the specifics of power washing devices. These devices aren't your average water hose. They are equipped with very powerful sprays.
The powerful spray of a power washer can cause damage to the skin and body if they accidentally come into contact. The high pressure can cause lacerations, bruises, eye injuries, nerve damage, and even more serious injuries. According to 2014 statistics, over 6,000 people went to the emergency room due to an injury from a power washer.
In addition, using a power washer in an uncontrollable manner can cause damage to other items you own. This includes your vehicles, plants, and decorations.
Hire a professional to avoid injury to you, your family, and your property.
6. Prep for Renovation
Similar to why some warranties will require a power wash before they will fix the issues, you'll likely want to do the same before starting on any renovations or home repairs. It's the perfect way to prime your surfaces.
It's better to work with a clean area and a solid canvas. Power washing services allow a deep clean and really get into those hard-to-reach spots like cracks and crevices. These spots are nearly impossible to get to with hand cleaning. In addition, these services will avoid those harsh chemical cleaners and leave you with a much more ideal starting point.
For example, before getting a new paint job or staining a deck, you'll want to get these services to move dirt, bugs, peeling paint, and wood chips. This will allow for your new coat to be more even. It will last longer and look better. Longer lasting means more money in your pocket down the road.
This method saves you time and physical labor as well. Instead of scrubbing for hours, you can be done in minutes.
Professional home power washing services will make sure that you are getting your space as clean as possible without causing damage before your home improvement.
7. Pest Control
After the summer months, pests will be looking for someplace warm to stay. From bugs to rodents, we've all had a scare as we've seen something scurry across the floor. The bottom line is no one wants uninvited guests.
Power washing services can help combat those little critters. There are many things we've discussed that get into the crevices of our homes like dirt. These pests are attracted to dirt.
Even more interesting is the opportunity for animal pheromones to become a part of that build-up as well. This causes even more attraction to the home. Removal of these types of enticing materials will help prevent pests.
You can use power washing services to clear away pests. Some dangerous tasks include dealing with the homes of stinging pests such as hornets, bees, and wasps. Spiders can create unsightly living spaces too. These can be cleared from a distance and safely with the use of a power washer.
With a clean new barrier, the addition of pest control treatment will allow you to say no thank you to the creepy crawlers.
However, you should always apply your pest control treatment after power washing to avoid washing away the benefits of the solution.
Hire Professional Power Washing Services Today
All those benefits are the exact reason you should be taking advantage of the best power washing services. Not to mention, the satisfying videos of surfaces being power washed.
For optimal results, a home should be power washed at the very least once a year. Fall is an ideal time to take care of this home care task. After summer, you can experience a build-up of dried-on dirt, grass clippings, mildew, pollen, bugs, and other gross environmental materials.
Taking care of power washing services at this time will allow you to winterize your home. Preparing for those colder winter months will protect it from harsh conditions and falling temperatures.
Make sure you're getting the most out of your power washing services by hiring professionals who can ensure that you get all of the benefits of home power washing! Plus, clear the challenges of cleaning your outdoor space by having us do it for you, saving you time and labor. You'll also get top-of-the-line equipment that has been proven to show the best results.
Check why to hire us, explore our services, and call us today to schedule your power washing services!