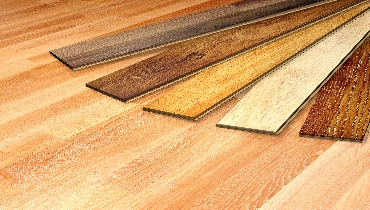 Have you recently moved into a new house, and want to put in new flooring? Or perhaps you've been living in your home for quite some time and are keen for a change. Whatever the case may be, our flooring services experts can help you tackle any renovation.
When it comes to choosing new floors for your home, there are so many options that it can feel a bit overwhelming. Aside from what you think looks nice, it's also worth thinking about what kind of flooring will work best for your family.
To help you select the right flooring for your home, the flooring services experts at Mr. Handyman Arlington put together this guide. As you continue reading, you'll learn about the pros and cons of the main types of flooring, key considerations before selecting your new flooring, and how our skilled technicians can meet all your flooring needs.
Types of Flooring
There are many different kinds of flooring available for you to choose from for your next home renovation—and our flooring services experts are experienced in installing and/or repairing a variety of different flooring materials.
To help you understand what the different types of flooring bring to your home, we've outlined a list of the most common types of flooring below:
Laminate
Laminate flooring is composed of four synthetic layers that are fused together in the lamination process. Laminate flooring uses a photo applique to create the look of wood or tile. While laminate floors in the past had a very artificial look, newer technologies have enabled laminate to have the same aesthetic quality of hardwood or ceramic tile. Laminate flooring is also very durable and resistant to scratches from pets or furniture. However, a drawback of laminate flooring is that it is susceptible to moisture damage.
How long laminate flooring lasts in your home depends on how well it is maintained and if the laminate floors are in a busy part of the house. Laminate in areas of lower traffic can last up to 25 years, whereas in areas of higher traffic, it may last up to 10 years.
Vinyl
Vinyl was invented in the 1930s. By the 1950s, it had quickly become one of the most commonly used materials for kitchen and bathroom floors. Unlike laminate—which has a thick composition that includes wood content—vinyl is plastic. Although vinyl is inexpensive, low maintenance and durable, it is also difficult to repair and bad for the environment.
Cork
Cork is a naturally sourced, sustainable resource that is gaining popularity across the United States because it is eco-friendly. Cork floors are made from the ground-up bark of cork oak trees mixed with resins. Cork acts as an insulator, is hypoallergenic and antimicrobial and provides a soft surface. However, it is easily damaged by pets, requires regular water sealing and can fade if exposed to sunlight for too long.
Tile (Porcelain or Ceramic)
Ceramic and porcelain tiles are among the most popular choices for flooring—especially in high-traffic areas like your kitchen bathroom or foyer. Ceramic and porcelain are both very strong and durable. Additionally, they are water resistant, available in a variety of colors, and are relatively easy to repair. Both porcelain and ceramic tiles are made from clay. However, porcelain tiles are made with a denser variety of clay and are baked at a much higher temperature.
Tile (Natural Stone)
In addition to ceramic and porcelain tiles, there are a variety of natural stone tiles that can be used for both flooring and backsplashes. Typically, natural stone tiles are sourced from a quarry. The stones are then cut into slabs, polished and transported to bulk tile manufacturers. These companies then ship the tiles to factories that cut the stone into tiles. The tiles are then packed up and shipped to warehouses and showroom centers.
Natural stone tiles remain one of the most luxurious materials to use in your home. Its primary benefit is that natural stone makes an elegant and stylish statement. Although durable, other flooring materials like ceramic and porcelain tile are also very strong for less cost.
Types of natural stone flooring include:
Marble
Granite
Slate
Limestone
Travertine
Soapstone
Hardwood
Aside from the aesthetic of hardwood floors, one of the primary benefits for hardwood flooring is its longevity. When properly cared for, hardwood floors can last a lifetime—if not longer. Homes that are 100 years old can still have the original wood flooring. Hardwood floors are also very easy to clean. However, pets (especially dogs) can scratch your hardwood floors. Occasionally, your hardwood floors may need refinishing.
There are a few different options to consider for hardwood flooring:
Finished: Finished floors are like they sound. It comes from the factory sanded and sealed, meaning it can be installed and is ready to walk on.
Unfinished: Unfinished hardwood is your best option if you want a custom stain applied or if you are looking to match an existing floor color.
Solid: Solid hardwood is completely wood. It comes in 5/8" to 3/4" thick. It is very durable and can be sanded and refinished multiple times. However, it can also be warped due to humidity.
Engineered: Unlike solid hardwood, engineered hardwood is a veneer of real wood glued to several layers of plywood. While this makes it very durable and stable, engineered flooring can only be sanded and refinished once or twice.
Carpet
When it comes to carpets, there are two main choices for homeowners: Will natural or synthetic fibers be better for your home?
Synthetic Fibers: Synthetic materials are not found in nature. For instance, nylon and polyester are both synthetic fibers. Most carpeting used nowadays is synthetic. However, while synthetic materials are less expensive, more stain-resistant, and easy to clean, they are much worse for the environment.
Natural Fibers: Natural materials are found in nature. They include cotton and wool. While natural fibers tend to be more costly than synthetic fibers, they are much better for the environment. The drawback of natural fibers is that they tend to be more difficult to clean.
Bamboo
Similar to cork, bamboo is also a natural, renewable resource. However, bamboo is not actually wood but grass. That said, it's strong as wood, more water-resistant and can be refinished in the same way as most hardwoods. Bamboo additionally adds real estate value to your home. However, bamboo can be scratched easily by pets and furniture and can sometimes crack due to swings in humidity.
Concrete
Concrete floors are durable and can last a lifetime when installed correctly. However, did you know that concrete floors can also be quite beautiful? While a utilitarian aesthetic may come to mind, there are many ways concrete floors can be unexpectedly attractive:
Overlay: This is when a thin layer of concrete is put on top of an existing slab to make it look like new.
Polish: After being polished with abrasive pads, concrete can shine like glass.
Acid-Stained: Concrete will chemically react with certain acids to form a mottled surface that looks like marble or resin.
Dyed: Unlike acid-staining, dying a concrete floor makes it one solid color.
Texturized: Before it dries, concrete can be brushed, stamped or embedded with materials like glass to give it a uniquely textured surface.
Mural: Concrete floors work well as canvases for a variety of painting techniques.
The drawbacks of concrete floors are that they are cold and can be slippery.
Curious to know more about our flooring services? Give our flooring services team a call today or request a service.
How to Choose Flooring for Your Home
There are many things to think about before choosing the right flooring for your home. Once you decide what kind of floors you want, the expert technicians at Mr. Handyman Arlington are happy to offer you our flooring services.
Where Will Your Floors Be Installed?
If you need flooring suited for a high-moisture environment—say in your bathroom—you may want to opt for concrete, tile or vinyl. Alternatively, if you're installing your floors in an area that receives a lot of sunlight, you should choose fade-resistant laminates or engineered hardwoods. Lastly, will your floors be in an area of high traffic like your kitchen or foyer? Hardwood floors and porcelain tile are both durable and long-lasting.
Do You Need a Pet-Friendly Floor?
If you have pets, you absolutely need a scratch-resistant floor. It's important to note that while a floor may appear or sound like it will be scratch-resistant, this is not always the case. For example, solid hardwood floors are easily scratched. Instead, opt for carpeting, ceramic tile, laminate flooring, or cork—which is also sound absorbing.
Do You Need Low Maintenance Flooring?
If you don't want to invest too much time constantly upkeeping your floors, then vinyl flooring is probably your best choice. If you don't like the look of vinyl, we suggest choosing laminate flooring—although bear in mind that laminate floors cannot be cleaned with a conventional mop.
Does Your Family Have Allergies?
It's best to avoid carpets if your family has allergies. Instead, choose hard, flat surfaces like tile and hardwood. These surfaces are easier to clean, so they keep dust and dander to a minimum. Alternatively, cork and bamboo floors are also allergy-friendly options.
What Aesthetic Do You Like?
Ultimately—aside from function—your design vision is one of the biggest driving forces behind what kind of flooring you choose. For instance, are you going for a light and airy feeling environment? In that case, choose a lighter-colored floor. Alternatively, darker flooring adds coziness and warmth.
Would you describe your style as more traditional or more contemporary? Thinner flooring planks tend to create a classic aesthetic, whereas wider planks look more modern. Choosing wider planks or larger tile squares will also serve to make a smaller space feel bigger.
Mr. Handyman Arlington Flooring Services
Our expert technicians offer a variety of flooring services, from completing installations to repairs. Continue reading to discover how our courteous and professional team can help you with any of your flooring needs.
Tile Installation and Repairs
The team at Mr. Handyman Arlington can complete everything from repairing cracked and chipped tile to grout cleaning and total overhauls. Whether you want to swap out old vinyl floors for ceramic tile in your bathroom or update the tiling in your kitchen, our flooring services experts will arrive at your home with all the equipment and skills needed to do the job right the first time.
Laminate Floor Installation and Repairs
From repairing damaged vinyl to installing new laminate floors, our technicians can do it all. Each of our flooring services repairmen possesses over 10 years of experience in the trades. Our team is trustworthy, respectful, and efficient. Whatever you need to be done to your living room, foyer, or bedroom floors, we've got it covered.
Wood Floor Installation and Repairs
Even though wood floorboards are durable, they can still be damaged by pets, water, kids, or furniture. However, should your hardwood floors become damaged, call the expert flooring services technicians at Mr. Handyman Arlington. It's unlikely that you will have to replace your floor entirely, especially with our experts. We will speedily and correctly complete any needed repairs to your hardwood floors so that they look good as new.
Book a Mr. Handyman Arlington Flooring Services Expert
There is no flooring services project too big or small for the pros at Mr. Handyman Arlington. Whether you need a quick repair to your laminate floors or are considering making the switch from carpet to hardwood, we have the skills, equipment, and professionalism required to complete your flooring project right the first time.
Give us a call today or
request a service
to get started.