Top Signs You Need Porch Repair Services in Arlington, TX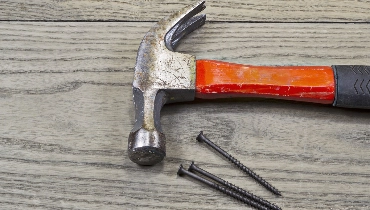 Every homeowner in Arlington clings to their outdoor living space, as it is an extension of their home—whether it's a porch, deck or veranda. Of course, you want to make the most of it, but if it's the first time you've used your outdoor space this year, you may need to take some precautions before you start sprawling all over the place, especially if you have wooden materials. In fact, there's a wide range of maintenance that must be completed for porches both before and after winter. Unfortunately, those tasks are often overlooked, and that lack of care makes Arlington porch repair inevitable.
Don't despair if you feel that you have neglected your porch in the past year and have grown concerned about its current condition. Your local Arlington handyman from Mr. Handyman of Arlington, Mansfield and Grapevine is an expert in porch repair and deck and patio maintenance. We can immediately identify any safety hazard and help you see your way through any maintenance or repair needs.
When you choose our handyman services, you can expect us to save you time and deliver enhanced safety and comfort to your home. Our uniformed service professionals have passed a background check and drug screen, and are dedicated to honest and efficient handyman work. They will arrive on time and be ready to expertly execute any task with service that will exceed your expectations. As a locally-owned and operated company, you can rely on our expertise and experience, which is backed up by our Done Right Promise.
What's The Difference Between A Porch, Veranda and Patio?
It sure is confusing when you hear all these terms at once because all you can picture is some form of outdoor space that extends from your house, but there are subtle differences between each type of outdoor area. It's important to know the signs that those areas need repairs, but let's get the confusion out of the way first!
Patio
A patio is typically a paved area in your front or backyard at ground level. It's not elevated or supported by wooden structures. Some property owners prefer patios because they require the least amount of maintenance, as you create a so-called courtyard that usually has solid ground like stone, concrete or bricks. The purpose of it is to create a comfortable exterior space where you are not inconvenienced by an excess amount of lawn. In fact, you can dig up your entire lawn area and turn it into a patio if you like.
Veranda
Veranda and porch are typically used interchangeably and there is no right or wrong when using either to define your home's space. A veranda is a roofed structure that typically stretches around the house and is level to the ground. They may or may not have railings.
Porch
You probably use the term "porch" when referring to a smaller space on the front of a house, whereas veranda is really a wrap-around structure. It's still a covered area that can be enclosed by a wall or frame. Some enclosed types include screened-in porches that serve as an extended indoor living area. Therefore, the structure of a porch can vary from a simple rain shelter to a thoroughly covered space.
Porch Material
Flooring is the most crucial part of a porch; just like decks or any kind of extension that runs from your home. During construction, it's best to use durable materials that not only complement your property's design but also keep everyone safe, of which there is a wide variety of materials.
If you are planning to rebuild a porch with wood, we encourage you to choose wisely and consider looking for alternatives that could potentially offer a longer life expectancy and minimize risks of porch repair. Arlington, TX property owners can choose from these typical materials for their porch:
Engineered wood
Natural wood
Composite
Brick
Stone
Tile
Concrete
Note: The stability of your porch is dependent on your foundation's strength. Since it serves as an extended attachment to your house, it's important to let your construction specialists determine the suitable material type to use during the construction process. Texas is known for having highly expansive soil, and it's crucial to take that into account. If you are installing a new porch or require Arlington porch repair services, a thorough inspection of your foundation may be required.
Signs You Need Arlington Porch Repair
It's easy to take your comfortable outdoor area for granted because it doesn't always cross your mind that it needs winterization or maintenance of any kind—until problems show up that require major repairs. But don't despair; we're here to help you identify telltale signs of damage in advance, so that you will be prepared to get repairs that will prevent serious complications.
Wood Rot
High moisture content can quickly lead to rot and other structural problems. While all wood has potential to decay, your porch, despite having a roof shelter, is especially vulnerable to wood rot. That's because wood rot is a form of decay caused by wood-eating fungi that require a high moisture content in order to begin growing.
Suppose there is a leak that exposes your porch to excess moisture, but the roof blocks any sunlight that would accelerate the drying process. In that case, the little opportunity to dry out between frequent soaks will severely harm any wooden material. To check for wood rot, look closely for these insidious signs:
Discolored timber: It appears darker or lighter than surrounding material, or has a white, yellow, or purplish hue.
Texture change: Wood that appears to be spongy, stringy or is webbed with cracks.
Cubicle Fracture: Timber that is breaking into cube-shaped chunks or crumbling into sawdust.
Mushroom growth: In very advanced cases, there may be mushrooms sprouting from wood.
Pro Tip: If you spot a suspicious patch, grab a screwdriver and press into it. If it sinks right in with barely any resistance, you have wood rot and that timber will need to be replaced before it spreads. Your local handyman can give you a more thorough diagnosis before commencing with porch repair. Arlington, TX property owners can rely on our team to replace rotted wood safely and effectively. Often, after installing new boards, it's common to apply a fresh coat of paint followed by a coat of sealer to help protect new timber from rotting. We'll also help you ensure that you haven't missed any other spots that also call for Arlington porch repair service.
Unsteady Railings
Handrails are designed to protect us from falling, no matter how highly elevated our porch is. Even if your porch is low to the ground, loose railings are a safety issue if someone unknowingly leans against them and realizes the railing can't support their weight. When you shake your railing, it shouldn't budge an inch, so if it wobbles, you should immediately mark off that area as a safety hazard and call for Arlington porch repair. The issue could be related to wood rot, or it could just be a matter of re-securing the railing where it's fastened to a wall or other areas.
Damaged Stoop
The stoop that attaches to your porch has to withstand high impact on a daily basis, which means that your stairs will suffer from wear and tear over time. If you pay attention to their frame, you can check for any issues that might require repair. If they're wood and creak every time you run up and down, you likely have issues that require service. Concrete stairs should be checked for cracks that develop over time and need to be refilled with cement.
If you have any issues with your stairs, we urge you to schedule an appointment for an inspection and porch repair. Arlington, TX homeowners often have outdoor stairs that suffer from Texas's extreme weather conditions, but we can complete preventative maintenance to keep you and your family safe.
Poor Grading
Proper grading ensures your Arlington home's exterior drainage system is in working order, but if there are issues with your landscaping, you could start to notice water pooling near your porch, or other serious complications. If your landscaping has been altered or the ground wasn't properly graded from the start, pooling water can wash away soil from posts or crack concrete footings, compromising the whole structure's stability. Any issues with grading and drainage need attention from a certified professional before they cause severe damage.
Slime and Grime
If your current porch is covered in a layer of algae or moss or enveloped with a built-up layer of dirt and grime, it needs a thorough cleaning. Consider an inspection and pressure washing service from Mr. Handyman of Arlington, Mansfield and Grapevine. We'll identify exactly what you need in terms of porch repair. Arlington, TX homeowners that haven't had staining jobs for a while can also benefit from pressure washing service by using it to strip away the rest of their old paint and stain in preparation for a new finish, as well as identify any other issues hidden beneath built up grime.
Old Porch
If you've got an old porch, you'll require a thorough inspection and diagnosis to confirm if there's anything we can save, or if replacement is a better option. In some cases, it is possible to restore and repair older porches, depending on the extent of wear and damage. Your odds are even better if you have used water-resistant and durable materials to begin with.
It might be hard to believe. but there are situations where some older porches will outlive newer ones. Back in the day it was easier to obtain old-growth lumber that is generally more durable than any other types. That said, typical old porch repair services include a thorough inspection to confirm that repairs are a more effective solution than outright replacement. During an inspection, your handyman will check for good footing condition and safe, stable frames.
Want to Avoid Porch Repair? Arlington, TX Homeowners Can Benefit from These Tips:
When decorating your Arlington home's exterior, refrain from using natural fiber rugs that are biodegradable and hold moisture. If you do, remember that when you clean it, you'll need to hang it to dry before placing it back on your porch. Opt for synthetic fiber if you prefer not to invest too much into maintenance.
Schedule an annual maintenance appointment that includes inspection, minor repairs and pressure washing services.
Maintain your flat base porch post by caulking areas that need waterproofing.
Check for peeling paint around the structure, and periodically refinish and re-seal worn surfaces.
Need Arlington Porch Repair Services Or Other Repairs? Hire The Pros at Mr. Handyman!
Whether you're in Arlington or in a nearby area, such as Grapevine, Southlake or Colley, you can trust the handyman service professionals at Mr. Handyman of Arlington, Mansfield and Grapevine to have the experience and skill necessary to deliver high-quality maintenance and repair services. While porch maintenance is an integral part of home maintenance, we also offer many other services that will keep your home in top-notch condition.
Give us a call to make an appointment for Arlington porch repair or to chat with our friendly customer service representatives about all the professional handyman jobs we can complete for you. When you choose our team, you get access to a wide variety of popular services beyond just porch services. Feel free to ask us any questions that you may have about any potential projects. The likelihood of us having the ideal solution for you is high! From other exterior solutions like deck repair services and fence repair to major remodeling projects, we have you covered!