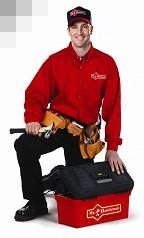 Acoustic ceiling textures were popular in the 1970s but are commonly being removed and replaced with more modern textures and finishes.
Safety should be of top priority in any home improvement project. Be aware that drywall textures , including "popcorn," may contain asbestos and may be painted with paint that contains lead. You should first educate yourself about these potential dangers before proceeding, and if in doubt, consult a professional.
Note that beginning April 22, 2010, any person paid to work in homes built before 1978 must be certified by the Environmental Protection Agency if the work involves the disruption of lead-based paints. State and local regulations may also apply to both lead and asbestos. Be sure to utilize appropriate personal protection equipment (goggles, dust masks/respirators, hearing protection).
Removing popcorn ceilings is not particularly difficult, but it can be messy and will take some time and effort. The first step is to protect floors, walls and furniture by covering and sealing everything. You will be using water to aid the removal process, so all room contents must be fully protected, or better yet, removed. If you take a shortcut on this step, you will very much regret it come cleanup time!
If the ceiling is painted , begin by loosening the surface using a floor scraper. The goal is not to completely remove the material at this point, but only to remove some of the painted surface so water can penetrate the material.
Using a hand pump sprayer, mist the ceiling to soften the acoustic material. The trick is to let the water do most of the work. Once soft, the texture can be removed fairly easily by scraping. The water also helps keep dust down. Keep spraying in sections and keep the surface damp. Having a helper to keep the surface damp, but not soaking wet, will speed the process along. Be careful to avoid gouging the drywall paper under the texture.
By applying adequate moisture and carefully scraping, you should end up with a fairly smooth, damage-free drywall surface. Be careful around joints and corners because the drywall mud under the texture may become soft as well. Once all the texture has been removed, let the ceiling dry thoroughly. Roll up the plastic on the floor to get the old material away from your work area. Replace or cover it with new plastic. This will help keep shoes clean and avoid the tracking in of old material.
Once the ceiling has dried, go back and patch any damaged areas and smooth the entire surface. When patching is complete, the ceiling is ready for the new texture of your choice. It is recommended that the entire ceiling be primed before re-texturing or painting. If you prefer to leave the ceiling smooth (known as a "slick" finish), much care must be taken to eliminate any flaws before painting or they will be very visible.