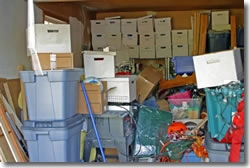 Feeling cramped? Organizing your garage is one of the best ways to reduce clutter and create more room in the rest of your house. Mr. Handyman has a few quick tips to transform your garage into a clean and functional space:
--Organize: Put similar items such as sports equipment, garden tools, and holiday decorations together and clearly label boxes, bins, and storage containers. Installing storage cabinets, shelving, and countertops will make getting to things easier and help you stay organized.
--Get it off the ground: By using hooks to hang bikes and organization racks for brooms and rakes, you'll make your garage less cluttered and easier to navigate.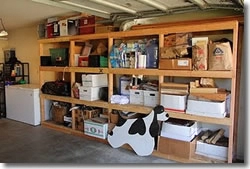 --Custom Solutions: We know that every home-and every family-is unique. For example, you may need a custom-built shelf to fit an odd-shaped object, more space for your active teenager's sports gear, or a pet door in the garage. Whatever your requirements, Mr. Handyman's experienced technicians can create personalized solutions that are just right for you-and your budget.
This article is part of the Garage Organization Ideas series. Read more for more garage organization tips from Mr. Handyman.
All Mr. Handyman franchises are Fully Insured - General Liability and Workers Compensation. Some services subject to state and local licensing and may not be available in all locations. Click here to request service in your area.