Tips for Hiring a Handyman: Protecting Yourself, Your Home and Your Wallet
Recent news stories remind us of the importance of being vigilant when it comes to inviting people into our homes for repairs, maintenance and other contract work.
We asked our local Mr. Handyman , Dennis McGee, for helpful tips to protect you, your home and your wallet in this month's Healthy Home Report.
[youtube=http://www.youtube.com/watch?v=9j33xh8udRY]
All handymen are not necessarily jacks of all trades. They come from all walks of life and all sorts of interesting backgrounds. Recent headlines remind us that maintaining a safe and healthy home also includes making sure you're safe when allowing contractors into your house.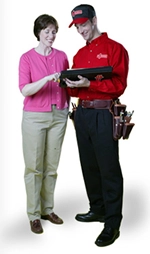 Here are some helpful tips and questions to ask when looking to hire a professional handyman with those major/minor home repairs.
Make a list of possible handymen to screen. The best way to start this process is to speak with local friends and family about whom they have used. Word of mouth is the best advertisement someone can have. Another way to find possible leads is to pick up your local newspaper, but remember, advertising does not automatically mean credible.
Ask questions during the screening process. Ask for references and check them out. Don't be afraid to pick up the phone and call to see if someone was happy with the work they received and the contractor's conduct. Remember, you are inviting this person into your home. Also ask questions about the handyman's experience and abilities.
Make a list of what you need. Have a clear idea and write it down. Though there are many handymen with a tremendous range of skills, you can't assume anything. It is important to go over the list with the handyman during the screening process. Your goal is to decide if this person will properly complete the job you're hiring him to do.
Make sure the handyman is licensed and insured. No matter how uncomfortable it may feel, it is not unreasonable and you should ask for proof of insurance and current license. Be sure to check expiration dates. Each state is different, so you'll want to check with your local business inspector or city hall. You can also go online to your local Department of Business and Professional Regulation website and look up information there. If the contractor does not have insurance, don't forget, no matter how petty the job is, the liability of an accident could be your responsibility.
Ask how the handyman charges. Do they charge by the hour, half hour or by the job? How do they want to be paid? Do they provide free estimates?
Be wary of door-to-door handymen who just happen to be in your neighborhood and see you need some repair work, especially if they use scare tactics.
Being safe means being smart. Don't be afraid to ask questions and research your local professional handyman .