Simple Landscaping Ideas to Create Curb Appeal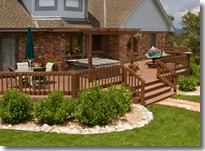 Imagine finding the perfect house online, then pulling up to the showing to see a front yard worse for wear and devoid of any TLC. No matter how nice the inside of the home is, you might pass on it simply because you suspect the owners skimped in other areas of maintenance not readily visible. Avoid putting potential buyers of your home in this situation by using simple landscaping ideas to create curb appeal.
Install flower boxes - This quick and easy way to brighten the exterior of your home also proves the least expensive. Home improvement stores offer flower boxes in a variety of materials, from plastic to iron. Choose a material that complements your home; for example, if you have a fence or porch railing made from wrought iron, look for flower boxes made from the same material. Opt for annuals in bright colors that complement your home's exterior paint and trim, and plant varying sizes and textures in a zigzag pattern instead of in a straight row, which lacks imagination. Keep an eye on your flowers the entire time your house is on the market and replace any that don't survive the transplantation. If you plan to fasten the flower boxes to your home, instead of draping them over a railing, have your professional handyman handle the job to avoid causing damage.
Place planter boxes - If the exterior of your home does not allow for easy installation of flower boxes, use portable planter boxes instead. This also allows you to take them with you to your next home instead of leaving the investment behind. Home improvement stores also carry a large selection of planters, and the larger ones will give you more options in terms of plant type and size. For example, you wouldn't want to plant a rosemary tree in a flower box, but you most certainly could in a planter box.
Lay mulch, bark, pine needles, or wood chips - Replace existing or install new filler materials such as these. Not only do they seal in water for your plants, they add another pop of color. Be sure to keep in mind the annuals and plants you plan to add when choosing this landscaping material, which can be found in a variety of forms and colors at home improvement stores.
Install landscape edging - A landscape bed without edging looks as unfinished as a pair of pants without a belt. Just as you took other materials on the exterior of your home into consideration when choosing flower boxes, do the same with edging material. For example, a stone country house would benefit from a decorative landscape border that resembles the exterior material. Again, home improvement stores offer a wide variety of options.
Lay landscaping stones- So many homes have special architectural touches that stop at the porch or patio. They simply feature plain concrete slabs. Consider laying landscaping stones on the surface with the help of your handyman. And since it serves as a permanent addition, as opposed to planter boxes you can take with you, the cost of the supplies and work can be factored into the asking price of your home. This proves a relatively easy job with the right help, and it will add serious value to your home's curb appeal. Whether you make one of these ideas a reality or several, the most important factor of curb appeal is maintenance. Keep your lawn mowed, if applicable, and your porch swept, and remove any debris or dead plants during a daily check. You can't simply spruce up the place before every show, as many home shoppers drive by houses before making showing appointments to see if the photos of the home online actually live up to the real thing.
Related Posts:
Patio Improvement Ideas: Cleaning, Sealing, Plants and New Cushions
Patios and Decks: Plans to Improve Your Outdoor Space
Mr. Handyman can maintain your home to save you money. One call really does take care of everything on your to-do list. All Mr. Handyman franchises are Fully Insured with General Liability and Worker's Compensation. Some services are subject to state and local licensing and may not be available in all locations. Make sure to stay on top of all your household repairs, improvements, and maintenance needs and request service in your area.