Walkway Installation Plus Sidewalk & Concrete Repair Tips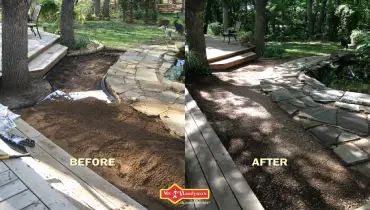 Courtesy of Mr. Handyman of S.E. Tarrant County
Installing a walkway can boost curb appeal and bring functionality to your home. With all the potential options out there, deciding what materials and style works best for you can be difficult. The most important part of the decision process is to make sure you do your research. This way, you will be certain you have made the best decision for your individual situation. The following are some potential options for designing a walkway installation along with tips for repairing already existing concrete.
Stone: There are many different types of stone that work beautifully as a walkway. Look into options such as granite, slate, limestone, and sandstone. Keep in mind that different types of stone will sustain longer in different climates. Laying these organic rocks down will give architectural texture to your landscaping. Just remember that if this walkway is a high-traffic area, you might want to choose something more maneuverable.
Concrete: Concrete is a great option for high-traffic walkways. The consistency of concrete will help prevent tripping and ensure smooth maneuvering. To add an aesthetic flare to your concrete, try painting or staining your walkway to match the architectural design of your home. Learn how to pour your own concrete walkway here. Oftentimes, however, concrete can look drastically better with just a few easy repairs.
Repairing existing concrete: Before you start your concrete repair, make sure the chipped and cracked areas are swept and power washed to get rid of any loose debris. Next, tape off the area to ensure you don't get concrete on unwanted areas. There are various options for filling your cracked concrete, but we recommend using a pre-mixed concrete patch. Getting the right consistency when mixing your own concrete can be tricky, so using pre-mixed concrete can eliminate that issue. Using a concrete float, apply the patch and shape when the affected area has been set. For a more detailed tutorial on concrete repair click here.
Gravel and crushed stone: Gravel and crushed stone can have limitless options, and can also be the most cost-efficient choice. Gravel walkways can also be created for flexibility. The free form of these pathways will not ruin existing plants and foliage. Walkways lined with crushed stone need to have a border as to keep the small fragments in place. Pre-made steel borders are easy to install and relatively low in cost. This is the time to get creative- cobblestone, brick, and wood also make great materials to give your walkway a creative flare.
Installing a new walkway can be fun and easy. Keep in mind you can also mix and match some of the previously mentioned materials for a unique, custom walkway all your own. Remember that if your next in-home project gets out of hand, Mr. Handyman is always there to help. For professional advice, contact your local Mr. Handyman here.