Vanity Table and Custom Makeup Tables for Your Master Bedroom or Bath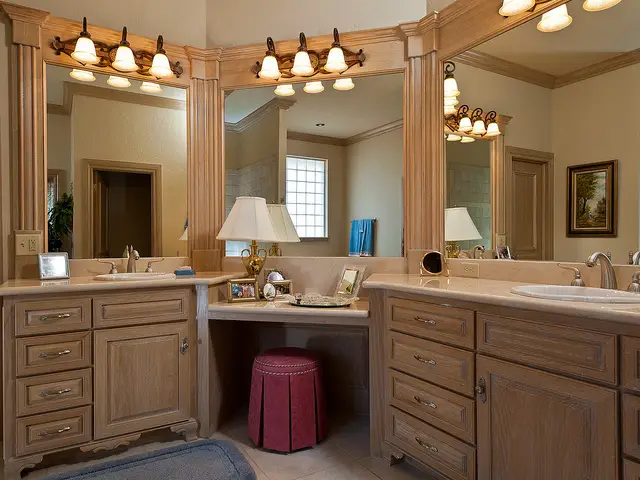 Adding a vanity or makeup table in your master bedroom is a luxury within itself. It is a space all your own, a symbol of femininity and beauty. Creating a custom vanity is a great project if you want to add a feminine touch to your master bedroom. To begin, keep in mind the placement of your new vanity table. Dressing and makeup tables can traditionally be found in the bedroom, bathroom, or sometimes even a walk-in closet.
Refurbished antique vanities will give your room a unique flair. To find that perfect antique dressing table, garage sales, and antique shows are the perfect places to start. There are so many hidden gems and one-of-a-kind pieces waiting to be found. We like the vanity table featured below because of its versatility and character. It can be sanded down and painted a different color, or kept as is. Install a mirror with similar design elements above, and you have yourself a custom vanity and makeup table. Keep an open mind when shopping -- there are so many non-traditional options for a custom vanity. A shelf, for example, can be installed at just the right height to make a great makeup table.
The last picture below is an example of a custom-built makeup table separate from the vanity and sinks. We love this for its practicality along with its novelty. This would be perfect for a bathroom used by multiple ladies, as there never seems to be enough mirror space when getting ready.
No matter which style or type of vanity you choose, we recommend hiring a professional for any major installations. To locate your nearest Mr. Handyman location, click here.