How to Build a Retaining Wall - What is Involved: Time, Money & Skills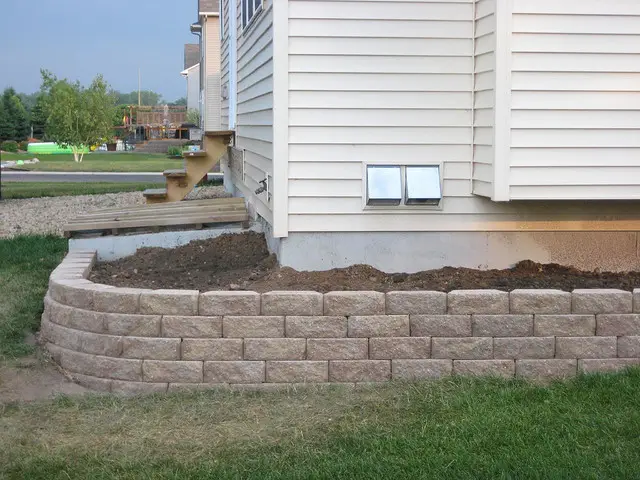 As spring temperatures rise, and lawns begin to return to their true shades of green, you may wish to consider incorporating retaining walls into the landscaping of your property. Retaining walls can be designed both for aesthetic and practical purposes depending upon the "lay of the land," and what is desired with respect to flower gardens, vegetable plantings, etc.
The primary function of retaining walls is to hold-back soil, but other aspects like water drainage must be factored into every design. Before you progress too far along in the planning stages, it would be a good idea to consult with a landscape architect and/or contractor, or a professional surveyor in order to ensure that your ideas are not only suitable for your property, but also will not adversely affect your neighbors' lots.
Different function-specific options exist with retaining walls. For example: stone walls may serve to retain a hill section, or walls constructed of pressure-treated wood could allow for a terraced vegetable garden. Stone walls can be mortared in-place, or dry-stacked depending upon the application. Retaining walls that approach six feet in height will require a concrete footing to be installed in the ground prior to the construction of the wall itself. A concrete footing typically costs in the range of $90.00 per linear foot. A wood wall itself runs approximately $30.00 per linear foot, while material like flagstone will require an investment of close to $90.00 for each linear foot of wall run.
The time commitment to building a retaining wall will depend upon layout complexity, the style (designs calling for different-sized blocks to be laid in a pattern will take longer than uniform components), the wall material, and the height. If your wall footprint is in the neighborhood of twelve feet long and four feet high, you may be able to complete the project over the course of a weekend. Prior to starting this, or any other project that may involve digging in earth, make certain to call 811 to schedule the staking of underground utilities so that you will be aware of electrical, natural gas, phone/cable, and municipal water lines.
Construction of a retaining wall requires tools like tampers and long levels that are not typically found in the garage of most homeowners. Wall blocks weigh anywhere from 20 to 80 pounds, and this kind of work can be very strenuous-especially in hot or humid climates. Hiring a licensed, insured, and experienced contractor may be the way to go to achieve a beautiful and functional retaining wall that will endure for years into the future.
Mr. Handyman can maintain your home to save you money. One call really does take care of everything on your to-do list. All Mr. Handyman franchises are Fully Insured with General Liability and Workers Compensation. Some services are subject to state and local licensing and may not be available in all locations. Make sure to stay on top of all your household repairs, improvements and maintenance needs and request service in your area.