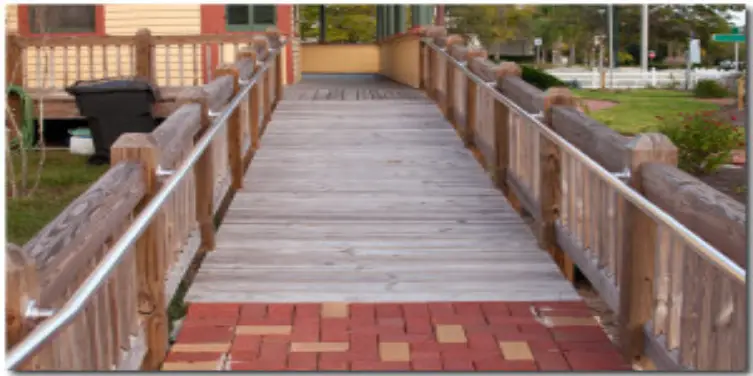 A wheelchair ramp allows family members of all abilities to more easily enter and exit the home. You may need to add a ramp because an elderly parent with limited mobility will be moving in, or another family member may have an injury or other health condition that requires additional accessibility. No matter the reason, such a project must be undertaken with the utmost attention to detail, whether you DIY or outsource the work, to ensure safety for all who use the ramp.
American With Disabilities Act Guidelines
While ADA guidelines for wheelchair ramps do not apply to private residences, they are an excellent starting point for designing and building your structure. In general, these guidelines call for:
1:16 to 1:20 slope ratio
Minimum 36-inch ramp width
Minimum top and bottom landing width that matches or exceeds minimum ramp width
Minimum 60-inch top and bottom landing length
Handrails on each side for ramps with a 6-inch or greater rise and/or a 72-inch or greater horizontal projection
For the complete guidelines, including requirements for edge protection, visit ADA.gov. You should check with your city building code and homeowners' association offices to ensure you meet local regulations as well.
Materials for Building a Wheelchair Ramp
Options for wheelchair ramp materials include concrete, wood, steel, and aluminum. A variety of factors go into your decision. Do you want the ramp to be a permanent addition to your home? How much maintenance do you want to do? Is it important that it blend into the design of your home?
Concrete proves the most permanent material, requires the least amount of maintenance and fits into the aesthetic of modern homes. It comes with one of the highest cost in terms of materials and labor.
A wood ramp costs less to build, but the regular maintenance required to ensure the material does not rot, warp or splinter can wipe out any initial savings.
Steel also requires rust and corrosion prevention, and while you need not worry about either with aluminum most homeowners find the high cost of the material prohibitive.
All of these materials require anti-slip features to ensure those using the ramp can do so in all types of weather, adding to the total cost of installation and upkeep.
Designs for Wheelchair Ramps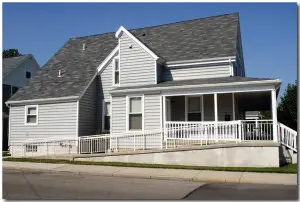 If you would like the ramp to reflect the existing design of your home, choose matching or complementary materials as well as a similar style. Great places to look for ideas that will fit the look and layout of your particular home are home design websites such as Houzz.com. There you will find photos shared by homeowners who have already solved the design challenge. You can use them as inspiration for your DIY project or show to your professional handyman.
Building a Wheelchair Ramp
As noted above, attention to detail is a must with a construction job such as this. Measurements and execution must be precise to ensure wheelchair users and pedestrians alike can use it safely. The combined weight of the user and wheelchair also must be considered; to plan for the future, factor in how much a motorized chair weighs even if the user does not yet have one.
If you do not have experience with this type of construction, seriously consider outsourcing the work. Not only will a professional ensure the wheelchair ramp meets any local codes, he or she will have all of the equipment required, tools you may not own or have access to yourself. This project also can be a lengthy one, even for experienced DIYers. To see the many steps involved in building a wooden wheelchair ramp, check out this how-to from Lowe's.