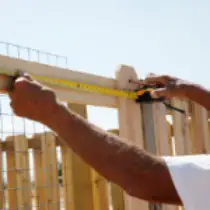 A major selling point for home ownership is privacy. The correct fence can provide separation from the outside world while also enhancing security for your family and pets. It can create a decorative border at your property line as well. Choose the right privacy fence for your home after learning more about the different types of materials and designs available.
Types of Privacy Fence Materials
Three types of privacy fence materials are within the budget of most homeowners: wood, vinyl, and chain link. They each have their pros and cons.
Wood remains a popular choice because it suits a variety of architectural styles and building materials.
Wood Pros: Affordability; ability to stain or paint to complement house and landscaping; ease of repair; and longevity, which can reach 15 years if taken care of during its lifetime
Wood cons: Annual maintenance required for longevity; and risk of rot, warping, and termite infestation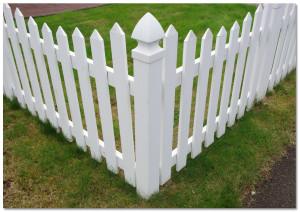 Vinyl offers homeowners an alternative to wood that requires less maintenance.
Vinyl pros: Staining or painting not required; little to no maintenance; no susceptibility to rot, warping or termites; ease of repair; and longevity, with many vinyl fences coming with a lifetime guarantee
Vinyl cons: Higher upfront cost than wood, particularly for higher-quality materials that resemble wood more than plastic
Chain link proves popular because of its price.
Chain link pros: Low cost and a design that holds up to strong winds better than other materials; slats in a variety of colors can be added to create a privacy fence
Cons of chain link fencing: Can be considered an unattractive design
Privacy Fence Construction and Design
While concrete and chain links vary little in terms of design, wood and vinyl come in a wider variety of options. Picket and split rail do not offer enough privacy to qualify as this type of fence, but others do: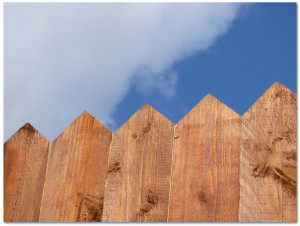 Board on board: With this type of fence, vertical boards are installed on both sides of the cross beams, leaving a bit of space between each board to allow airflow. Next-door neighbors and those outside the fence line cannot see inside unless up close, and what they see is limited by the adjacent board.
Board on baton: This fence type follows the same overall design concept as a board on board, but it eliminates the gap and provides total privacy.
Flat: This design only has vertical boards on one side, which means the crossbeams face out and face in. If you opt to have the crossbeams face out, someone could use them to climb the fence. If you opt to have them face in, you do not get the smooth look of the flat surface from within your yard.
In terms of aesthetics, the top of a privacy fence allows homeowners the most flexibility. Latticework, convex designs, and decorative fence posts enhance the look of wood and vinyl fencing.
Inspiration for Privacy Fence Design
The options listed here are just a few of the designs available. To find the inspiration for a privacy fence that suits your home and personal taste, look to websites such as Pinterest and Houzz. They include photos of fences from around the world that you can take to your professional handyman for duplication in your own backyard. A professional can also steer you toward the right materials for your particular weather to ensure that you get the most out of your investment.
Mr. Handyman can maintain your home to save you money. One call really does take care of everything on your to-do list. All Mr. Handyman franchises are Fully Insured with General Liability and Workers' Compensation. Some services are subject to state and local licensing and may not be available in all locations. Make sure to stay on top of all your household repairs, improvements, and maintenance needs and request service in your area.