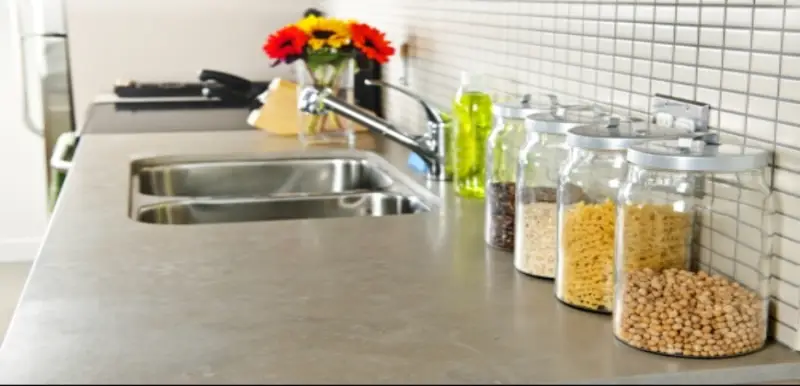 When installing kitchen countertops, one of the biggest decisions to make is what material to use. The look, feel, and style of your kitchen is the most important thing to factor when choosing what material to use. However, you also have to be mindful to not exceed your budget. In this blog post, we will rank 7 popular kitchen countertops from most expensive to affordable.
1. Recycled Glass and Cement Kitchen Counters
Although it's our most expensive kitchen countertop material ($100 to $160 per square foot installed), this unique combination of glass and cement is a great way to add flair to your kitchen! Eco-friendly, sturdy, and visually appealing, this countertop material can be customized and is a top choice for those seeking a "green" alternative.
2. Concrete Kitchen Counters
No, this is not the kitchen countertop of Fred Flintstone! Concrete counters can have plenty of color and visual texture by adding pigments, stains, and dyes. If sealed correctly, a concrete kitchen countertop is worth the investment - at least $100 to $150 per square foot installed.
3. Marble Kitchen Counters
Marble kitchen countertops have a classic look that always seems to be in style. Have a white kitchen in mind? Marble offers more variety of white than almost any other material. Be aware that marble is a softer stone than granite, and can scratch and stain easily! The cost of $70 to $100 per square foot installed is pricey but not the most expensive.
4. Stainless Steel Kitchen Counters

Stainless Steel kitchen countertops are nonstaining, heat resistant, and easy to clean. (Which makes them great for cooking!) Don't, however, expect to have a flawless kitchen as stainless steel makes fingerprints and scratches stand out. Costs typically range from $80 to $90 per square foot installed.
5. Granite Kitchen Counters
Granite kitchen countertops are probably the most popular among kitchen countertops. These countertops can be customized to fit the unique look and feel of your kitchen. Ranking high in durability, granite countertops last long and maintain their original look. Cost range from $50 to $80 per square foot installed but can be more costly with more exotic slabs.
6. Wood Kitchen Counters
Wood typically isn't the first material that comes to mind when thinking about kitchen countertops. However, high-quality wood can create a stunning, vibrant, and long-lasting countertop. Pricing has a wide range (depending on wood type) but butcher block countertops tend to range from $30 to $85 per square foot, for materials only.
7. Plastic Laminate Kitchen Counters
Plastic laminate isn't viewed as good as stone but is still a popular choice. This material is very customizable and can work in practically any design. With costs ranging from $8 to $20 per square foot installed, it's the most affordable on our list. However, plastic laminate is not the most durable of countertops.
Installing kitchen countertops is not commonly considered a DIY project. When you need to install a kitchen countertop, call Mr. Handyman! All Mr. Handyman franchises are Fully Insured with General Liability and Workers' Compensation. Contact us today to request service in your area!