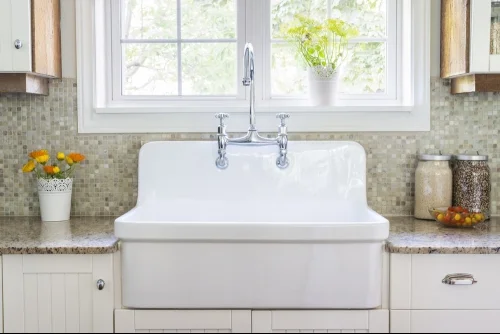 Everything You Need for a DIY Kitchen Backsplash Project
Tiling your own kitchen backsplash is a relatively affordable way to transform your kitchen. Like all DIY jobs, tiling can get tricky; but with the right equipment and a little guidance, you'll have your own backsplash to boast about in no time. Gather the tiling tools listed below and you'll be all set to get to work on your DIY kitchen backsplash.
Complete List of Tiling Tools
Tape measure: When doing a project as precise as a backsplash, it's important to measure accurately, so having a tape measure on hand is vital. Remember the old adage: measure twice, cut once!
Straight edge: Again, precision is crucial when tiling. A straight edge will guarantee your backsplash turns out uniform.
Level: Often people just base their backsplash tiles on the straightness of the countertop, but countertops aren't always perfectly level. Having a level on hand will ensure a beautiful backsplash.
Tile cutter: Because everyone's backsplashes vary in size and shape, chances are you'll need to cut your tile to cover your entire backsplash. If you don't already own one, there's no need to go buy one! Go to your local tool shop to rent a tile cutter. You'll want a wet saw if cutting natural stone to prevent chipping and a regular tile cutter for ceramic or porcelain tiling.
Utility knife: Depending on the size of your tiling, it may come with mesh backing. You'll likely need a utility knife to cut the mesh to fit your backsplash.
Notched trowel: A notched trowel is used to spread the tile adhesive---one of the most important tools for tiling.
Float: A float is similar to a notched trowel but often lined with rubber---it's used for spreading grout.
Sponge: After grouting, you'll need to wipe the tile clean of all excess grout.
Drill/driver with mixing attachment: Depending on whether your grout is pre-mixed, you may need to mix it yourself with a drill.
Cardboard/sheets: To prevent your appliances and countertop from debris, it's best to lay some sort of drop cloth over any area that has potential to be dirtied. Use anything from cardboard to old sheets and towels to keep your kitchen clean.
Bucket, soap, wash cloth: You don't want to tile a dirty wall! Wipe it down with a sponge and soapy water to ensure a strong adhesion.
Low grit sandpaper: Depending on your wall, if you have high gloss paint on the area where you'll be tiling, sanding it down lightly by hand will promote maximum adhesion.
How to Tile Your Own Backsplash
After you've decided what type of tile you want, take the dimensions of your backsplash area and plan out how you want to lay your tile.
Prep your area! Cover any areas subject to being dirtied, such as countertops and appliances, with cardboard or drop cloths. Make sure your wall is clean before you start applying your tile. Wipe down the area with a sponge and soapy water.
After the wall has completely dried, it's time to mix your mortar/tile adhesive. Always follow instructions on the label. Most mixes will last only a few hours before drying, so make sure you're ready to put in some work.
Pro tip
: Always begin working from the most visible areas when tiling.
With your mortar/tiling adhesive on hand, grab your notched trowel and apply the mortar in a two-foot section. First, apply a thin layer at a 45-degree angle followed by a heavier layer. The ridges from the trowel should all go in the same direction.
Apply your tile to the mortared area, making sure to use your straight edge and/or level if necessary. For best results, use your float to press the tile into the mortar and even out all ridges. Repeat this in small, two-foot sections until all tile has been laid.
Pro tip
: Use tile spacers to ensure a uniform look.
Most mortars and adhesives take about 24 hours to dry. Refer to the label of your mortar/tile adhesive for specific details. With dried tile on your wall, you can start laying your grout. Follow the mixing instruction found on the container. You typically want to mix the grout until it reaches the consistency of peanut butter.
Use your float at to apply the grout at a 45-degree angle between each and every tile. Don't be afraid to get grout all over your tile - it's part of the process! But do your best to avoid the top and bottom seams where you'll be caulking.
Pro tip:
Grout tends to stick to natural stone and unglazed tile. If you're using these varieties, use your sponge to apply a light coat of grout sealer before laying your grout. It will make cleanup much easier!
Remove any excess grout you can with your float and let the grout set for about 10 to 20 minutes. After the grout has settled, use a barely damp sponge to wipe off the excess grout. Be careful not to get your sponge too wet - you don't want water in your drying grout!
Pro tip
: Wipe your sponge at a 45-degree angle to avoid scraping grout from between the tiles.
Finally, caulk around cabinets and countertops if necessary. If possible, try to choose a caulk as close in color to your grout as possible. Remove your drop cloths and enjoy your beautiful kitchen!
If installing a tile backsplash sounds like too much work, call your local Mr. Handyman for some help. Remember, DIY doesn't mean you have to do it all by yourself! Whether you're thinking about ceramic, porcelain, stone or glass tile, read more about our tiling services or find some tips on designing a new kitchen backsplash.