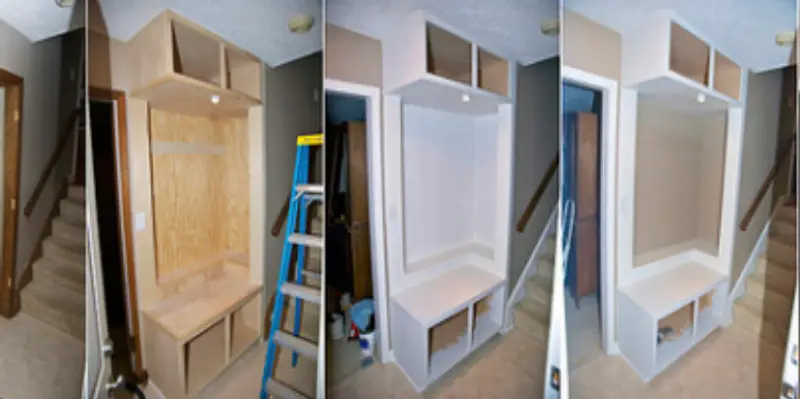 Tired of tripping over boots, picking up coats, and searching the entire house for your misplaced purse? Sounds like you need a mud room.
What is a mud room? It's basically an entryway equipped for busy families that need adequate space for shoes, coats, and equipment. If you desire an uncluttered and inviting entryway, then keep reading. And if you think building a mud room is out of your budget, think again. We've highlighted four different mud room ideas - from sophisticated to simple - that will help keep your busy family organized and your home tidy.
Full-Blown Built-ins
This is a dream. Imagine a beautiful wooden bench with storage space below, lockers for every member of your family, complete with hooks, crown molding, and plenty of storage space above. Muddy boots - check. Sports equipment - check. Jealous friends - check. And just because it looks extravagant doesn't mean it has to break the bank. Contact your
local handyman
for a quote!
Cool Closet Converter
Get smart with your space. Convert your existing entryway into a mud room by adding a bench and storage space to your coat closet. The beauty of the mud room nook is that you can still hang all of your coats and store all of your boots, but now you have a nice little bench to sit on while you get ready to head out the door - and you didn't have to sacrifice any space at all!
Add a Hall Tree
For a simpler solution, add an elegant hall tree to your foyer. You still get the storage bench and coat hooks. We even found some "shabby chic" hall trees made out of old doors. If you want to go the DIY route, remember that Mr. Handyman is always ready to help you along the way!
Entry Bench & Hooks
For a quick and easy mud room makeover, buy or build a simple storage bench and hang some hooks on the wall behind it. Take it to the next level by substituting wall cabinets for hooks. This is a great option for small spaces and it still accomplishes the purpose of the mud room - keeping the entryway clean and organized!
Building a mud room is all about getting creative with your space. And if you need help with anything, from designing to building, contact your local Mr. Handyman today. We're ready to turn your vision into the ultimate mud room!
Photo Credit: wplynn on Flickr.