Outdoor Fire Pit Ideas for S'more Campfire Memories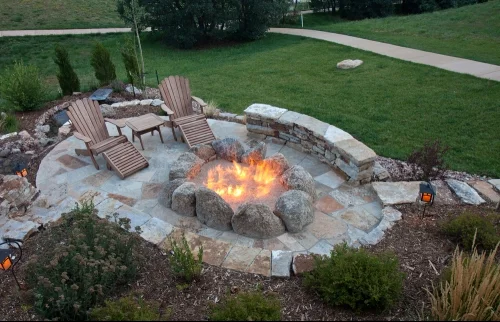 Looking to improve your backyard? Consider adding a fire pit. Adding a fire pit to your backyard will create a dramatic focal point that can be used for enjoyment year round. Many options are available to you when it comes to choosing the right fire pit. You can have a built in fire pit or purchase a portable one from a variety of stores. Either way fire pits become a natural gathering spot for socializing and relaxation.
If you decide to build your own fire pit choose an area that is on flat ground that is away from any low hanging branches. Next, use spray paint on the ground to mark the size and shape of your fire pit. The recommended size for a fire pit is 36 and 44 inches. Then excavate the ground in the shape that you have drawn and then dig approximately 8 inches into the ground. Once you have done that you can add sand to the bottom of the hole and add then add your retaining wall made of fire brick and fire-proof mortar. Tips:
Keep in mind the amount of space you have to work with. Make sure that if you have a large family you have a big enough fire pit for everyone to gather around it.
Check the building codes in your area. This may impact where you can or cannot place your fire pit and also what type of wood you can burn.
Choose the right material. Make sure that your fire pit is built out of material that is both decorative and heat absorbent.
Ideas:
Think beyond the basic circle. Fire pits can be square, L-shape and even triangular. Pick the shape and size that works best for you. Make it a focal point and don't be afraid to be creative.
Add your fire pit underneath a gazeebo so you can still enjoy a warm fire even when it is raining.
Create a serene setting by adding plants, flowers or even a water feature to your fire pit area.
Don't forget the seating. Make your fire pit an extension of your home by adding comfortable seating, pillows and even a place to rest a few snacks.
If you are looking to add a fire pit to your outdoor living space give Mr. Handyman a call. Mr. Handyman can maintain your home to save you money. One call really does take care of everything on your to-do list. All Mr. Handyman franchises are Fully Insured with General Liability and Workers Compensation. Some services are subject to state and local licensing and may not be available in all locations. Make sure to stay on top of all your household repairs, improvements and maintenance needs and request service in your area.