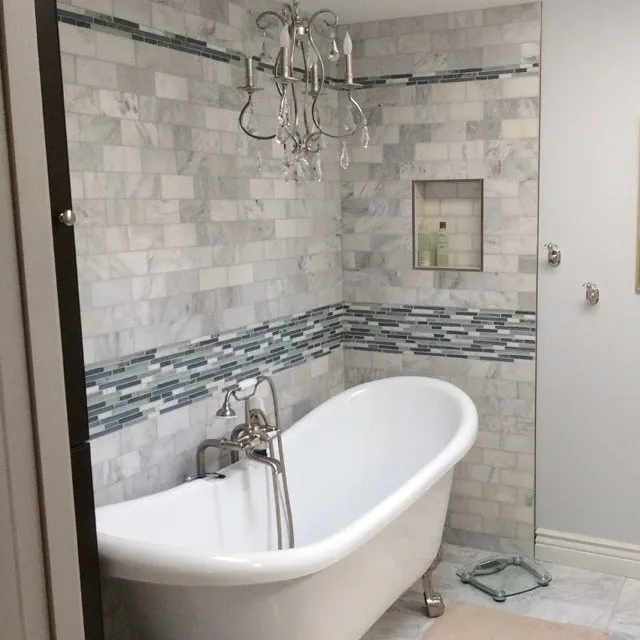 Mr. Handyman of Northern St. Joseph and Elkhart Counties
It's amazing what tile can do these days. It can really make or break a bathroom. If you currently have a dated and/or drab bathroom because of the tile you (or the previous home owner) chose several years ago, this is the blog post for you.
Tile comes nearly countless shapes, sizes, colors, and forms. There are four main materials for tile: ceramic tile, porcelain tile, stone tile, and glass tile. Choosing the material and look for your bathroom really comes down to your tastes. Each has their own uniqueness and qualities.
Ceramic tile is the "go-to" choice for most homeowners. It comes in an array of colors and styles to complement your home's aesthetic. It's cost-effective and relatively low-maintenance tile as it's easy to clean and slip-resistant, which is great for the bathroom. Porcelain tile has become more popular over the years as an alternative to ceramic tile. It has low-moisture absorption, it's more dense than ceramic and stone tile. Plus, it's incredibly versatile. Stone tile allows homeowners to bring a more natural aesthetic to their bathroom. It's very durable and offers a more high-end or distinguished appearance. Lastly, glass tile is more sought after these days for its sleek style - like the glass subway tile look that's trending at the moment. Glass tile is also great at improving the light in a bathroom as it's reflective.
Replacing shower tile can be a challenging and time-consuming task if your not a skilled home improvement professional. There are many things to take into consideration before starting the project. For example, if you're choosing a complex or intricate design, be sure to keep the size of your shower in mind. A complex pattern could be challenging to complete if you don't allow enough space for the entire design in your shower surround. Also, the smaller the tile size, the more grout and maintenance will be required.
Looking to replace your drab shower tile but don't want to DIY? Mr. Handyman is a professional at tile installation and repair. Contact your local Mr. Handyman or call us.