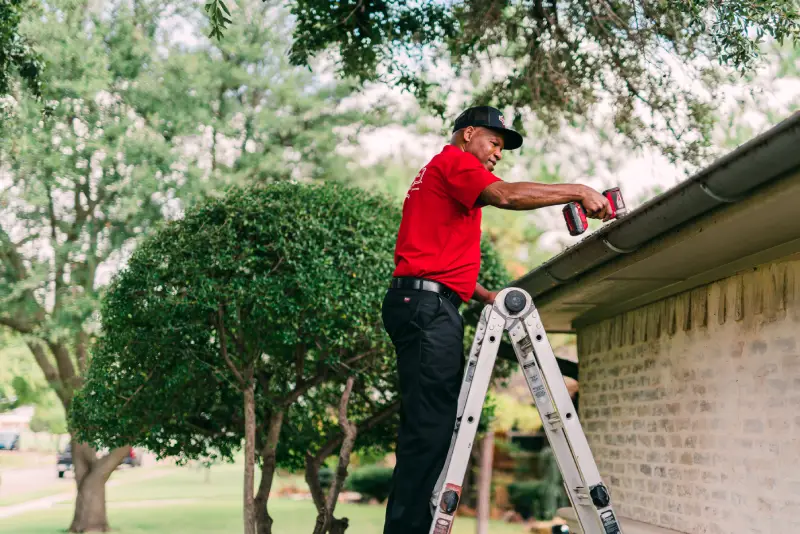 If you buy a house and realize it doesn't have gutters until you move in, we get it. After all, gutters are standard on most homes, so it's easy to assume yours does too. Gutters are a vital feature of most homes, and while professional installation isn't cheap, it's an excellent investment.
This may have you wondering, "Does a house need gutters?" And should you even bother installing them when they can cause expensive damage if they get clogged? Avoiding the issue altogether seems logical, but having no gutters at all can damage your home when water pools at the foundation.
This article will review why your house needs gutters, the different types of gutters, proper gutter maintenance, and more.
Why Do Houses Need Gutters?
Gutter systems capture the water that runs off your roof and moves it away from your home via downspouts. Without gutters, the risk of damage increases every time it rains. Here's what happens when you don't have gutters on your house.
Foundation Erosion
Home sites are typically graded to ensure water is directed away from the foundation. Even when a site is graded correctly, water can still collect around the foundation without a gutter system. Gutters divert water away from homes to prevent erosion which can damage foundations. Gutter systems may be combined with splash blocks, gravel, and drainage pipes to better manage runoff.
Washed Out Gardens and Landscaping
Many homes feature landscaping that provides curb appeal and helps manage erosion. Without gutters, water can pool and over-saturate plant roots and erode the soil. Eventually, flowers, shrubs, and other landscaping around the foundation area will die. Gutters prevent overwatering and erosion, so landscaping stays beautiful and helps protect the foundation.
Basement Flooding
The soil next to the basement walls can become so saturated that it puts tremendous pressure on the exterior walls. The additional pressure will eventually cause cracks and other damage that allow water inside the basement. The slow deterioration promotes mold growth, and basement flooding can lead to costly repairs.
Damaged Siding
Unsightly staining can occur when rainwater carries leaves, dirt, and asphalt particles down the siding. Stained and discolored siding makes your home look dirty and dingy. Streams of rainwater can rot your siding, especially when made of wood. Rotten siding creates entrances that allow pests into your home. The water accumulation could affect your home's structural integrity leading to expensive repairs.
So to answer your question, "Does my house need gutters," experts agree it's a resounding "Yes!" Now you can go out and pick the best gutters for your home.
What Are the Different Types of Gutters?
Gutters come in various sizes and shapes, ranging from the K-style gutters found on most homes to decorative copper. While gutters can enhance your home's curb appeal, the primary purpose is to direct water away from your house.
K-Style Gutters
Chances are, most homes in your neighborhood have K-style gutters. Available in 5- or 6-inch widths, K-style gutters feature rectangular downspouts. While you may be able to install this style of gutter yourself, it must be done in sections. A sectional gutter isn't ideal because seams weaken, leading to ongoing maintenance and routine repairs. Seamless gutters are a better option because they require less maintenance and repair, providing better results. If you opt for seamless gutters, you'll need a professional to install them.
Half-Round Gutters
The semicircular design of classic half-round gutters and the complementing round downspouts create unique curb appeal. This style of gutter was trendy until the 1960s and is still used when renovating older homes today. While the aesthetics of half-round gutters are undeniable, they don't function as well as modern K-style or seamless gutters.
Vinyl Gutters
Vinyl gutters are made from PVC or other plastic compounds and are readily available for purchase. While vinyl gutters are not challenging to install, similar to K-style gutters, they also have seams prone to leaking. Vinyl gutters are less expensive than other options but have a shorter lifespan than most gutter materials.
Copper Gutters
Whether you love the beautiful shine or the unique patina of copper, copper gutters make a statement. Copper is durable and won't warp or rust, even in harsh climates. However, they will cost significantly more than other materials, and you'll need a professional gutter company to install them.
How Do I Maintain My Gutters?
Preventing clogged downspouts is the priority, so cleaning your gutters is essential, especially during the spring and fall when dirt and debris are more likely to accumulate in gutters. If your home is near large stands of trees, you'll want to clean the gutters more often.
Another way to prevent buildup and clogs is to install gutter helmets or screens. These will catch leaves and large debris, but you'll still want to inspect and clear them periodically.
Water flowing freely from your downspout is a welcome sight unless it flows toward your house. Splash guards installed at the roof level and the base of downspouts ensure that water drains safely away from the foundation.
Let a Professional Handyman Keep Your Gutters Flowing
While installing gutters is not overly complicated, it can be dangerous work. Regardless of the height of your roof line, climbing a ladder to do the job always presents a risk. In addition, once installed, gutters must be periodically cleaned and maintained to prevent problems. This is where your local Mr. Handyman can help. We have experienced pros that can help with all your home maintenance and improvement needs. Requesting service is easy, and so is getting things done around your home, thanks to Mr. Handyman!
While our team does not perform installations, we repair and clean gutters to keep them in good condition. We also fix water damage caused by clogged gutters to keep the exterior of your home looking its best. For more about our gutter maintenance and repair services or to schedule an appointment, contact your local Mr. Handyman today. Whether you need roof repairs, window replacements, or carpentry work, all our services are backed by the Neighborly Done Right Promise™, which guarantees your satisfaction.