What Is Shiplap Anyway?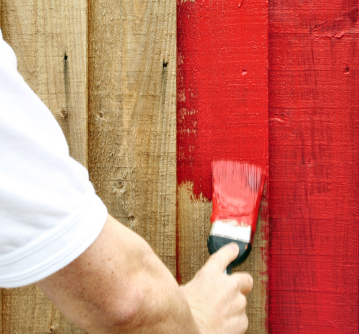 With the growing popularity of HGTV's Fixer Upper, more people are wondering: What is shiplap anyway? The show's interior designer, Joanna Gaines, is absolutely obsessed with this product, jumping for joy when she finds it behind drywall in older homes and incorporating it as an accent in just about every home she fixes up for her clients.
You may love the look of shiplap just as much as Joanna, but what is it? And how can you incorporate it into your home?
What is Shiplap?
Despite what the name sounds like, shiplap has nothing to do with ships. Instead, it's a traditional building material that was once commonly used as exterior siding for sheds, barns, outbuildings, and homes. It has a horizontal wood paneling appearance to it, and it's usually either stained or painted white. A special notch or "rabbet" cut into the edges of each board allow shiplap to fit together perfectly for water-tight construction.
In the days before plywood sheathing was installed beneath siding and interior wall coverings, shiplap's water-tight quality made it a popular exterior building material. As such, many older buildings feature shiplap – Fixer Upper would have you believe most homes in Waco, Texas are covered in it – but it's lacking in newer homes.
Using Shiplap in Home Improvement Projects
As today's trends lean toward rustic and farmhouse designs, many homeowners are interested in adding shiplap to interior walls to create that rough, rugged look they crave. Fortunately, you have many options for using shiplap in home improvement projects.
First, be aware that you can choose to use real, honest-to-goodness shiplap – with its rabbet edges and water-tight construction – or you can fake it with regular wood boards. Since shiplap rabbets are hidden from sight, it's hard to tell ordinary horizontal wood paneling from the real thing.
Regardless of the level of authenticity you're striving for, you have many excellent interior design options for incorporating shiplap into your home. We recommend avoiding shiplap as a backsplash material in the kitchen or bathroom because the porous, flammable material could be detrimental in these spaces.
Here are some great ways to use shiplap in your next home improvement project:
Mantel: Install shiplap above the mantel to highlight the fireplace and help it stand out as the centerpiece of the room. A large, rough-hewn plank as the mantle completes the rustic farmhouse look.
Accent wall: Covering an entire wall in shiplap creates a beautiful texture. Shiplap accent walls look great in bedrooms, living rooms, laundry rooms, and entryways.
Vaulted ceiling: One classy way to dress up a vaulted ceiling is to install horizontal shiplap. You can also add vertical beams, either painted to match the white shiplap or left bare for an even more rustic look.
Pantry wall: Even storage areas deserve a little attention! The paneled look of shiplap could be the perfect way to dress up your pantry wall.
Add Shiplap in Your Home
Shiplap is trendy and it's a great accent material to bring your home design goals to life and is a great way to accentuate the many drywall services we offer. Let us help you install shiplap correctly in the location you choose for a lasting addition to your home. We can even stain or paint the shiplap for results worthy of reveal day on a Fixer Upper episode!
Contact your local Mr Handyman or call us to help with all your home improvement needs, from mounting shiplap above your fireplace mantle to installing crown molding to hanging pictures for the perfect finished product. Contact us today!