Enclose Your Living Room With French Doors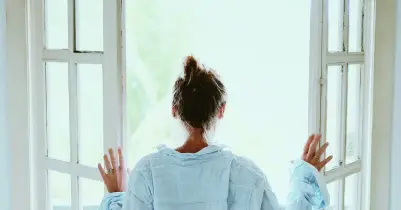 French doors are a perfect combination of beauty and functionality and are a welcome addition to any home. With both interior and exterior applications, french doors installation is suitable for any room or exterior wall, and is an exceptional way to enclose your living room: providing an added layer of privacy when needed, or helping convert an unused area into a multi-functional space, while preserving sight lines. While French door installation is too complex for the average homeowner, there are a number of steps the avid do-it-yourself can take to help get the project underway.
The Benefits of Interior French Doors
Whether you're replacing an existing interior door, or installing your new French doors in a previously unused opening, they'll add charm and elegance to your home—and when installed correctly will appear as though they've been there forever. In addition to their pleasing appearance, interior French doors have a number of other benefits, including:
Light. Glass panels allow light to filter in from adjoining rooms, and windows.
Soundproofing. French doors can provide much-needed privacy, and help to block the noise from a television, music, or gaming system.
Space. Create the illusion of space with clear views of the rest of your living space.
Value. French doors can add value to your home when choosing a quality product, and opting for professional installation.
Definition. Define the area on either side of your new French doors by creating a clear entrance and exit.
French Doors Installation Tips
The process of installing interior French doors is best left to the experts, who possess the tools and skills to complete the job efficiently, and professionally. There are a number of steps a homeowner can take to set the project in motion and save time, including the following:
Measure the opening where the doors will be installed.
Visit one or more showrooms or home improvement stores to get a feel for the style of doors you like, and that match the look of your home.
Purchase a French door kit, either online or in-store.
Contact your local Mr. Handyman for French door installation.
Our experienced, skilled technician will arrive on time, with all the necessary tools and accessories required to complete the project, and we stand behind our work. The installation process involves a number of detailed steps, including:
Removing the trim around the door frame, taking care not to damage materials.
Utilizing a level and carpenter's square to ensure the opening is square and true.
Installation of the new frame, using shims as needed for a proper fit.
Drilling of pilot holes through the frame and shims, followed by temporary nails to hold the frame securely in place while test-fitting the doors.
Make any necessary adjustments to the doors that are required for smooth operation.
If doors open and close properly, and the frame fits and is plumb, permanent screws are inserted.
Doors are hung and hardware is installed.
Want to learn more about how to enclose your living room with French doors? Contact your local Mr. Handyman, or call today, for professional French door installation, that will transform the look and feel of your home.