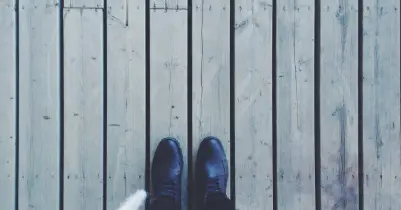 Enjoying time on the deck and patio is a sure sign summer is here! Wood decks require maintenance to keep this outdoor space protected from the elements as well as looking great. Re-staining is typically completed every few years. Staining your deck can be done by following simple steps – it just may take more time than you want to spend! Plan your deck staining project for a weekend when no one will need to use it. Deck stain needs to cure before you place furniture on it or allow foot traffic. Be certain you have control over the drying process, and that no one will be letting the dog or children run through your project.
Deck staining is more complicated than pressure washing and applying a new coat of stain. Old layers of stain need to be stripped off completely before cleaning and the deck being stain-ready. If using a stain stripper, ensure it is left on long enough to completely remove old coats of stain. Read the manufacturer's instructions thoroughly before starting this project.
For new decks made of pressure-treated wood, allow the deck to dry for a few months before adding stain.
Slow and Thorough
Check your weather forecasts to choose the right weekend to stain a deck. Taking your time and going slowly prevents over spraying, spills, and a sloppy finish.
Use a scrub brush to remove old stains from the wood – this is the best method. It helps work wood cleaner or stripping agent into the pores of the wood. If your deck is new - cleaning it really well means removing the "mill scale" that can prevent the stain from penetrating the pores of the wood properly.
Cleaning is Important
Older decks harbor a lot of dirt. They also undergo fading from the sun. Older decks are also known for growing mildew in places that don't dry easily. Old stains need to be completely removed before staining. Sodium per-carbonate is a commonly used wood cleaner and is also known as oxygen bleach wood cleaner. This is a cleaner that won't burn your skin, or harm your plants.
For any buildup of old stains on your deck, you'll need to use a stain stripper. These chemicals are more caustic so please follow the directions carefully. They can remove most old stains in a single application.
For any small spots of stain that don't come off during the cleaning process, try using a palm-type sander. This removes stains easily once the deck has dried. Any old spots will show through your new coat of stain so don't cut corners on this step.
Allow Ample Drying Time
Sometimes a second coat of stain is needed. Most wood stains take about four hours per 100 square feet to dry. We recommend a full day before loading it up with furniture and feet. The deck stain needs curing time.
At this point, some will contact your local Mr. Handyman or call to complete your deck building or staining job while you make plans to do something else in your free time.