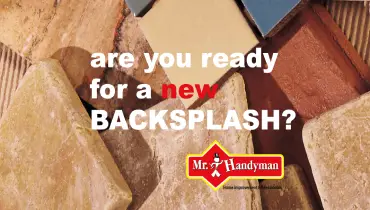 Looking for a few backsplash prep tips before embarking on your next DIY adventure? Sometimes, the best way to start a project is to dive right in. Other times, it's best to prepare, because once you start, there's no turning back!
Preparation is the most important step for drywall before any tile installation project. The top objective is to create a smooth and uniform surface on the drywall for the tile to be evenly placed. Lumps and bumps lead to misaligned tiles. This surface will be the foundation, which holds your beautiful backsplash together over the years, and a crumbling foundation will shorten the lifespan.
Home improvement can be a messy business! Start by covering the area surrounding your work surfaces with tape and drop cloths as necessary. Sheets of cardboard under the drop clothes add additional protection should you drop a heavy tile or tool on your counter or cook surface. Also, be sure to cover your sink!
Now, let's get started:
New drywall:
Inspect the drywall carefully to ensure it is securely screwed/nailed to the studs.
Seal seams on new drywall with drywall tape and compound and let dry. Sand the area with medium-grit sandpaper and vacuum up the dust. It doesn't need to be 'paint ready' and blemish free, but it needs to be smooth.
Wipe down with a damp cloth to remove any remaining dust and allow to dry.
Prime the area to seal the new drywall. Prime an area larger than you plan to tile to minimize the cut-in work when you paint the rest of the room. Or, prime and paint the entire wall/room before starting with your tile project.
Previously painted/textured drywall prep:
Start by removing any molding, switch plates, outlet covers, and other hardware attached to the area being tiled.
Scrape away any loose or peeling paint or wallpaper.
Remove any remaining dust, oil, or grease with TSP (tri-sodium phosphate) or an ammonia-based cleanser. Let the wall dry thoroughly.
Spackle any cracks/holes and sand smooth. Sand the area with medium-grit sandpaper until even, and vacuum up the dust. Wipe with a damp cloth to remove any remaining dust and allow to dry.
Prime, to seal it, and let it dry. You may also paint this area, if only tiling a portion of the wall, to minimize cut-in work around the tile.
You are now ready to tile!
The layout is important to the finished product. Find the 'middle' of the area to be tiled and work out from there. This ensures better uniformity on the sides and that your backsplash has a center. Also, ensure the curb at the back of the sink, stove, or counter is level. If not, and you simply start laying a bottom row of tile upon it, your grout lines won't be level either. You'll need to cut the bottom row of the tile to offset the unevenness. Once the top of your bottom course of tile is level, things get much easier.
If you have an old house where things simply aren't level or plumb (that's called character!) consider sheets of tile mosaic, stone, or random patterns. This trick removes the challenges of level grout lines and square corners.
Follow the package instructions for the tile mastic or thin-set used for adhering the tiles to the wall. The tiles must be 'set' before you attempt to grout them, or they will move and cause you headaches. Generally, 24 hours will do for this, and some are set up more quickly.
Grout it, clean up and enjoy.
Backsplash Prep Beating You Up?
Prep your wall for tile with ease. Contact your local Mr. Handyman or call us to help with all your home improvement needs. Mr. Handyman is a Neighborly company - check out the community of home repair, maintenance, and enhancement service providers who can help you tackle your to-do list.