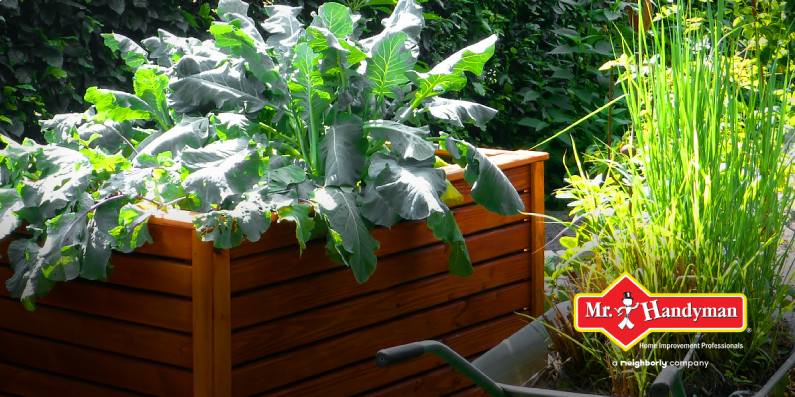 Raised gardens are not only easy to build, but they can also make the rest of your gardening chores more comfortable, too. Raised beds provide proper aeration, and excellent drainage, and can help plants establish the deep root systems necessary for good growth. Plus, without having to bend over or crawl around in the garden, planting, weeding, and harvesting will be much more enjoyable!
Here's what you need to know about building your own raised garden beds.
Choosing the Right Location
Before getting to work, make sure you're choosing the best location for your garden. Most vegetables need at least eight hours of direct sunlight for optimal yields so if you're thinking about tomatoes and peppers, make sure your area gets lots of sun. Root vegetables like potatoes and carrots will do well with a bit of shade, and leafy greens can tolerate shade the best.
A raised bed will help you make the most of a garden location that doesn't drain well, but you still want to avoid anywhere water tends to pool in your yard as this isn't good for the plants and will lead to the deterioration of your beds.
Preparing the Area
With a traditional garden, establishing new growing areas usually means digging up the grass and clearing it away. Raised beds allow you to build right on top of existing turf; simply cover the ground with a few layers of newspaper first. You also don't need to worry if nearby trees have shallow root systems close to the surface--just build right over them. All you need to clear away are large stones and other non-organic debris.
Planning Your DIY Raised Garden Beds
When choosing materials for your garden, treated lumber isn't ideal as chemicals may leach into the soil. Instead, choose a rot-resistant wood such as cedar or juniper. Two-by-six-inch boards are the most common size as the two-inch thickness is sturdy and the 6-foot length fits in most cars. Coated deck screws are best for fastening as these are meant to resist rust and weather.
If you're new to gardening in your area, check with your neighbors or a local nursery to learn about common pests in the area. For example, tunneling rodents can often be a problem, but a layer of chicken wire at the bottom of your raised bed can prevent animals from getting through.
When sizing your beds, keep your personal preferences in mind, and follow a few common guidelines. A minimum depth of six inches is recommended, and anything over about 18 inches tall will need supports along the sides as the weight of the soil can cause the bed walls to bow or fail. You can make your beds any length, however, keep the width to a four-foot maximum to allow easy access without having to step into the bed.
Building Raised Garden Beds
Once you've done your planning, building is relatively straightforward as you're simply cutting and assembling a box. Cut the four lengths of wood to your desired size and screw each side into a 4"x4" post. For taller beds, simply stack additional lengths of the board and attach them to the posts. For very long or very tall beds, consider adding 1/2" aluminum flat stock to the inside walls for support.
Once your boxes are built, move them to the desired location, place a layer of newspaper over existing grass, cover them with chicken wire if necessary, and fill them with soil, compost, and nutrient amendments.
If you need help to maintain your new and improved garden beds, contact the experts at fellow Neighborly company The Grounds Guys today! If you need help with hundreds of home repair, maintenance, and improvement projects, request service from Mr. Handyman near you or call.