Last Edited: 9/15/23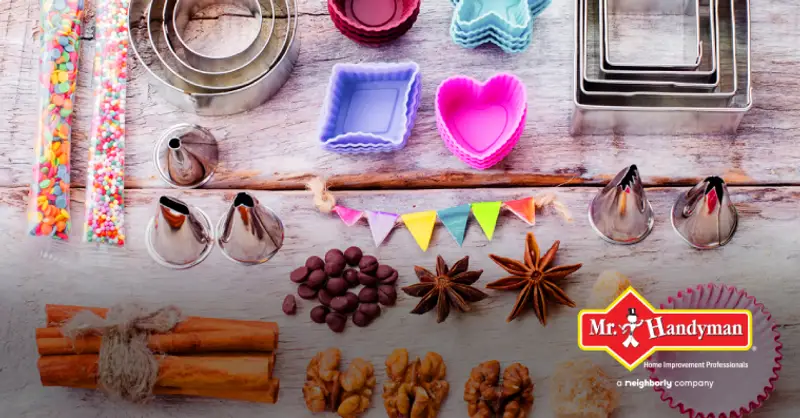 What kid doesn't love getting wet and muddy? That's the premise of a mud kitchen, also known as a mud pie kitchen or an outdoor kitchen for kids. Most children love those little kitchen play sets that are just their size, but what if you moved the cooking outside so they could use real "ingredients" like grass, mud, and leaves?
The benefits of this sensory play can't be overlooked. Spending time playing and exploring outdoors is good for your child's mental and physical health. Mixing different "ingredients" promotes curiosity and experimentation. Measuring, filling, and emptying containers of various shapes and sizes can even be a math lesson.
Plastic indoor kitchen play sets aren't suitable for withstanding the elements, so you'll need to create a custom play space outside for your kids to enjoy. Use these tips to help you learn how to build a mud kitchen.
Construct the Main Structure
You can build your kids' mud kitchen out of pretty much anything. Pallets make for wonderful, free building materials. Cut them to size to create the countertop, back wall, and shelving. The addition of hinges allows you to build ovens and microwaves with swinging doors.
If you don't have pallets accessible to you, other building materials include plywood, wire shelving, and an old chain link fence for the backsplash area. One easy, tool-free way to build a kids' outdoor kitchen area is to stack 2x4s, bricks, or cinderblocks and install "shelves" of Plexiglas between them. You can even convert an old kids' art table into the kitchen counter and hang desk drawers on the fence to create shelves.
Install a Sink
You can't make mud pies without water to wet the dirt. This calls for a sink! Any bowl, bucket, or basin will do the trick. It's especially beneficial if you cut a hole out of the countertop and suspend the bowl or basin inside, like a real kitchen sink.
You might even be able to salvage an old sink from a scrap yard. Then, make water access easy by attaching the garden hose to the water input for the faucet. Your kids will love combining cooking with water play!
Accessorize
No mud kitchen is complete without cookware and utensils! If you don't have any old crockery you want to donate to the cause, visit a thrift store. You're bound to find heaps of cooking utensils for the mud kitchen. As for storing pots, pans, measuring cups, bowls, funnels, and pitchers, be sure to outfit the mud kitchen with hooks, racks, and shelves.
Complete the Outdoor Table Setting
To perfect the role-playing experience, you may want to add a dining area to the mud pie kitchen. A small table and chairs provide the perfect place to serve whatever concoction your kids have cooked up. You can use child-sized lawn chairs and a plastic picnic table or wood stump stools surrounding a round metal table. Get creative! Also, be sure to store old cutlery you bought at a thrift store in a plastic container so when "dinner" is ready, your kids have a way to "eat" their feast together.
Get Help with Outdoor Projects
Mr. Handyman provides a variety of exterior services to help you make the most of your yard. You might have high expectations for your kids' mud kitchen but lack the time or skills to make it a reality. If you need help putting the finishing touches on your kids' outdoor play area, or you want to leave the entire project to us, no problem! Just call Mr. Handyman to request residential and commercial repair, maintenance, and improvement service today.