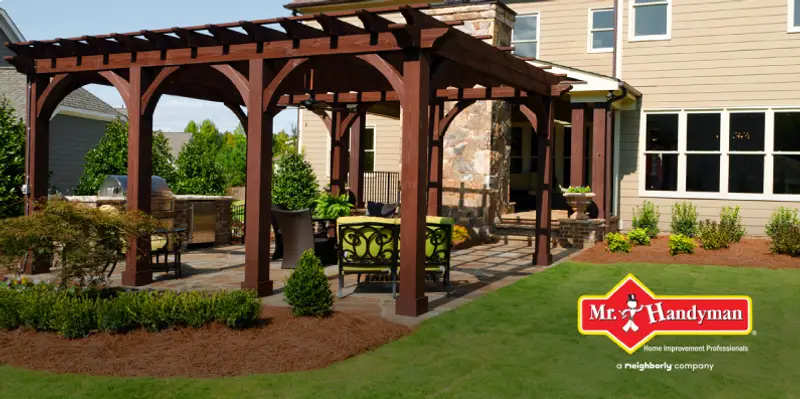 Nothing adds warmth and character to an outdoor living space like a beautifully-stained deck. The trick is keeping it looking that way. Several factors, such as climate, exposure, application, quality of materials, and usage, can impact the longevity of your exterior stain, which can last from five to 15 years! A deck is a significant investment, and regular maintenance can help keep it looking good and safe to use for years to come.
One question we often get from homeowners is, can you stain over the stain to freshen up a deck? Yes, you can stain a previously stained deck, and this blog will outline how to restain your deck successfully. Our home service repair pros not only explain how to stain over the stain but also provide handy tips and ideas for all your other home projects.
How to Stain Over Stain On Your Deck
Prepare Your Deck
Before you apply a fresh coat of stain, you should assess your deck's condition to determine if any repairs are needed. If repairs are required, contact your local Mr. Handyman for help. Here are some repairs that need to be made to your deck before you start staining:
All rotten wood or splintered boards should be repaired or replaced.

Nail heads that have popped up must be hammered down or pulled and replaced with galvanized screws (to prevent rust and corrosion).

Deck boards that are starting to warp, twist, or cup – creating a trip hazard s – should be fixed or replaced.

End boards that are beginning to raise can be secured using four-inch galvanized screws, which have more bite and will hold an edge down better.
Once you have made the necessary repairs to the deck, it's time to prepare its surface. Preparing the deck surface to receive the new stain will ensure proper adhesion and a longer-lasting finish. Depending on the size of your deck, you can clean the deck surface by hand or using a power washer. Proper deck cleaning is important when you're learning how to stain over the stain on a deck:
Power Washing Your Deck
While using a power washer, the key is to rinse thoroughly. Most power washers have an optional detergent feed built-in. Fill the container with a deck cleaning agent according to the manufacturer's instructions to dissolve and lift all traces of dirt and mildew from the surface of the wood. Let the chemicals sit on the surface of the deck for a few minutes, then use the power washer to rinse the chemicals away. Depending on how much dirt and grime buildup there is on your deck, a second treatment may be necessary – especially if it has been several years since its last cleaning. Be aware that blasting wood with pressurized water can remove some of the wood grain and leave a rough surface, so proceed with caution when power washing your deck surface. If you would rather let a pro handle this part of the project, we can ensure your deck gets thoroughly cleaned, but not damaged in the process.
Manually Cleaning Your Deck
If you decide to go with a manual cleaning method, mix a solution of deck cleaner and water according to instructions and apply using a stiff brush. Start by cleaning small sections at a time and rinse each area with clean water once completed. Allow the wood to dry completely before applying the new coat of stain. For a water-based stain, one or two days of drying time is sufficient, but if you apply an oil-based stain, allow for three full days of dry weather before you start staining.
Choose Your Stain
Now it's time to choose your stain! Exterior wood stain is available in either a semi-transparent or solid finish. The type you choose depends on what is already on your deck. A semi-transparent stain is opaque, adding color and allowing the wood grain's natural beauty to shine through. A solid stain finish 'covers' the wood. It will show some texture but hide the wood grain and prior colors. When staining over the stain, choosing the right type is important based on the current finish. Here are some stain options to consider based on your current deck stain :
To Cover a Light Color: Apply a similar or darker stain with no additional preparation required.

To Cover a Dark Color: This will be hard to cover with a lighter semi-transparent stain because the old/dark color will show through. If you want to lighten up the color, choose a lighter solid stain.

To Cover a Semi-transparent Color: Cover the existing stain with a semi-transparent or solid stain.

To Cover a Solid Color: Apply another solid finish stain. Semi-transparent stains are engineered to bind with the surface of the wood and won't bind well to a solid surface.
Applying the Stain
When you're learning how to stain a deck that is already stained, the application process is critical. Apply a small amount of stain to a hidden area of the deck to test for adhesion and color. If the deck has a protective finish, the stain won't adhere, and the finish will need to be removed prior to staining. As for the color, let the stain dry completely before assessing if the color matches your expectations. If you're good to go with both adhesion and color, these application tips will ensure you achieve the desired results :
Use a roller, paint pad, or brush, and apply the stain in long, smooth strokes.

Work in small sections and always keep a 'wet edge' where the sections you are working on overlap each other.

Avoid applying too much stain at once; If the stain pools during the application, cut back on the amount you apply.

Allow the first coat of stain to dry thoroughly before adding the second one. Dry time may vary based on weather conditions.

Speaking of the weather, check the forecast before you start. Don't begin this project if the weather calls for rain, or damp conditions. Cool, dry weather is the ideal time to stain your deck.

Apply a clear sealing product once the stain is completely dry. This will protect your stain from the elements and help it last longer.
Depending on the deck's condition, the stain may be absorbed quickly or take some time, and several coats to cover. Be careful not to touch the deck while the stain is wet, and do what you can to minimize any surrounding debris and dirt from getting onto the deck while the stain dries (remember to check the weather).
How Often Should I Stain My Deck?
If you want an attractive deck you can enjoy all season, it's important to invest time in maintenance and periodic staining and sealing. How often you should stain your deck depends on several factors, weather, usage, and how well your deck is maintained. So, how do you know when restaining turns from maintenance to wasted work?
Factors such as your deck's location, usage, and what type of stain and sealant was used initially will ultimately determine how often you should stain your deck. Here are some other factors that can help you determine how often to stain your deck:
Do you frequently entertain, cook, and eat on your deck?

Is the deck protected from rain, snow, ice, sap, and debris?

Does the deck get a lot of direct sunlight?

Is the deck well-maintained?
There are other factors that determine how well your deck holds up season after season and how often it should be stained . Under average conditions, it's a good idea to restrain a deck every two to three years. If you don't clean and maintain your deck regularly, you may need to apply fresh stain and sealant on a yearly basis. How do you know when you've gone too long? When your deck starts to look weathered and old, it's probably time for some new stain.
How to Keep Your Deck and its Stain in Shape
Throughout the seasons, your deck is subject to rain, snow, and sun. Hopefully, it gets plenty of foot traffic, summer parties, and cookouts too. Deck stain eventually fades, boards warp and splinter over time, and nails come loose, leading to deck hazards you don't want to leave as is . Debris, sap, and bird droppings can also accumulate over time and get between deck boards and into tiny cracks and grooves. The result is a deck that can be an eyesore and hazardous to you and your family.
The wear and tear on a deck usually don't happen all at once, so it's essential to inspect your deck on a monthly basis. Keep an eye out for mildew, rotting wood, insect activity, loose stair treads and floorboards, and rickety railings. Those loose nails and the cupping deck boards you've been avoiding need your attention!

Here are some basic deck maintenance tips that can help keep your deck in tip-top shape:

Make sure to hammer down any loose nails or replace them with galvanized screws. Cut and sand any warped deck boards, and if possible, replace them.

Sweep your deck frequently, so leaves, dirt, dust, and other debris don't accumulate.

Maintain some distance (a few feet is recommended) between landscaping and your deck foundation to minimize insect infestation, like carpenter ants.

Use a butter knife to clean the buildup between deck boards and in crevices.

Rinse food, grease, and bird droppings off your deck as soon as possible to prevent stubborn stains.
Even though a deck is built for outdoors, taking some precautions like you would with hardwood floors can keep your deck looking good, and help it last longer. For instance, lift patio furniture instead of sliding the pieces across the decking to reduce wear and tear. Also, avoid keeping piles of wood or other potentially damaging clutter on the deck. Now that you know how to stain over the stain on a deck, what's next?
Your
local Mr. Handyman
provides expert services for all interior and exterior projects, including deck staining. Call Mr. Handyman today at to schedule an appointment for residential services that fit your needs. No matter which home repair and installation services you require, you can always rely on us and our
Neighborly Done Right Promise
to get the job done.