How to Build a Simple Firewood Rack
Last Edited: 9/15/23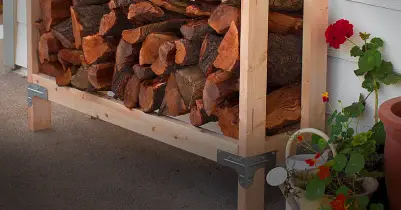 Are you ready to start using your wood-burning stove or fireplace? To get the hearth ready, you'll want to clean the glass fireplace door and sweep the chimney to remove creosote buildup from last winter. Then, you'll need to stock up on firewood. But where will you store it?
Wood racks keep firewood organized, dry, and out of the elements, allowing you to buy in bulk to save money. This storage technique also helps wood age properly. Get your home ready for cozy, crackling fires this winter by constructing a simple DIY firewood rack. Here are seven ideas on how to build a firewood rack using minimal tools and cheap scrap materials.
Firewood Rack Kit from Home Depot
Using a bracket kit and six 2x4s, you can build a simple firewood rack in minutes – no tools required! Compatibility with 2x4s of any length allows you to adjust the frame to any size you need.
Learn more from Home Depot.
Firewood Rack Made from Metal Garden Beds
Many homeowners love the look of corrugated metal planter boxes – consider this: you can turn the planter on its side to create an instant firewood rack! Assembly is simple and straightforward with all hardware provided with your purchase. All you need is a wrench or pliers to tighten the bolts.
For more information about using planters as DIY firewood racks, check out Metal Garden Beds.
Firewood Rack Made from Scrap Wood and Cinderblocks
You probably have some 2x4s and cinderblocks lying around your shed or garage. That's all you need to build a stable, cheap, easy-to-move firewood rack in your backyard. You don't even need any tools to get the job done!
Get complete directions from Instructables. You can also build a smaller version for drying kindling with four 2x4s and two cinderblocks, as seen on Homedit.
Wood Pallet Firewood Rack
Do you have old wood pallets sitting around? Put them to good use by cutting them to size, connecting them, building sidewalls, and stabilizing the front and back with wood braces. It's the perfect upcycling project that you can finish in 30 minutes or less.
See pictures and directions on Instructables.
Rolling Firewood Cart
Do you want to store wood nearby with the ability to wheel it away easily? A firewood cart could be the perfect solution. Another benefit over a traditional rack is that you can move the cart to clean under and behind the woodpile, which helps keep insects and rodents at bay. This DIY project requires more tools and supplies than many other ideas here, but the result is beautiful and versatile.
View a step-by-step tutorial from The Wood Grain Cottage.
Sturdy DIY Firewood Rack
It's possible to build a sturdy, reliable firewood rack in under an hour using preservative-treated lumber, rigid tie connectors, and a box of screws. You'll also need several tools to get the job done.
Download a free plan for this firewood rack from DIY Done Right.
Petite Firewood Rack
2x4s are robust, but they're also bulky. If you don't need to store a ton of wood at once, consider using thinner spindle parts to construct your firewood rack. These are usually sold near the decking parts at a home improvement store. Cut the spindles to length and secure them with wood glue and screws. Finish with a nice dark stain, and the firewood rack becomes a classy element of your patio décor.
Learn more from True Value.
If you need help building a firewood storage rack, or you could use other home improvement services, please contact Mr. Handyman today.