A determined mother of 23-year-old Cobey Thomas, who lives with nonverbal autism, found a solution of her son's love to swing. Cobey is a 6-foot-10, 200-pound "gentle giant" and he outgrew regular swing sets.
Cobey's mother, Jennifer, reached out to several local handyman businesses, but not one of them believed they could build a swing set big enough for Cobey. Mr. Handyman of West Knoxville was up for the challenge.
Jennifer knew this project would be expensive, but didn't mind, knowing her son would be happy again. When Mr. Handyman of West Knoxville told her the swing set was their Christmas gift to Cobey, free of charge, his mother was speechless.
Cobey accepted his new swing set more easily and happily than his mother would have imagined. Once he got on, he didn't want to get off! He swang all day and into the night.
The story was originally covered by local news' stations WBIR and WVLT before Cobey's story quickly went viral on Facebook through videos by AOL's In The Know Delights and CBS' Uplift. Shortly after, CBS News ran with it, and their video has garnered hundreds of shares, thousands of likes, and countless kind messages, popularizing the hashtag, "#keepswinging."
Allen Ellison owns Mr. Handyman of West Knoxville and he and his team designed the swing especially for Cobey. Here's a list of their project's materials along with a sketch, which guided the construction of the swing: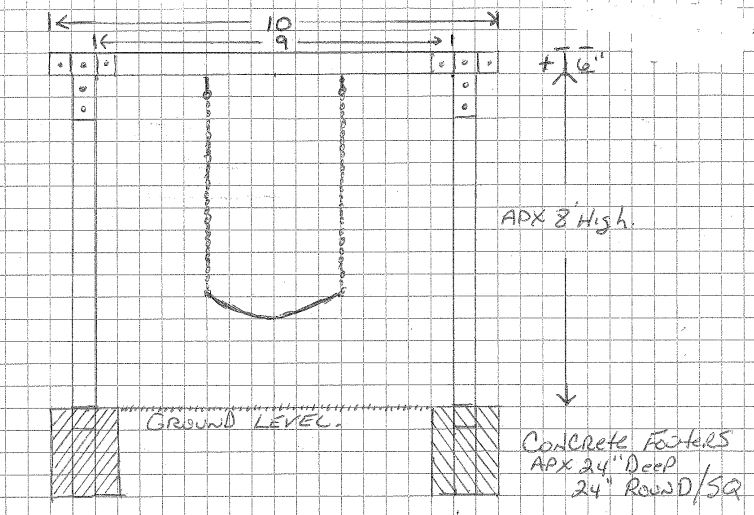 Lumber:
Uprights and cross post 6 x 6 x 12 #1 Grade / Ground contact rated / pressure treated
Diagonal bracing 4 x 6 x 8 / Ground contact rated / pressure treated
Brackets:
T brackets from Frazier Welding and Steel in Knoxville, Tenn.
6" square tube
3/16 walls
12" T welded with 9/16" holes
Note: due to using stock metal, we had to sand corners for them to slide down over 6x 6 post
Post Footers:
24" x 24" square
24" deep with gravel at base for drainage and a 2" concrete paver stone at base
Concrete Quikrete 5000 PSI commercial grade high early strength
We also cross laced ½" rebar through the 6 x 6 post, two in each direction, tying into the concrete
Attaching 4 x 6 cross bracing, we poured a concrete footer
Attaching 4 x 6 to footer, we used Simpson Strong Tie Adjustable Post Base – ABA46Z
Attaching 4 x 6 to 6 x 6 post, we used 8" and 10" timer lock screws
Base:
Around the base, we installed landscape week guard fabric
We installed 3 x 4 x 8 landscape timbers
We covered the fabric with black rubber playground nuggets
Swing:
The following materials were ordered from NVB Playgrounds dba AAA State of Play from Greenfield, Ind.
Jensen Vandal Proof Swing Seat: Product ID: S110
Two-Hole Flat Ductile Iron Swing Hanger: Product ID: SH105
D-Shackle: Product ID: H170
Wrench for Shackles: Product ID: H175
Individual Plastisol Coated Swing Chain – 66 Inches: Product ID: C127B
Not only are users expressing their feelings through comments on these videos, but they're actively messaging the Mr. Handyman corporate page, and in some cases, even recommending/positively reviewing the brand based on Cobey's story alone. Look at a few of these positive responses:
"I wanted to thank you for what you did for the young man who had Autism. As a fellow momma of a 9-year-old with Asperger's, we always want our children to feel loved and cared for just like our typical children. We worry endlessly about how they will live as adults and if people will accept them. People like you give us hope. I appreciate you so much." - Megan S.
"Way to go, @mrhandyman! Since we've gotten older and don't have anyone close to do repairs and maintenance, we've been thinking of hiring a handyman service. I think I've just found the one to call." - Donna G.
"Thank you for that amazing act of kindness for that young man. As someone with autism in their family, I know how important it is for anyone on the spectrum to not have their daily routine change, as it causes major detriment to their lifestyle. God bless you and your business." - Jorge M.
"Saw the clip about the swing set your company built for Cobey and Jenifer Thomas. Very well done! Mr. Handyman will be on the top of our list to call. Thank you." - Kristiana L.
Following the first, local TV segment, the story began to spread. Facebook posts have been shared by national and regional autism organizations on their social media sites and the Ellison's have been contacted by existing customers as well as people from across the country about their good deed. Check out the story:
You can view additional media coverage at: