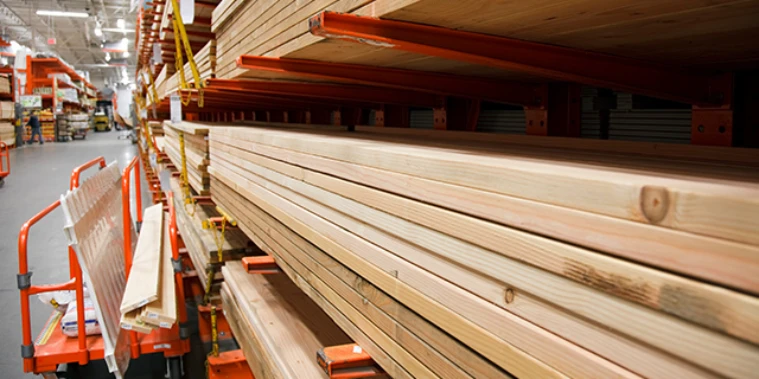 Our deck material calculator will help you to build your next deck. Take the guesswork out of purchasing the materials to build a deck by getting a deck estimate before you start your project. This can help you adjust your expectations and save time and money on your project.
Building a Deck Just Got Easier
There are many ways to build a deck. You can keep it simple with a ground level deck or build a fancy deck with stairs and multiple levels.
To keep things simple, our deck material calculator estimates materials for a ground level deck without stairs or a railing. If you need both, you can still use the calculator to estimate how much material you'll need for the deck itself.
The variety of decking materials and variables can be overwhelming, which is why many people seek professional assistance. Our deck material calculator uses standard 2 x 6 pressure treated lumber for decking available at most hardware stores. It also assumes floor joists are 16 inches apart and 6 x 6 footers, also called stumps, are 8 feet apart and that the deck is ground level.
When using our deck material calculator, there are a few other important factors to keep in mind. These factors include:
Our deck material calculator will tell you the size of the joist boards necessary based on the square footage of the deck.
Footers should be set 6 inches deeper than the frost line for your area. This depth will determine how much concrete you need and how long your footers should be.
For cold climates, the frost line is around 42 inches. For warmer climates, it's around 12 inches. Always refer to local building codes to be exact, or ask your handyman.
If your deck is elevated more than 12 inches, you'll need to adjust the height of your footers to accommodate for the extra height.
For bearers, this deck material calculator uses two 2 x 6 boards glued together with construction adhesive.
If your deck is attached to your home, don't forget to calculate the necessary flashing and anchors you'll need to secure it. Your handyman or local hardware store should point you in the right direction based on the deck measurements in this calculator.
In many cases, any deck over 18 inches will require a railing and stairs to meet code. To avoid delays later on in the project, decide now to either keep your deck low to the ground or make a plan to construct a railing and stairs.
We've found this method to be the easiest and most reliable way to build a deck for our customers. Keep in mind, building codes vary state-by-state. If building permits are necessary in your town, be sure to secure them before starting construction on your deck.
Due to variables out of our control, Mr. Handyman wants to remind you that this calculator produces deck estimates only. You should be prepared for any changes or adjustments that come up during the construction process.
Professional Deck Building
If you'd rather spend your free time relaxing on your deck than building it, we can help!
Mr. Handyman will build the deck of your dreams with the decking materials of your choice. Choose a simple yet functional ground level deck or add fancy features such as lighting, swinging benches, fire pits and more! Our experts will also take care of any necessary deck staining or painting to ensure your new deck looks great for years to come.
Give us a call at or click here to request service online. Let the experts at Mr. Handyman transform your backyard with a beautiful new custom deck!
FAQs: Deck Material Calculator
Will Mr. Handyman's Deck Material Calculator give me an exact price?
No. The Deck Material Calculator is meant only to give you a deck estimate, not a final price. You can use it as a starting point to give you an estimated cost.
Are the deck board sizes customizable in the Deck Material Calculator?
Yes. You should enter all of your specific deck measurements to get the most accurate estimate possible.
Can Mr. Handyman build me a deck?
Yes! The experts at Mr. Handyman would love to build you a deck! We will work with you to select the materials and the deck measurements. Once those decisions have been made, we will get to work building you a beautiful deck that you can be proud of. You'll be hosting your friends and family in no time!
How can I schedule my deck project with Mr. Handyman?
To schedule your project or get a more detailed estimate, please reach out to our friendly customer service representatives at. You can also click here to submit your request online. We can't wait to get started on your new deck project!
Why should I choose Mr. Handyman for all of my home renovation, remodeling, and maintenance needs?
For decades, Mr. Handyman has been helping homeowners around the country transform their homes into spaces that they can truly be proud of. We stand by and guarantee our work—from your first phone call to our customer service representatives to the final broom sweep on clean-up day. We want you to love your home!