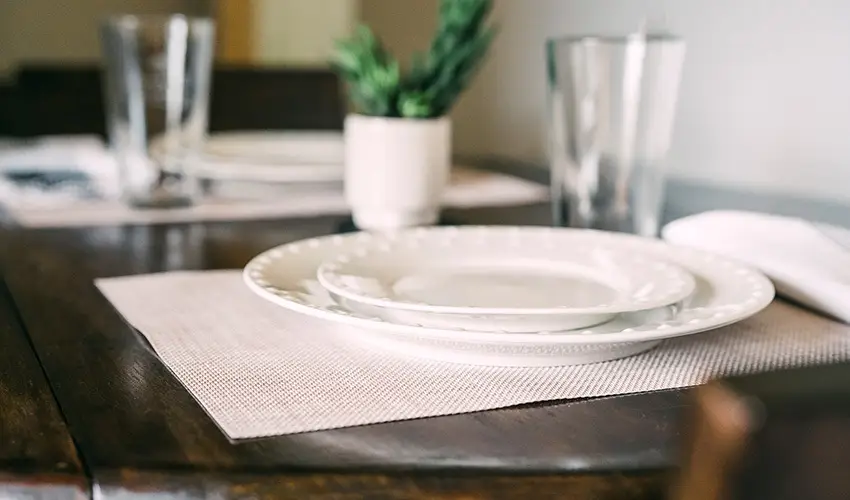 Solid wood dining room tables are not only practical and resilient but are gorgeous pieces of furniture. With proper care, they will last for generations.
Follow these tips for how to protect a wood tabletop from scratches, stains, and spills.
If you haven't already, we advise you to apply a finish to your wood dining table. It will protect the surface and prevent drying and cracking. You can't go wrong with a polyurethane finish.
Should you use oil- or water-based polyurethane? Each has its pros and cons but, generally, water-based polyurethane will preserve the natural color of the wood while oil-based will give it a slight golden or amber hue.
There are plenty of DIY step-by-step guides online about how to apply polyurethane to your table correctly. Waxing the table after you finish will add an extra layer of protection and beauty.
After you've applied a polyurethane finish, take pride, and then take the following precautions to keep your table in tip-top shape:
Because wood is a porous material, too much or too little humidity can harm wood furniture. The best way to prevent the wood from cracking, swelling, or warping in humid or arid environments is to ensure the wood is cured and seasoned in the proper environment before it's used to make anything.
Most wood you buy at a lumber store should be properly seasoned, but it's still wise to ask. Even properly seasoned wood can still move a little and some wood species are more susceptible to this than others.
If you live in a humid climate, the table and wood joints can swell. Using a dehumidifier, especially in the summer, can prevent this, however. Properly aged and dried wood shouldn't have a big problem in humid environments.
If you live in a dry environment, the wood can do the opposite and dry out, resulting in unsightly cracking. Try to keep your living area temperature controlled with a humidifier if the air is too dry.
The trick to preventing scratches in your dining room table is to keep a basket or dish on or next to the table where you can place keys, pens and toys. It will remind your family not to drop or slide items across the table.
If you like to keep a vase, candlesticks, or a centerpiece on your table, apply felt pads to the bottoms of the items. Did you know that if you dust weekly, you can prevent scratches? When dust accumulates, it can cause small scratches to the surface of a wood table.
Direct sunlight can fade the wood. If your dining room has a lot of natural light, draw the curtains or keep a tablecloth on the table during the day.
Water rings are the pesky result of someone not paying attention. We've all done it – set down a drink without putting a coaster down first. A water ring shows up because the wood soaks up the condensation from the glass. Keep plenty of coasters around for your guests and family. Tablecloths, table runners, and placemats are excellent solutions for avoiding water rings, as well.
Contact Mr. Handyman for Professional Carpentry Services
While Mr. Handyman does not finish tables, our carpentry and handyman services can repair them, and take care of just about any other project you need to take care of around the house!
We're just a phone call away. Contact us or request service online.