How to Organize a Toolbox Like a Real Handyman
Last Edited: 9/15/23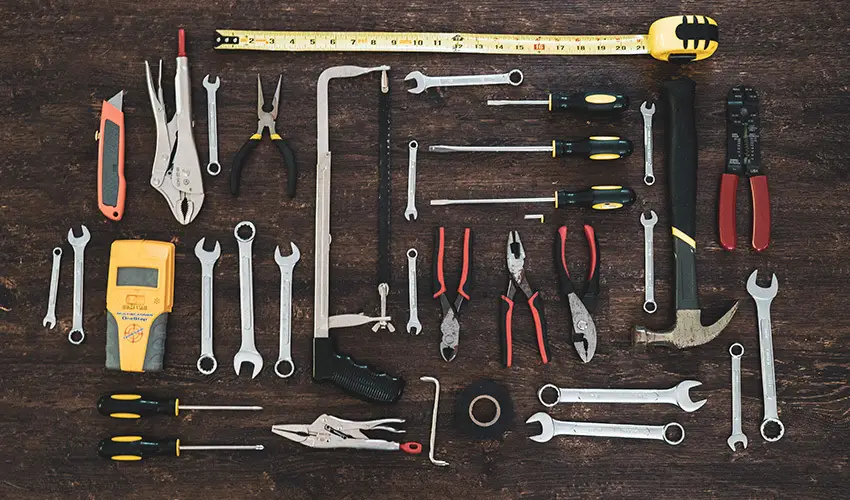 Where's that hammer when you need it? Digging through a cluttered toolbox only adds unnecessary time to your DIY projects. But your tool chest doesn't need to be a bottomless pit. Organizing the mess will ensure your projects run on schedule and keep you from pulling out your hair. Continue reading to learn how to organize a toolbox like a pro.
Think you only need a single toolbox? Like most homeowners, you probably have a variety of tools for different purposes. Perhaps you like to collect various screwdrivers and wrenches. If you have an overflowing tool chest, you may want to invest in a few more toolboxes.
Use multiple boxes to organize your tools by project type. For instance, you don't need plumbing tools when installing new outlets. Keep them in separate boxes instead.
The pros even know how to organize sockets in a toolbox. If you have a plethora of sockets and wrenches, put all your metric tools in one box and standard ones in another. Sort your Phillips-head and slotted screws for easy access. Take advantage of trays and dividers to further arrange your collection.
Separating tools makes it easier to find what you need in a hurry. It also lightens your load. You'll never again throw out your back while lugging an overstuffed tool chest around the house. And if you want to earn bonus organization points, consider color-coordinating your new toolboxes by project.
Even if you own a top-of-the-line toolbox, you may still want to enhance it. There are tons of different add-ons you can purchase to customize each chest to fit your needs.
Here are a few to consider:
Drawer liners: Tired of finding scratches and dings on your tools? Lining the surface of your box prevents tools from rolling around and banging into each other.
Custom trays: Look for different-sized trays to hold and sort all of your small parts, including nuts, bolts, washers, and sockets. While some trays just sit inside the toolbox, others lock in place.
Foam organizers: Install custom-cut foam inside your box to hold your tools in place. Foam organizers make it easy to see all your tools, and they also add an extra layer of protection.
When customizing your toolbox, it's best to buy accessories that you can easily remove and replace as your collection changes.
Peek inside your toolbox. Are large tools mixed in with smaller ones? If you have to dig past a giant electric sander to reach a small screwdriver, you may encounter a box of nails along the way. Ouch! Instead of risking an injury, consider organizing your tools by size and weight.
Some toolboxes have different layers. The uppermost layer is best suited for small bits, screws, nails and sockets. Put your medium-sized tools, like your hammers, screwdrivers and wrenches, in the middle section. Reserve the bottom layer (which is usually the deepest) for your heaviest pieces. Your drills and jigsaws should fit perfectly in this area.
Got too many tools to count? Mr. Handyman can help you find a place for everything. Let us build you a custom tool bench or hanging pegboard to keep your tools organized. Request service online or call us today.