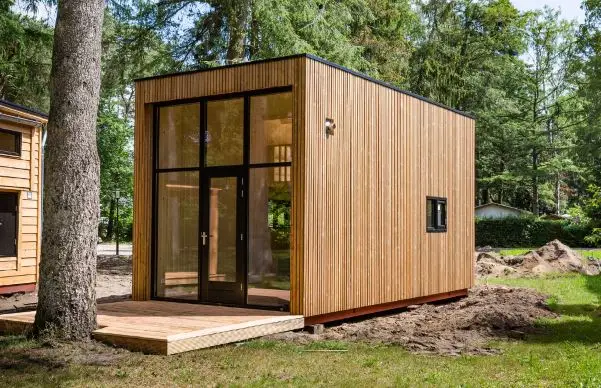 For many, one of the biggest challenges recently has been to figure out how to stay productive while working from home. Millions of people have shifted to both living and working in their homes, which has made finding the right spaces for both difficult. For some, a spare bedroom or a basement might seem like the best short-term solution. But for others, the perfect solution to working productively at home is the backyard office shed.
THE IDEAL BACKYARD WORK SPACE
With an inexpensive shed kit and little creativity, home-based professionals around the country are creating their ideal workspaces right in their backyards. Remote work from home isn't a new concept. In fact, many business owners and entrepreneurs have long-based operations from their houses. But with the influx of home-based work, trying to give each working member of the household enough space and privacy to focus on their jobs has become a whole new challenge. For many, buying a bigger house or adding an expensive addition simply isn't an option right now. Instead, remote workers are building backyard sheds and turning them into the perfect backyard office.
BENEFITS OF A HOME OFFICE SHED
There are many advantages to adding your own backyard office shed to your house. Along with a unique and private workspace, shed kits can be fairly inexpensive. Another great benefit is that there are a lot of different options to choose from. From pre-fabricated models to custom-designed backyard, office sheds, finding the right one for your needs and budget is easy. Depending on the size and placement of your backyard office shed, you may not even need to get a building permit. Of course, you should always check local regulations to determine if a building permit is required. The same thing is true if you have a homeowner's association. There may be restrictions on the size or type of shed you can have in your yard, so it's best to do your research before you choose a kit.
EXPERT HELP WHEN YOU NEED IT
Once you know which backyard office shed you want, the next step is to choose someone to help you assemble it. While pre-fabricated backyard sheds are designed to make the installation process faster, that process still requires time, the right tools, and knowledge to correctly build it. This is especially true if you will need to run electrical wiring or cables for internet access, or if your shed must be built on a concrete slab or other type of foundation.
To make sure that your backyard office shed is up and running full-speed right away, the best thing to do is to hire a building expert you can trust. As part of a nationally respected brand, your local Mr. Handyman can help lighten your load by completing your backyard office shed project on time and on budget. Our team of experts will ensure that your backyard office build is not only done right but that it has everything you need to stay focused and productive at work.
If you need to help assembling or building your very own backyard shed, or any other home repair or handyman services, your local Mr. Handyman is here to help. Call our team today or request an appointment online.