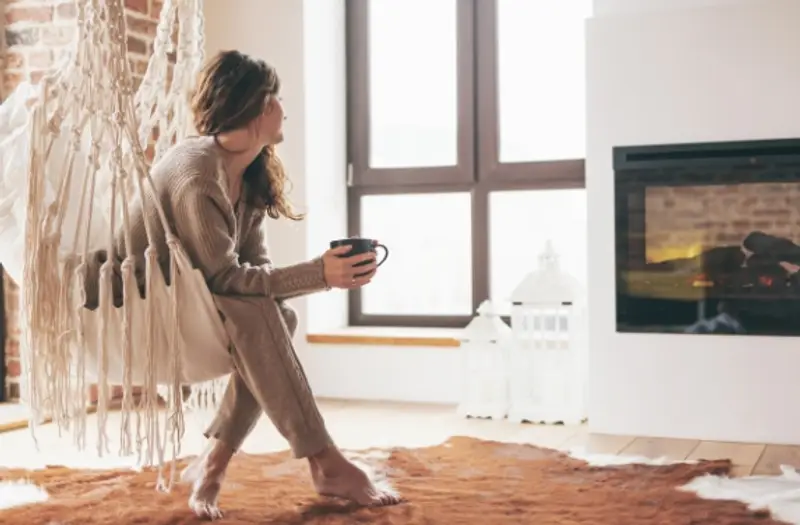 Electric fireplaces are charming, efficient, and an excellent way to supplement your home's heating system. Some homeowners are hesitant to rely on a freestanding electric fireplace as an additional source of heat on those, especially chilly days. But these handy devices are safer to use than traditional fireplaces.
Electric Fireplace Safety
For those new to these appliances, here are a few basics: Most electric fireplaces give off heat, though it's worth noting some models are decorative. Electric fireplaces that offer heat are excellent options for families looking to lower heating bills by placing them in the rooms used most often. This allows them to run their home heating system at a lower setting and focus heat on the spaces they occupy most of the time.
If that sounds like you, good news. Heating your home or simply enjoying the ambiance of an electric fireplace is often more energy-efficient and safer than wood, pellet, or gas alternatives.
Benefits:
No flame. Electric fireplaces don't produce an actual flame, which reduces the risk of fire.
No fumes. Even the best gas and wood-fueled fireplaces raise the risk of leaking fumes and smoke into your home. Any combustion fireplace also introduces the risk of potentially deadly carbon monoxide poisoning.
No irritants. Wood and gas fireplaces generate dust, soot, and smoke that can affect your home's indoor air quality and trigger symptoms in those with allergies or asthma.
How to Use an Electric Fireplace Safely
Following a few basic practices can help you use an electric fireplace safely in any room of your house. Like any heating element, always keep your electric fireplace away from flammable materials and out of reach of small children.
Related Topic: Q & A—All About Fireplaces
Using Your Electric Fireplace at Night
While these devices are safe, many manufacturers recommend turning the heating element off overnight. To make it easier, many electric fireplaces feature a timer that allows you to set your electric fireplace to turn off after running for a while. This lets you enjoy the flicker of a fireplace as you nod off.
Auto-Off Features
Consider purchasing an electric fireplace model that has a shutoff feature that automatically turns the unit off when it hits a certain temperature. This is an excellent safety feature that eliminates the possibility of the unit overheating.
Placing Your Electric Fireplace
Choose a safe spot to place your electric fireplace.
Depending on the model, you may have the option to mount the fireplace on the wall, much like a TV. Consider getting a helping hand for such an installation to keep your family and your fireplace safe from it falling.
Be sure to position your heater so that its vents aren't obstructed. It's okay to place your fireplace on most flooring materials.
Always keep your electric fireplace away from moisture, including wet areas by an entry door or near the kitchen sink.
More Ways to Enhance the Charm of Your Home
If you love the idea of an electric fireplace adding style and warmth, you're not alone. To learn more about installation options, including the wall-mounted installation of an electric fireplace, contact your local Mr. Handyman. We're pros at helping families make their space better suited to their needs and personality. From a full remodel to hanging shelves, give us a call or request an estimate to get your project started!