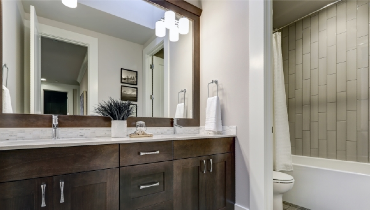 Whether you're tired of sharing a single sink with your partner or are embarking on a major bathroom upgrade project, adding a second sink to your home bathroom is a DIY job some handy homeowners can handle.
If you're not confident in your plumbing skills though, this project may require the help of a professional.
There are two ways to add an additional sink to your bathroom:
Purchase a two-sink bathroom vanity from your favorite home improvement store to replace your single-sink vanity.
Add a second sink to an existing single-sink vanity.
The first option can be tricky because it requires your bathroom to have enough room to accommodate a larger vanity, while the second option is even trickier because of DIY difficulty.
Installing a Two-Sink Bathroom Vanity
The easier of the two options is installing a new two-sink bathroom vanity to replace your existing single-sink vanity. If you have enough room in your bathroom—double-sink vanities on average are about 60 inches wide—this process requires:
Shutting off the water to your bathroom sink
Removing the existing vanity
Roughing in the plumbing to replace single water lines with double water lines and drains
Assembling the new double-sink vanity
Cutting holes in the back of the vanity to accommodate plumbing
Attaching the vanity to the wall
Installing the faucets and sinks
The hardest part of this job is the plumbing—something you should trust a professional to handle if you're not confident in your plumbing skills.
Also, be careful when removing your existing vanity so you don't damage any of the plumbing.
This is a project that can take anywhere from a day to an entire weekend, depending on your DIY skills. We recommend hiring a plumber to ensure there are no water leaks, which can wreak havoc on this type of project.
Can a New Sink Be Put on a Bathroom Vanity?
If you love the look of your existing vanity, or you have a custom vanity that was installed specifically to fit your bathroom, you may consider adding a sink to that vanity.
Of course, this requires that the existing vanity has enough space to accommodate another sink without compromising the general construction of the piece. Your existing vanity, for example, may be wide enough to add a second sink, but if there are drawers underneath the proposed location of the new sink, you may not want to tear those out in order to accommodate another sink.
In other words, you need a specific single-sink vanity to accomplish this project. Some single-sink vanities are designed to add a second sink down the road.
That being said, here are the main steps to add a new sink to an existing bathroom vanity:
Find and purchase a sink that matches the appearance of the existing sink.
Carefully cut out a hole in your vanity to accommodate the new sink.
Rough-in plumbing to convert from one to two sinks. This includes adding a new drain from the second sink.
Install the new sink.
Connect plumbing to the new sink.
Obviously, there are more than five individual steps to this project, which, depending on your plumbing and DIY skills, can take a day or two to complete.
Related Topic: Feeling disorganized? Here are some small bathroom storage ideas.
Add Your Two-Sink Bathroom Vanity Today
As you can see, adding an additional sink to your bathroom is a job that a skilled DIYer can undertake. However, some aspects of the job may still require the help of a professional. Understanding your limitations can be the key to a successful renovation. There's no harm in completing parts of a job you feel confident doing and hiring a professional to complete the more involved aspects of the job.
If you think the construction or plumbing aspects of this job are too big to tackle yourself, or you want to take advantage of the Neighborly Done Right Promise, contact your local Mr. Handyman for help. We're experts at helping homeowners remodel and reshape their home into exactly what they need. To get started give us a call or submit a request online for bathroom vanity installation services.