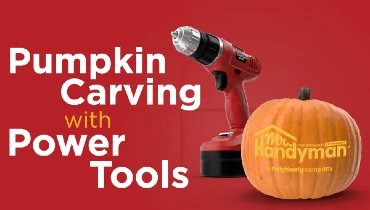 Mr. Handyman, a Neighborly company, is scheduled to appear on Fox & Friends for the 10th year in a row demonstrating pumpkin carving with power tools live on the Plaza in New York City. This year, Mr. Handyman's President Jeff Palla will join the hosts to demonstrate how to carve up the scariest pumpkins using the power tools our service professionals use to offer handyman services in the home.
Mr. Handyman's Pumpkin Carving Photo Contest
For the fifth year, Mr. Handyman is holding its annual Pumpkin Carving Photo Contest again this year. To enter the Pumpkin Carving Photo Contest, visit the Mr. Handyman Pumpkin Carving Photo Contest page and submit a photo of your pumpkin by October 31, 2022, at 11:59 p.m. CST. Four random winners will be awarded a $250 e-gift card to The Home Depot.
Pumpkin Carving Templates and Tips
If you need decoration inspiration or want to learn how to carve pumpkins with power tools as we do at Mr. Handyman, download our free guidebook here: Mr. Handyman Pumpkin Carving Templates. You can use these great templates to create the Jack-O-Lanterns of your choice at home!
Tune in Sunday Morning to Fox & Friends
Be sure to tune in live on your local FOX affiliate early Sunday morning, October 23. We won't know the exact time, but the show typically begins at 6 a.m. ET. We'll post the exact time on our Mr. Handyman Facebook page that morning! The easiest ways to watch are:
Tune in to the FOX News channel on your TV
Tune in via the live stream on fox.com/fox-and-friends/ by either:

Logging in through your TV/cable provider
Logging in through the channel's online subscription

Check out our Mr. Handyman Facebook page for a post of the segment clip after it airs.
Need Handyman Services?
If you need help, your local pros at Mr. Handyman are ready to help bring your vision to life. Give us a call or request service online today.