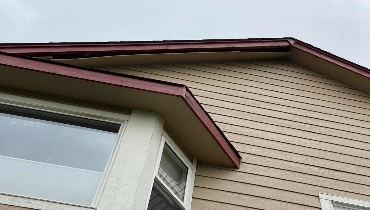 Soffits and fascia boards are the technical terms for what is usually referred to as trim, decking, or roof rafters. If you're like many Nashville homeowners, you may think that your trim is there to help make your roof look more aesthetically pleasing, but this is not the only function it serves.
Can you picture a roof without trim? It would definitely look like something is missing. However, fascia boards and soffits are important for maintaining your home's comfort, safety and livability. They protect your ceiling, eaves, and attic from the elements, pests, and water damage.
This is why it is so important to maintain your soffits and fascia boards. While it's unlikely you've given the state of your soffits and fascia boards much thought, by learning more about these important areas of your home you will be better prepared to troubleshoot problems before they escalate. Regular maintenance and the odd repair are much more affordable and easier to deal with then replacements.
If this is your first time learning about Nashville fascia and soffit repairs, we're sure you have a lot of questions. That's why we took the time to put together the following repair guide. At Mr. Handyman of E. Nashville and Hendersonville, we know lots of homeowners have questions about soffit and fascia repairs. Since your home is one of your most important assets, our Nashville handyman team will always strive to help you be proactive and learn the signs of damage to prevent the need for costly fascia and soffit repair services in Nashville.
As an added benefit, the more you know about Nashville fascia board and soffit repair services, the easier it will be to make an informed decision about how to address roofline damage in the future.
What Are Soffits and Fascia Boards?
Let's start with the basics. Soffits and fascia boards make up roof trim. They work together to keep your home's exterior looking attractive while preventing a range of damage from impacting your home. You can think of them like a frame on the edge of your roof. If you're thinking of selling your home soon, or want to refresh its appearance, then painting your trim is one of the easiest ways to give your exterior a mini-makeover and boost curb appeal in Nashville.
The difference between these two structural elements is that the soffits run beneath your roof. If you were to stand directly beneath your roof and look up, you'll be looking at soffits. Meanwhile, fascia boards run perpendicular to these beams. They're what you see when looking directly at your house—and usually what a service technician would paint if you wanted to refresh your home's appearance.
What Are They Made Of?
Soffits and fascia boards can be made out of a wide range of materials, including:
Vinyl/PVC (polyvinyl chloride): The biggest advantage of this material is that it is relatively affordable. Vinyl is also low maintenance compared to other materials. It doesn't need to be repainted and can be easily cleaned with a power washing service once or twice a year.
Fiber cement: There are many advantages to having fiber cement fascia boards. It lasts a long time, upwards of 50 years, is available in a range of colors and styles and is fire and heat-resistant. Not to mention, fiber cement won't rot—but can emulate the look of real wood.
Aluminum: Fireproof, incredibly durable and inexpensive to install, another benefit of aluminum is that it helps deter pests—preventing unpleasant creatures from getting into your home through your gutters.
Steel: Offering similar benefits to aluminum, what sets this material apart is that it is even more durable than other metals—including aluminum.
Wood: Perhaps the most classic type of trim, wood is beautiful and evokes a very classic look. However, wood does require frequent maintenance to prevent wood rot from taking hold in your home.
Why Do Soffits and Fascia Boards Matter?
Although soffits and fascia boards may not look very important, especially because they don't take up that much space, unlike siding, these two structural elements work hard to protect Nashville homes by:
Securing gutters against the outside of your house
Preventing moisture from entering your attic and damaging wood rafters or drywall
Venting excess heat and moisture out of the roof space by ensuring proper airflow
Stopping pests from infiltrating your home
Causes of Nashville Soffit and Fascia Board Damage
Although trim is built to last, this does not mean that it's impervious to wear and other types of damage. Like anything else in your home—especially aspects of it that are regularly exposed to the elements—damage can still happen from time to time. Particularly when caused by:
Exposure to Elements
Fascia boards help protect your home's interior from wind, rain, hail and even sunshine. But in doing so, it's also in the line of fire when it comes to defense against the elements. This means that your trim will wear down over time. Also, strong winds can blow rain to the soffit vents, where it may accumulate and not evaporate properly. This could potentially cause mold growth and wood rot to develop in your Nashville home. One way to prevent wood rot is to ensure your trim is in good condition.
Clogged Gutters
Everything in your home is connected; when one part of your roof is poorly maintained, it impacts all the other areas. This is especially the case when it comes to your gutters. Poor gutter maintenance is one of the main causes of soffits and fascia damage. While poorly maintained gutters can impact your home in many ways, trim is one of the first areas often affected by clogged gutters because gutters are supported by your trim.
Gutters should be cleaned out at least twice a year in Nashville, possibly more if you have lots of trees by your home as the falling leaves will clog up the pipes more frequently. Clogged gutters impede water from flowing through the system and being disposed of at a safe distance from your home's foundation. Instead, water spills over the edge of your house. This causes a range of issues and can affect your siding, foundation, yard, and basement—and of course, your roof structure.
Few people enjoy cleaning out their gutters. It's not only a tedious and messy job, but also one that can be unsafe—especially if you're not comfortable climbing ladders. The good news is, the experts at Mr. Handyman of E. Nashville and Hendersonville are pros at gutter cleaning. We're happy to handle this less-than-desirable task for you.
Signs You Need Soffit and Fascia Board Repair:
It can be difficult to tell when your trim needs to be repaired and/or replaced—especially because it's a part of the house that most Nashville homeowners tend not to think about too much. However, there are a few key signs to watch for that will let you know when it's time for repairs. The best way to spot these red flags is by walking through your property and looking for signs of damage at least twice a year. Once in the fall and once in the spring is usually best. Some of the signs to look for include:
Discoloration
It takes a while to see the effects of rot and mold on your home. Initially, the spores will be so microscopic that they are essentially invisible to the naked eye. It can take months before you finally see rot or mold, and one of the first places you may notice them take hold is on your fascia panels.
Cracks or Holes
Different materials crack, chip and/or dent. In particular, vinyl is prone to cracking as it ages—since it can become quite brittle as time goes on. Likewise, wood can also become cracked or loose due to constant exposure to the elements. Fluctuating temperatures cause most materials to expand and contract, which leads to cracks.
Flaking Paint
Wood is most commonly used in older homes. So while new builds are more likely to have aluminum or vinyl trim, if you live in an older residence it's likely you have trim that has been painted over. Paint not only looks nice but also helps prevent water damage. If the paint is flaking, this means water has infiltrated the wood. Eventually, this will lead to wood rot.
Gutter Damage
While gutters can lead to trim damage, sometimes the inverse can happen too. When fascia boards become soft or rotted, the nails or fasteners that hold your gutter system up will begin to pull away from your roof. You may not notice this right away, but as your gutter fills up with debris and becomes heavier, eventually the structure will sag—and possibly even break off entirely.
Water Damage on Interior Walls
Water damage on interior walls near your roofline could indicate there is a leak somewhere. Usually, this means that part of your trim is damaged and water is seeping into your home through the weakened area. This is all the more reason to be sure you regularly inspect your trim for signs of damage, and ensure that your gutters are cleaned out routinely.
How Can I Maintain My Trim?
If you've noticed any of the above issues, then you likely need soffit and fascia board repairs. The best team to handle these repairs for you are the experts at Mr. Handyman of E. Nashville and Hendersonville. Each of our service technicians has years of experience providing a wide range of home improvement services. We'll be able to diagnose the issue and make any necessary repairs efficiently. When you hire our pro team, you can relax knowing your trim is in the best hands. We always act with the utmost professionalism too, and providing excellent customer service is always our top priority.
While our pro team will be there for you in a pinch, there are a number of steps Nashville homeowners can take to keep your soffits and fascia boards in good shape year after year. This will help prevent the need for repairs and/or replacement services.
Walk through your property at least twice a year and look for signs of damage. You should do this once in the spring and once in the fall as part of your seasonal repairs. These seasons are times of rapid change, so it's best to complete outdoor repairs during this time.
Sand and paint any damaged soffits or fascia boards. Paint helps prevent water damage, which may cause wood rot, mold, and mildew. It's also important to remove flaking or cracked paint, as this could be a sign of water damage.
Stay on top of regular gutter cleanings and repairs. The best way to prevent trim damage is by maintaining your gutters. Poorly maintained gutters can also cause a range of other issues, including problems with your home's foundation.
Hire power washing services to give your trim, and other surfaces throughout your property, a deep clean. This will get rid of any build-up while revitalizing your curb appeal.
How to Repair Cracked Fascia Board
The location of fascia boards makes them vulnerable and prone to damage. It's best to take at your fascia at least once a year when you're cleaning your gutters. If you notice damaged or cracked fascia they'll need repairs. DIY repairs are doable but we understand that many people are busy in their personal lives and would prefer to hire a handyman. Our Nashville handymen will remove your damaged fascia, measure and cut the board for the new fascia, install, prime, and paint your new fascia board. Your handyman will know the proper type of wood that should be used for your fascia board to ensure longevity.
Need Nashville Soffit and Fascia Repair Services? Book an Appointment Today!
At Mr. Handyman of E. Nashville and Hendersonville, we're known throughout Nashville and the surrounding areas for our dedication to excellent workmanship and customer service. Our team is proud to bring our outstanding services to a wide range of clients in and near Nashville, including in communities like Madison and Old Hickory.
Our team works diligently to ensure you have a positive experience with our company time and time again. From our hardworking office staff who keep operations running smoothly to our skillful and friendly technicians, customer satisfaction is always our top priority.
To get your trim looking and functioning its best today, we invite you to call our team. We look forward to helping with your future home improvement project!