What Columbia, MD Homeowners Need to Know About Tile Repair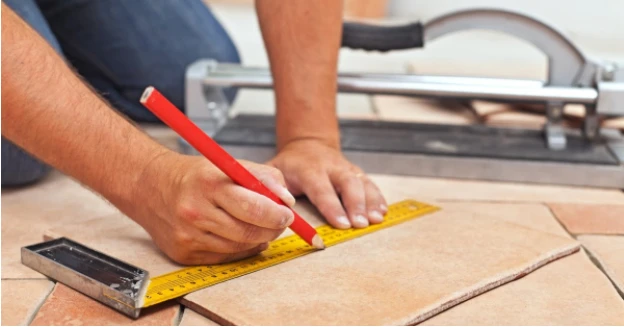 What's not to love about tile? It's in almost every home in America, well-loved for its beautiful, durable, and protective qualities—not to mention a vast array of colors, shapes, sizes, textures, styles, and materials. The possibilities are almost endless; this gives you the opportunity to really tailor your home to suit your unique tastes and aesthetic.
But, like everything else in your house, tiles don't last forever. When the tiled space in your Columbia, MD home or business has suffered damage such as chips, cracks, and missing pieces, you need quality tile repair services to get it back to a like-new appearance.
Do you have questions about tile repair and installation? We've got answers! This guide covers the reasons why tile restoration services are necessary, along with answers to some of the most frequently asked questions with advice from the experts at Mr. Handyman of Greater Columbia and Eldersburg.
Why It's Important to Get Tiles Repaired or Replaced
If you've noticed some issues here and there, you may be tempted to ignore them and go about your life—after all, most things in life are not without their flaws, and that obviously applies to your floors and backsplashes as well. But there are some compelling reasons why you should get your tile repaired or replaced.
Unattractive Appearance
For many homeowners, the rooms that feature tile are the best parts of the house. However, damage is an unsightly problem that ruins the aesthetic of your home, whether it's a cracked glass in your kitchen backsplash or crumbling, discolored grout lines in the bathroom.
It'll Only Get Worse
The damage might seem minor and barely noticeable right now, but it won't stay that way for long. Chips turn into cracks and cracks turn into chunks of missing tile more quickly than you'd suspect, especially in high-traffic areas where the damaged spot is constantly being stepped on. What would have been a minor flooring repair can quickly spiral out of control, becoming an entire tile floor replacement.
No Protection Against Water Damage
Tiles are not just for appearances. They seal out moisture, protecting your subfloor and everything underneath it from water penetration that can lead to serious moisture issues ranging from damaged drywall and sagging ceilings to wood rot and structural instability. But when they're damaged, the protection is gone and your home is susceptible to all those problems. Anyone who has ever had to deal with water damage mitigation will tell you it's worth your time to avoid it.
Safety Hazard
Broken tile has sharp edges that can cut up bare feet, or injure children and pets who are playing on the floor. Even if you can't detect any jagged edges in your floor, the damage can worsen quickly and you may discover that it's become more hazardous the hard way—by sustaining an injury.
Frequently Asked Questions About Repair and Installation
If you need to know more about planning repair or installation for your property, give us a call and chat with our friendly customer service staff, or check out our answers to some common questions below.
Can Chips in Ceramic Be Repaired?
Some chip damage in the surface can be repaired without needing to remove the entire piece. The basic steps of chipped ceramic repair are:
Clean the area thoroughly and give it time to dry completely.
Slightly overfill the chip with repair epoxy.
Use a leveling tool to smooth the filler and blend it into the surface.
Let it dry for a few hours, then sand down the hardened filler so it's even with the surface of the tile.
Can You Repair Cracked Tile Without Replacing It?
Surface-level damage such as a small hairline crack may be repairable following a similar process to what's outlined above for chips, or it may be possible to conceal the damage with paint depending on the types you're working with. However, that piece will still be weak and vulnerable to the problems we mentioned, such as worsening damage and a lack of water damage protection. That's why, when it comes to repair vs. replacement, crack damage usually calls for a new installation. If you happen to have extras saved to replace the broken piece, it may be possible to remove just the damaged piece and put in a new one.
Can It Be Installed Over an Existing Tile Floor?
Yes it can, under some circumstances. There are two conditions that need to be met:
The existing floor needs to be completely level (including grout lines) and free of damage, mildew, warping, or any other issues that could affect the new layer.
It must be supported by a firm concrete foundation underneath, because otherwise a layer of heavy tile overtop of an existing heavy layer can cause structural damage.
Can You Install Tile Without Grout Lines?
While it's technically possible, it will not meet the basic standards for a quality installation and you likely won't be pleased with the results in the long run. Here's why grout lines are necessary:
Your house settles and shifts over time, and grout provides some "wiggle room." Without it, tiles grind against each other and become cracked and broken.
The individual pieces are not totally the same size, even if they look that way. The grout allows for tiny differences in size while maintaining a uniform appearance.
No matter how tightly they're placed together, if you don't use grout there will be small gaps for dust and dirt to slip into, making cleaning a lot more difficult than it has to be.
Mr. Handyman is Your Local Tile Repair Expert in Columbia, MD
Whether you're in Columbia, Eldersburg, or a nearby community such as Dayton or Elkridge, you can rely on Mr. Handyman of Greater Columbia and Eldersburg to take care of your floor and wall services quickly and efficiently. We provide quality workmanship and excellent customer service on small, one-time projects and large installations alike.
Give us a call today or request service online to find out more about how we can improve your property and make your life easier!