6 Small Bathroom Remodel Ideas to Upgrade Your Space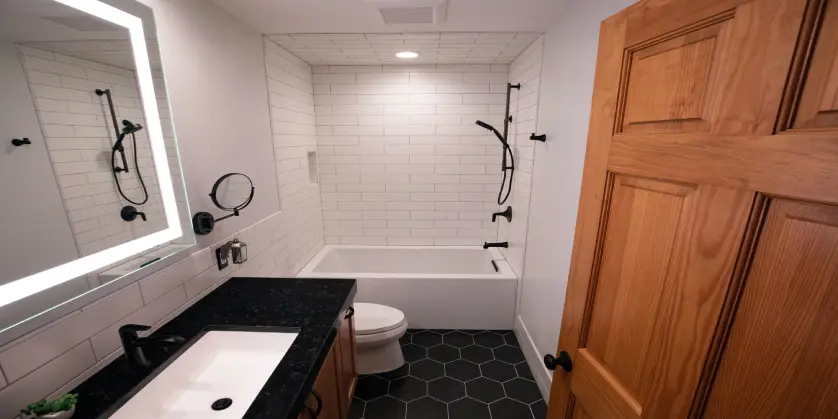 When it comes to remodeling your bathroom, there's a lot of different ideas and things to consider, especially if your bathroom is smaller on scale. While you may want to include all the typical things you would include in a bathroom, you may simply not have the room for it.
Luckily, homeowners still have plenty of options to consider for any bathroom upgrades. Our handymen professionals at Mr. Handyman of NE Raleigh to Clayton Area are here today to share six small bathroom ideas you may want to consider for your remodel.
It's Not All Bad: Advantages of Your Small Bathroom
A small bathroom that once was okay can become a bathroom that's disliked to the lack of space or thoughtful design, but the upside is that there are still many benefits to be gained from your small bathroom, especially with the help of a new remodel.
Smaller Size = More Creativity – While you may be pressed for space, the smaller rooms in your home require far more creativity in their remodels. This may be challenging initially, but rest assured that some of the best ideas come from space limitations.
Cheaper Remodels – Having less room in the bathroom helps reduce the final cost of your bathroom remodel because there will simply be less to do.
Countless Possibilities – While you may not be able to add that giant tub you've dreamt of, there are countless small bathroom remodeling possibilities to consider. From compact vanities to hidden storage space, small bathroom fixtures exist to achieve your final vision even easier.
With the right remodeling ideas and a team to bring it to life, you'll be able to transform your bathroom into something that you, your family, and your guests will certainly love.
Bathroom Remodel Ideas to Improve Storage, Design, & More
If you're thinking about remodeling your tiny bathroom, there are plenty of options to choose from. The following six ideas will help you turn your bathroom into something that's both beautiful and functional:
1. Double Sinks? It May be Time to Get Rid of One & Upgrade Your Countertop
While double sinks have become common in larger bathrooms, this hasn't stopped smaller bathrooms from also featuring these. The idea may be great, but many homeowners often find themselves never using both sinks at once, which begs the question: is the other sink worth it?
Would more countertop space be more beneficial to your lifestyle instead? If you're feeling the drawbacks of a smaller bathroom with reduced storage space, getting rid of one of the sinks and replacing it with solid countertop can offer ample vanity space.
2. Outdated & Damaged Countertops Need to Go
On the topic of bathroom countertops, any bathroom counter space that looks a little worse for wear or outdated can and should be redone. If it's time you get away from laminate in your bathroom, upgrading your countertop to stone, quartz, or even tile can add new style and depth to your bathroom.
3. Replace or Upgrade Your Shower Head
Shower heads with weak water pressure, leaks, problems spraying everywhere, or a lack of spray settings can be replaced with a new shower head to help you take a better shower and feel better about your bathroom.
You can also take it up a notch with an upgraded shower head! Some newer shower heads include LED changing lights, Bluetooth music speakers, and various new spray settings.
4. Install a New Mirror
Adding a new mirror to make your space appear bigger is one of the oldest tricks in the book, but effective nonetheless! Whether you're thinking of adding a full-size mirror in the corner, a new medicine cabinet with a sliding mirror for extra storage too, or even a smaller size mirror propped up on a shelf, you can go as big or small as you want to achieve this effect and the style you're going for.
5. Have Custom Cabinetry Installed for Extra Storage
Custom cabinetry can help small bathrooms in more ways than one. Not only does custom cabinetry give you extra storage, but it also helps keep your bathroom organized and clutter-free. This makes your bathroom look bigger and better!
6. Repair or Replace Your Bathroom Tile
Broken and worn bathroom tile can take away from your bathroom's appearance and become a major safety hazard. Repairing broken tile and replacing outdated tile patterns may be the change your bathroom has been needing:
Color Tile
If you're looking to show off some creativity, consider creating a pattern of colors with new tile on the floor or walls of your bathroom. You can even play around with shapes to achieve some stunning designs!
Reflective Tile
Choose a light-colored or glossy tile to give your bathroom a brighter look that feels more open. This reflection of light will make the entire bathroom seem bigger!
Need Help with Your Bathroom Remodel? Our Clayton Handymen Are Here
If you have a small bathroom, it can be tricky to remodel the area to achieve everything you want while maximizing its space. To make sure your plan is foolproof and the remodel is done correctly, turn to the professionals at Mr. Handyman of NE Raleigh to Clayton Area for help!
Our team has remodeled countless bathrooms, big and small, so there's no wonder why we're not short of any bathroom remodeling ideas. Regardless of what you're considering, reach out to our team for professional insight, repairs, and installation to bring things to life!
Contact us online to learn more about our Clayton handyman services or schedule your bathroom remodel!