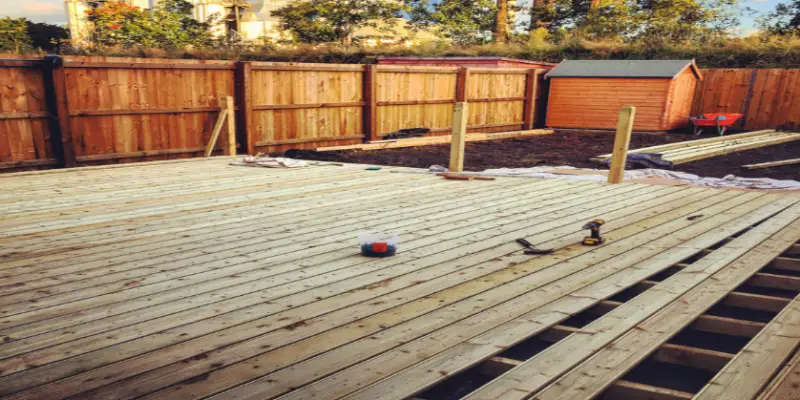 A new deck is a quick and efficient way to upgrade your home or commercial property. At Mr. Handyman of Northeast Johnson County, we are ready to ensure you are happy with the final product. Our technicians will use cutting-edge tools and technologies to deliver the benefits of your renovated deck as quickly as possible. We're committed to providing superb craftsmanship and reliable services – every single time!
We will always send out a professional fit for the job. Backed by years of experience and versatility, our team of carpenters, construction contractors, cement and brick experts, and other specialists is best in class. If you are uncertain about whether to upgrade, retrofit, or replace your deck altogether, you've come to the right place. We are excited to go over the primary upsides of enhancing your deck today!
Increase the Real Estate Value
Replacing or fixing up an old deck can significantly boost your property's resale value and aesthetic appeal. By removing weathered materials and installing brand-new sections, we can enhance the overall lool of your deck. A remodeled deck is an affordable way to elevate the ambiance of your property, landscape, and surrounding spaces. When and if you decide to sell your property, it will catch the eye of prospective buyers and make a positive impression – showing that you take pride in your property's infrastructure and appearance.
Improve Safety and Function
Most decks consist of treated or untreated lumber, which naturally decays over time – far quicker than decks constructed from composite materials or vinyl. If you have an old home, you are likely dealing with more than a few signs of deck disrepair. The good news is that there are new building materials that can withstand weather and deterioration with increased durability. No matter what kind of deck you have, time and the natural elements will eventually weather your deck – creating structural issues and safety hazards.
When decks swell, dry out, dislodge, crack, splinter, and break, they become unsightly – hurting your property's aesthetic appeal. Deck railings can be susceptible to deterioration as well. We recommend requesting professional maintenance immediately if your deck railing becomes flimsy and wobbly. The consequences of a collapsed rail can be severe and tragic. Let our technicians provide deck and patio repairs, maintenance, and installations at an affordable price today!
Alter the Style, Shape, & Size of Your Existing Deck
Renovating a deck is an excellent opportunity to alter its shape, size, and style. Our team has the tools and techniques to equip your deck with cutting-edge amenities and creative layouts. We can evaluate its functionality (or lack of functionality) and make cost-effective improvements during an initial consultation. Afterward, we are available to help you design and devise a game plan.
Ways we can enhance your deck include:
Expanding its size
Adding space for an entertainment center
Installing or setting up an area for cooking and eating
Creating built-in seating
Opening access points
And much more!
Before expanding and extending a deck, we always go over the pros and cons of various materials and products. Wooden decks are popular but not the only product on the market. We recommend looking into weather-resistant options to protect your deck from our humid and muggy summer weather in Kansas. Vinyl, for example, is capable of withstanding water and can easily match the color palette of your home.
We'll Personalize & Retrofit Your Deck Just for You!
Retrofitting your deck is the prime time to consider additional customizations. Our contractors have the versatility and experience to help you actualize your dream deck setup. We can custom-build a deck that realizes your unique vision and aspirations. If you dream of hosting outdoor barbeques and soirees, we have the resources and knowledge to create a stunning deck arrangement. You can rest assured that we never sacrifice safety for curbside appeal. Our top priority is to ensure your deck is structurally stable, easy to navigate, and safe for all individuals.
We create some of our most cherished memories while wining and dining outside with friends. There are few spaces warmer and more welcoming than a beautiful backyard deck. We can help you renovate, repair, and restore your outdoor structures. Does your deck suffer from wood rot, termite damage, water stains, loose nails, warped boards, or wobbly stairs and rails? Our highly rated craftsmen are your go-to solution for a fast and reliable fix. Our deck repair and renovations are second to none!
Call to make your dream deck a reality! Or you can schedule your service online.