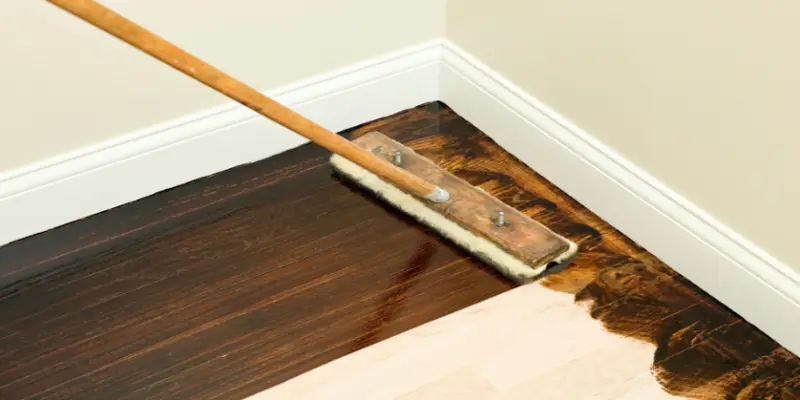 If you own a property with a wooden door or deck, you've likely considered the pros and cons of painting vs. staining it. Today, Mr. Handyman of Northeast Johnson County is ready to help you make an informed decision by detailing the advantages and disadvantages of both options.
The Upsides & Downsides of Painting Wood Floors
Painting your wood floor is an excellent way to completely revitalize your interior without spending exorbitant amounts replacing your existing flooring. Paint can cover up minor imperfections with vibrant, stylish colors that accent or contrast your décor. Compared to most home projects, it is an affordable task. Our team can transform your home with fresh-looking floors without breaking the bank!
The downside to painting wood floors is that it can be time-consuming and high maintenance. Before applying any paint, one must remove your furnishings and prepare the surface properly. It is integral to allow ample time for drying and curing between coats. Lastly, painting wood floors may be an unwise option if you have active kids or pets running around (since paint is prone to chipping and scratches).
The Upsides & Downsides of Staining Wood Floors
Staining tends to be less expensive than painting and often maintains its appearance longer (particularly in high-traffic areas). Stains come in a variety of colors, from light blondes to darker hues like walnut or ebony. They are also low maintenance. A professional can reapply your stain every few years as needed (or when desired). We can also apply a quality sealant for extra protection against wear and tear.
The primary downside to staining wood floors is that stains won't completely mask existing imperfections and discolorations. In fact, they may do the opposite, highlighting the grain pattern and color variation. While stains enhance the natural beauty of wood floors, their transparency will not cover visible flaws, such as deep scratches or gouges. If this is a concern, we recommend paint or trying a dark, oil-based stain for thicker coverage.
The Benefits of Painting or Staining Wood Decks
Wood decks are a popular choice for outdoor living spaces, providing a natural and inviting atmosphere for family gatherings, barbecues, or lounging on a sunny day. However, the wood can begin to appear weathered, faded, and damaged due to exposure to moisture, weather, and UV rays. The good news is you can make your wooden deck look brand-new again by staining or painting the surface.
Staining or painting your wood deck is an excellent way to preserve the natural beauty of the wood while enhancing its durability. Here are the primary benefits:
Protect Your Deck from Weather Damage: Wood decks can take a beating from the elements. Staining or painting your deck can help prevent moisture damage, wood rot, and cracking caused by UV rays.
Enhances Your Curb Appeal: Staining a deck will bring out the wood's natural beauty, adding a rich color palette that complements the surrounding environment. Unlike staining, paint can loudly accentuate your home's exterior color scheme with unique, vibrant colors.
Reduce Maintenance: Staining or painting a wood deck is easier and more cost-effective than continuously replacing wood planks every 2-3 years.
Hide Imperfections: Paint can help hide any blemishes or imperfections on your deck, providing a flawless appearance. While stains are not as effective, they can camouflage stains and discolorations.
Reliable, Affordable Contractors You Can Count On
Whether you want to paint or stain your wood flooring or decking is ultimately up to personal preferences. Before making a final decision, you should consider the foot traffic on these surfaces (i.e., pets and active kids), any budget constraints, and desired long-term outcomes. Whatever you choose, painting and staining wood floors and decks offers many upsides – upgrading your property's look, feel, and style while improving durability!
A fresh coat of paint or stain can breathe life into any room. Whether you have an indoor wood floor or outdoor deck, our experienced team of home improvement professionals can help. We have the tools, experience, expertise, and proven techniques to deliver flawless results. Our technicians go above and beyond to remain attentive to meticulous details. We never skip steps or take shortcuts. You can expect unrivaled professionalism at every level and stunning results every time.
Want to set up an in-person consultation or receive an upfront estimate for any of our flooring and deck-related projects? Call our professional home repair contractors today!