From Dents to Rot: What You Need to Know About Rockwall Deck Repair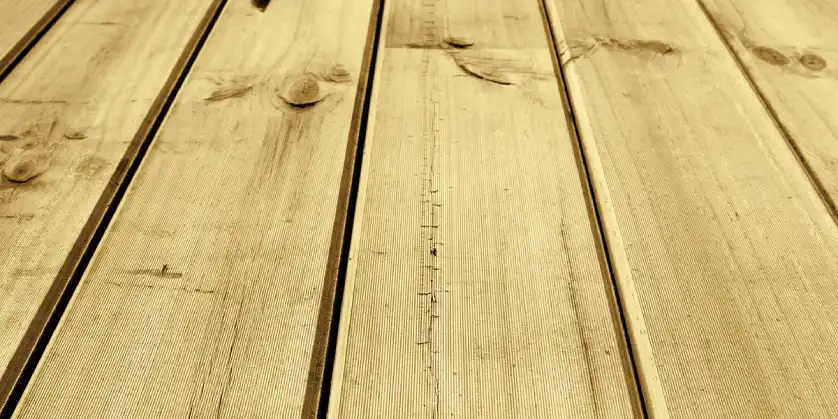 When you think of the summer months, what springs to mind? Probably spending time on your deck, enjoying the beautiful weather, barbecuing with friends, and unwinding with a cold drink and a good book. Your deck should be a place of relaxation and peace—but when you need Rockwall deck repairs, this may not be the case. Rather, you may find yourself stressed out and struggling to find time to fix all the damaged areas.
Wear and tear, exposure to the elements, and accidents all take a toll on your outdoor living space. Changing weather patterns in particular can cause a lot of damage, and when that damage is not promptly repaired, you can wind up dealing with a much larger project than you may have initially. Even if you take really good care of your deck with preventative maintenance, the structure will need Rockwall deck repairs from time to time.
If your deck is looking a little worse for wear—say you've noticed the railing is wobbly or a plank has come loose—call our pro team. Each of our Rockwall handyman experts has years of experience completing a wide range of home repair and maintenance projects. At Mr. Handyman of Rockwall, we only hire the best technicians and carpenters, so you can rest assured that your Rockwall deck repairs are in good hands.
If you're not sure if you need a Rockwall deck repair service, or if you have questions about what kinds of issues to look for, we've got you covered. The following blog does a deep dive into what red flags to watch for, preventative tips you should know, and why you should choose the team at Mr. Handyman of Rockwall for your deck repair needs.
Why Mr. Handyman of Rockwall is the Best Choice
It's essential that you stay on top of repairs and routine maintenance to keep your property looking great all year. Without maintenance, your outdoor living area could quickly become an unsafe space for you and your family. Loose boards, wobbly railings, and protruding nails are all serious safety hazards. Not to mention, if your deck looks unkempt it's unlikely to be a place where you want to spend a lot of time.
That said, at Mr. Handyman we understand that it can be very stressful—not to mention a lot of work—to fix up the damaged areas in your outdoor living area. Also, many homeowners don't have the time, tools, or skills to take care of repairs on their own. That's why you should put your trust in our handyman team's skills. Many of our tradesmen are highly skilled carpenters, and we always focus on ensuring we have satisfied customers.
We're known throughout Texas for our dedication to quality service and customer satisfaction. It's important to us that you're able to enjoy your deck in comfort and safety, and that the area remains a fun place for you and your family to be. We not only provide a range of deck repairs in Rockwall but also offer deck installation services and a wide range of other services to keep your property looking its best all year round—including gutter cleaning, fence repair, and more.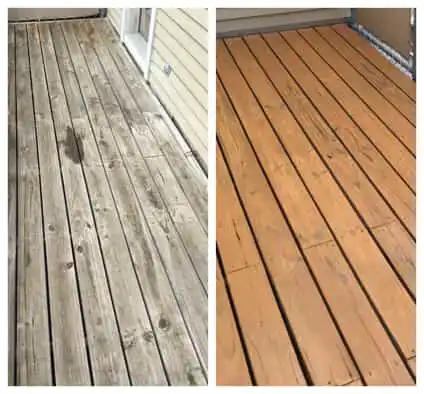 How Do I Know If I Need Deck Repairs in Rockwall, TX?
While maintenance is essential for preventing damage, the reality is that damage will occur over time. Pay attention to the following areas to troubleshoot. These common types of damage can often sneak up on homeowners.
Wobbly Railings
It only takes one person to lean against a wobbly railing and fall down, which is why loose railings are a serious safety hazard and a deck repair that needs to be completed right away. Wondering why your outdoor structure might have wobbly railings? It could be that a screw or nail has come loose, which can be easily fixed. Alternatively, wood rot may be eating away at the lumber. In this case, the affected railings will need to be replaced right away.
Pro Tip:
The easiest way to tell if your railings are loose is to grab hold and give them a shake. If they move, they're loose and need to be repaired as soon as possible.
Loose Nails & Screws
Popping nails usually indicate that boards, posts, and railings are loosening, which could lead to even more serious injuries. Even stepping on a loose screw or nail can be very painful and can also lead to infections like Tetanus. Popping nails can typically be hammered back down into the wood. However, depending on the state of the screws and nails, for instance, if they are rusty, then you might want to consider hiring our Rockwall deck repair team to replace them completely.
Crumbling Concrete Footings
Concrete footings are what the rest of your deck stands on, so they need to be in good condition to maintain the structure's integrity. When they begin to crumble or deteriorate because of age, erosion, and water damage, footings need to be replaced as soon as possible. If the problem is neglected, then the entire structure could sink into the ground. This could result in potentially serious structural issues and serious injury.
Improper Drainage
You could wind up dealing with a range of issues if your property's grading is compromised due to erosion or landscaping that was not completed correctly. Improper drainage will result in the need for Rockwall deck repairs because the ground around your outdoor structure will start to erode. This will threaten its structural stability and increase its exposure to water damage.
Wood Rot
Speaking of water damage, wood rot impacts all types of wood, including treated wood, and is one of the biggest concerns for Rockwall homeowners. Rot tends to spread in moist areas that don't see a lot of sunlight, which makes the areas underneath steps and around footings particularly vulnerable. Wood rot is a kind of microscopic fungus and is a normal part of nature's decomposition process. However, it can also be found on your Rockwall property, which is why it's important to check the structure regularly for signs of rot. If you notice any problems, call our pro team right away for Rockwall deck repairs.
Pro Tip:
Walk through your property at least twice a year with a flashlight and screwdriver to check for signs of rot. Areas that don't receive a lot of sunlight tend to be where rot spores grow first, so it's important to check the underside of planks, beams, and posts.
Broken Boards
If your boards are broken, then they need to be repaired as soon as possible. Broken boards can quickly lead to injury—from minor injuries like slivers to something more serious like a foot going through a broken board. Typically, wear and tear, changing temperatures, weather, and wood rot cause decking in Rockwall to deteriorate as the years go by, causing the need for Rockwall deck repairs, so your outdoor living space is safe for all who use it. Also, always remember to never step on cracked boards. When boards are cracked, it's only a matter of time before they break completely.
Stains, Scratches, Chips, and Dents
Regular use and wear and tear lead to stainings and light damage, such as scratches and dents. Even though these issues may not seem like a big deal, it's important not to ignore them. Even the smallest issue can become a serious problem if left unattended. Dents and scratches can wreck your stain or paint, which in turn compromises your deck's seal. This increases the risk of water damage, rot, and mold.
Pro Tip:
Usually, sanding and re-sealing your outdoor living area is enough to get rid of scratches and dents. If the damage is severe, then the affected boards or planks should be replaced. Also, most stains can be removed with soap and warm water. If the damage is already done, they can also be sanded away and covered with a new coat of paint or stain.
Rockwall Deck Repairs: Preventative Maintenance
Routine maintenance is essential for taking good care of your outdoor areas to prevent wear and other types of damage. By monitoring and caring for the state of your deck, you can also catch problems quickly and troubleshoot issues before they escalate.
Routine Inspection and Maintenance
Firstly, you should be taking time at least twice a year to inspect your deck. The best way to spot damage early is through being on the lookout for problems. The best times of year to do so are during the spring and the fall. During these seasons, you could also set away time to get all your other outdoor maintenance done, including gutter cleaning, pressure washing, and fence maintenance.
All year round, it's important that you take steps to prevent issues like moisture buildup, wear, and damage from the elements (including rain and sun exposure). Some of the steps you can take to mitigate these problems include:
Regularly moving deck furniture and planters around
Fixing damaged stains and paint right away
Deck cleaning, including sweeping and power washing
Promptly replacing damaged, missing, or rotted areas
Sealing is a Must
Along with routine maintenance, one of the most important steps you can take to maintain your deck is to refinish it every two to three years. Refinishing involves many steps that our handyman experts can take care of, including applying a clear, UV-protecting sealant to keep water damage, bleaching, and wear to a minimum. We will then follow the sealant with an appealing stain or a coat of paint to ensure the structure looks great. Refinishing is also an excellent opportunity to boost curb appeal. Other benefits of refinishing include:
Adding an attractive sheen
Protecting the structure from moisture damage
Preventing wood rot from growing
Avoiding sun damage from bleaching wooden structures
Preserving your wood's natural beauty
Deck Cleaning
Finally, you should clean your deck thoroughly at least twice a year to get rid of dirt, debris, and other buildup like lichen and moss. Cleaning is also a great opportunity to get rid of peeling paint and chipped stain, which can prepare the area for refinishing. Don't worry, we don't suggest you get down on your hands and knees with a sponge and bucket of soapy water. Rather, power washing is by far the best way to clean your deck. Power washing has many benefits. It can prime the entire deck for painting or staining and is much faster than scrubbing manually. It will also transform your space from old and dingy to looking good as new.
However, these are very powerful machines, and it's all too easy to damage your property or injure yourself in the process due to improper use. Thus, homeowners who have never handled a power washer should leave this job to the professionals. Instead, let the pros at Mr. Handyman of Rockwall take care of it for you. We'll get your deck boards, planks, panels, and posts looking spic and span in no time. We can also power wash other exterior surfaces, such as siding and driveways.
Benefits of Power Washing:
Improve your property's curb appeal
Prevent repairs by getting rid of debris and buildup
Clean other areas, such as fences and siding
Prevent health issues from mold and mildew
Prime surfaces for painting or staining
Book Your Rockwall Deck Repair Service Today!
If you have noticed a few problems with your outdoor living space and think it's time for deck repairs in Rockwall, TX, then look no further than the experts at Mr. Handyman of Rockwall. We can help with a range of deck repairs, as well as refinishing, installation, and any other improvement task you need to do at your Rockwall property. Each of our service professionals has years of experience helping customers throughout the Rockwall area with their home improvement needs.
To book an appointment with one of our highly skilled Rockwall handyman team members today, we invite you to give us a call at. We look forward to helping with your future home improvement needs!