10 Questions to Ask Before Hiring a Masonry Contractor in Union County NJ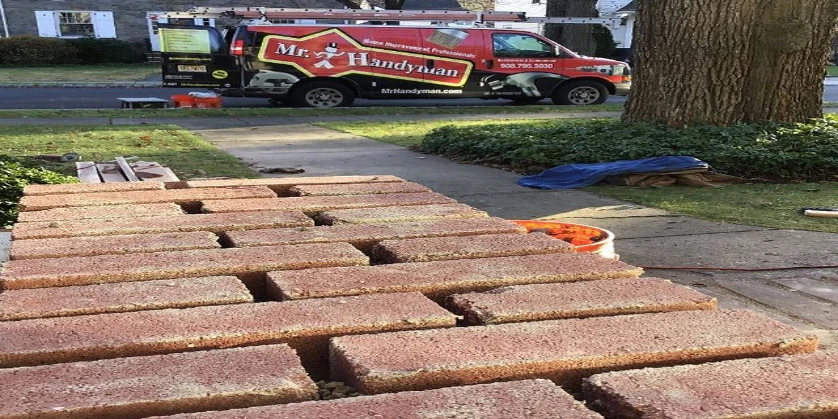 Do you have a brick or stonework project in mind for your home? Whether you want to install a brick fireplace, repair your chimney, or require help to fix damage to your cement flooring, you'll need a qualified masonry contractor serving Union County to get the job done right the first time.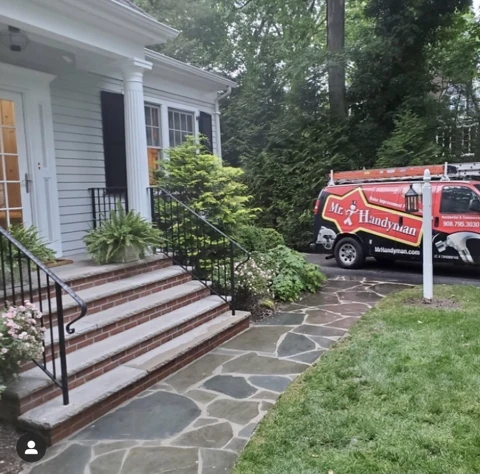 However, finding an expert masonry contractor can be a challenge. A quick "masonry near me" search on Google is a start, but will require some additional research on your part including reading reviews, looking at completed masonry work, and asking specific questions about how they work.
Masonry is highly skilled work. A simple Wikipedia definition for masonry is the building of structures from individual units, which are often laid in and bound together by mortar; the term masonry can also refer to the units themselves. Some masons say their work is a combination of art and construction. Masons use all sources of hard materials including stone, marble, tile, and brick laid in cement.
To help you choose the best masonry contractor, Mr. Handyman put together this guide outlining 10 questions to ask before hiring a masonry contractor in Union County, New Jersey.
Listed below are the most commonly asked questions when considering the task of hiring a mason:
1. Are You Certified with the MCAA?
Having the correct certification is one way to distinguish expert contractors from other companies. The Masonry Contractors Association of America has developed the Masonry Certification program for exactly this reason. When a masonry company gets certified with the MCAA, it's a clear and measurable way to demonstrate its dedication to excellence. Without certification, it's difficult for customers to objectively measure and determine a masonry contractor's quality. That's why it's important to ask the masonry company you're interested in hiring if they have been certified with the Masonry Contractors Association of America.
2. What Level of Experience Do You Have?
When it comes to experience, there are two main areas that you should inquire about before hiring a "masonry contractor near me." Not only will you want to inquire about overall years of operation for the business and years of experience the specific contractor has, but you'll also want to ask whether the company has experience with the specific masonry materials you want to use for your project (marble, tile, brick, etc.).
Experience with Materials?
When it comes to masonry, there are many materials, projects, and branches associated with the craft. For instance, one masonry contractor might specialize in brickwork while another specializes in paving. Likewise, stonework involves particular techniques and skills that are not necessarily the same when it comes to brickwork. Depending on your home improvement project, you'll want to ask about what materials the masonry contractor is most experienced in using.
Years of Experience?
Experience is a defining factor for how qualified and trustworthy the Union County masonry contractor is. Be sure to not only ask about how long a company has been in operation but to receive details about the qualifications for the specific masonry contractor who will be completing work on your home.
3. What Will the Project Timeframe Be?
Take a moment to get on the same page with your masonry contractor regarding how long the project will take. While unforeseen circumstances can cause any home renovation project to take longer than anticipated at times, it's still important to have a sense of how long the project might take—especially if it requires a temporary disruption to your living area. Additionally, it's important for you to communicate clearly with your Union County masonry contractor regarding how soon you would like the project to be completed. Know what projects they are currently working on and if those projects could prevent the start of your project.
The Expectation of Work Completed
While discussing the estimated timeline for your masonry project to be completed, take the opportunity to also lay out the expectations for the project. Ask about details of the work being performed—including specific product names or any unique qualities you need to know about the project. Be sure to have all work details written down and if possible, ask to see samples of the materials that will be used.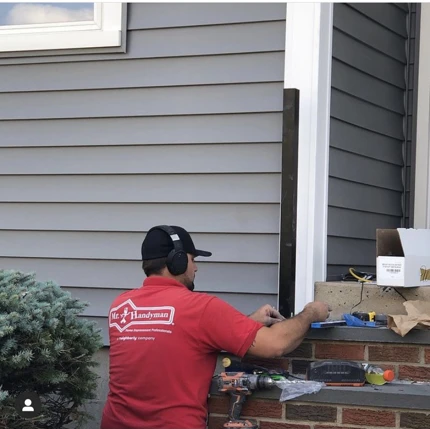 4. Do I Need to Prepare Anything Before the Project Starts?
Depending on the masonry contractor you hire, he or she might expect you to complete some prep work before the project starts to help move the process along. It's important to ask about these expectations with the Union County masonry company before the project begins. Once again, being on the same page as your contractor is imperative during a home improvement project. You'll likely need very clear instructions as to any materials you should purchase or prep work that needs to be completed in your home to ensure you've done everything correctly.
5. Who is Responsible for Materials?
Every good mason carries a lot of cement mix with them, but getting a clear understanding of who is responsible for acquiring the stone, brick, tile, or marble is something to ask upfront to ensure the project gets off without a hitch. Are you buying or is the mason? If the mason is buying the materials, have you recommended the product or will they come with samples for you to choose from? If the mason is bringing the materials and you prefer one brand over another, be sure to communicate that upfront.
6. Do You Have Pictures of Your Work?
The strongest recommendation for a company is one it receives from a previous customer. Check out their reviews online. Take a look at Google and Facebook for public reviews along with Angie's List and HomeAdvisor. Any reputable mason has a company page on these sites. Reviews are one of the best ways to tell if a masonry contractor will do the work they say they can do.
Ask For Photos of Completed Work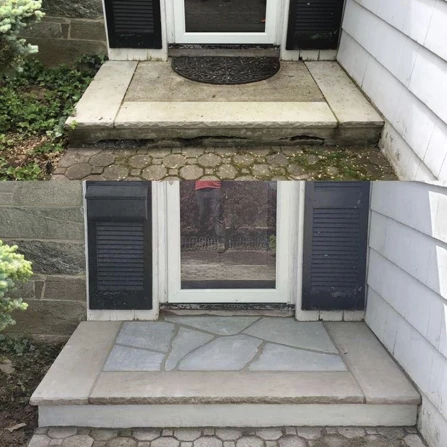 While written reviews and references are helpful to give you an idea of the quality of the masonry contractor you are interested in hiring, a picture is truly worth a thousand words. Be sure to ask the masonry company you'd like to hire if they can provide before and after images of work they've done that is similar to your home improvement project. Check for images on their website, Google, Facebook, and on their company pages listed on HomeAdvisor and Angie's List. Also, ask for their most recent pictures. Follow up with the masonry contractor after you reviewed the pictures with questions about who bought the materials, how long a project of that scope took, and if the pictures were of a repair to a current stonework structure or a full installation.
Reminder: Look Online
Customer reviews on Google My Business tends to be plentiful, detailed, and current and will give you a broad sense of the pros and cons of a given masonry company.
Look for a company with a high star rating with many reviews. We suggest selecting a contractor company that has a minimum of 4.5/5 stars. Check how recent and frequently the company gets reviews, the comments on quality of work, and feedback on overall experience.
Don't forget to check out the pictures on Google. Reviews on Google My Business sometimes include photos, which can help you see the end result of the masonry contractors' work from prior projects.
7. Do You Have Proof of Insurance?
Every mason should be fully insured with their workmen fully bonded. Insurance is a safeguard should something unforeseen happen. With insurance, the contractor is liable for any damage, so having a contractor with the proper insurance is imperative to protect you and your home from damages and financial loss. The kind of insurance you'll generally want to confirm is called Liability Insurance and Workers' Compensation Insurance.
8. How Does Payment Work?
When it comes to payment, there are a few things to think about and discuss with your contractor. These include the estimate, the payment schedule, and the available methods of payment.
Get an Estimate
Most Union County homeowners get a few different estimates from masonry contractors before selecting the mason for their home improvement project. When asking about your estimate, be sure to confirm any other fees you should be aware of such as overtime costs and material costs.
Payment Schedule/Types of Pricing
Every Union County masonry contractor company is different, and the expectations surrounding whether you'll have to pay a deposit, pay part of the fee upfront, or wait until the end to pay for all the work completed will vary per company.
Methods of Payment
How are you intending to pay for your masonry work? Whether by debit, credit, check, or e-transfer, it's important to ask the masonry company you want to hire how they accept payments and if there are any added fees for different types of payment options.
9. Do You Offer a Warranty?
With any work that's being done on your home, you'll want to inquire whether a given contracting company offers a warranty on its parts and services. When inquiring about a warranty, be sure to ask how long the warranty lasts.
Additionally, when a masonry company offers a warranty, it tends to be a sign that the company is confident in its abilities and believes that you will be satisfied with its services.
10. Will You Clean Up Before Leaving?
Although it might seem like common sense, not all masonry contractors clean up before leaving. That's why it is important to ask whether a business you're interested in hiring will clean up before leaving your home. Not only is this a sign of professionalism and integrity—demonstrating respect towards you and your home—but it also saves you from the time required to clean up a mess you did not make.
Depending on the type of project, it may not even be safe for you and your loved ones to be in the home until it is cleaned up. Tools, dust, and materials like bricks and cement can be dangerous if left lying around—especially if you have children and small pets.
Be sure you hire a masonry company that prioritizes your happiness and safety, and guarantees that they will clean up before leaving your home. It's also helpful to hire a masonry company that is dedicated to maintaining a tidy workspace as they complete your home improvement project; this makes cleaning up faster and ensures as little disruption as possible to your home's daily life.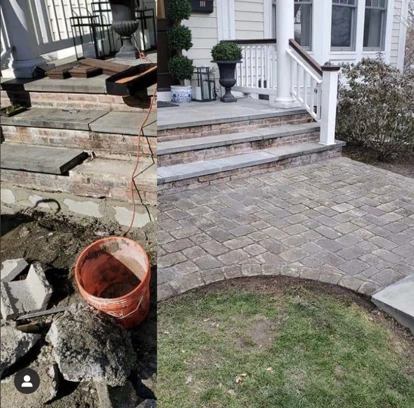 Hire The Right Masonry Contractor in Union County Today!
At Mr. Handyman of S Orange/Westfield/Scotch Plains & Metuchen, we offer our clients a range of masonry services. Our Union County masonry contractors are more than happy to help with any repair or project.
To learn more about our full range of services or to book a masonry service today, please call our friendly and helpful team, or request masonry services online. We look forward to hearing about your next project and are ready to answer any questions you may have and offer guidance along the way.