Tips to Plan Your Ideal Shower Remodel in Vancouver, WA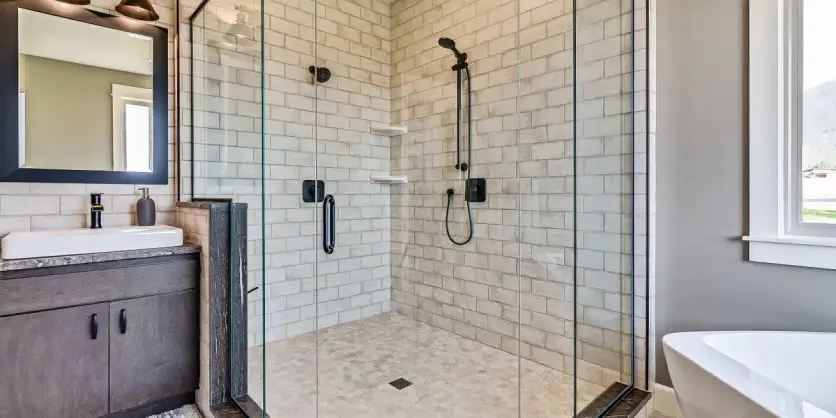 Are you looking for a way to improve the appearance and functionality of your bathroom—without the expense and hassle of tearing everything out and starting from scratch? With the help of a qualified, local handyman team, a shower remodeling project could be the perfect answer to refresh the room with a new look and make it function better for the unique needs of your household.
The shower is where we prepare for the day ahead or where we relax and escape after a long day. It's an important part of your daily routine, so it should work properly and be capable of accommodating the bathing routines of everyone in your family. But there's more to it than that—it should also look good, suit your own personal sense of style and enhance the overall appearance of the room. From shower conversions to shower replacements and beyond, the shower of your dreams is closer than you may think with the ideal Vancouver shower remodel.
When planning a shower remodel, Vancouver, WA, may be encountering a big challenge, which is why we put together some of our top tips to make the planning phase go off without a hitch. When you're ready to get started, rely on your local Vancouver handyman to take care of your complex project, including tasks like lighting installation and putting in new plumbing fixtures such as a rain shower head. The team of service professionals at Mr. Handyman of Vancouver, Camas, and Ridgefield have the skill and experience to completely transform your shower and provide dozens of other trusted handyman services as well.
1. Consider Current and Future Needs
When you first sit down and start to really think about what you want from your Vancouver shower remodel project, you'll naturally think about your life right now and what should be done to make your current routine easier and meet your current needs. But it's also really important to consider how those needs may change over the course of the next few years.
Maybe you're approaching your golden years, and it would make sense to consider accommodations that will make your bathroom safer and more comfortable for those with reduced mobility, or you're planning on expanding your family and need kid-friendly bathing options. Or, you may be thinking of selling your home—in that case, it makes sense to choose a neutral, classic shower remodel. Vancouver, WA homeowners, could increase property value and impress prospective home buyers.
Keep the Tub or Ditch It?
If you're not much of a bath person, you may be considering just getting rid of your bathtub altogether as part of your shower remodel. Vancouver, WA residents who have a shower-tub combo or just a solo bathtub and never use it, tub-to-shower conversion is an excellent way to get a large, luxurious walk-in shower. This way, you will improve your bathing experience and make the entire room feel brighter and more open. It also gives you the space to consider added amenities that will make your remodeling project more rewarding in the end, such as a double shower with separate shower heads to save time in the morning or a tiled bench that can give you added storage space along with the option to take a seat and relax.
Increase Property Value by Adding a Shower to a Half-Bath
Circling back to that "selling your home" scenario, if you want to increase property value and you have a half-bath or powder room with a toilet and sink only, you can get a nice return on investment by having your Vancouver handyman add a bathing stall and convert it into a three-quarter bath. That's especially true if your powder room is on a floor that doesn't have any other bathing options available.
2. Refresh Your Tile
Tile is generally accepted as the best material for shower walls and floors. It's durable, long-lasting, and water-resistant. It also comes in a staggering variety of colors, shapes, sizes, patterns, and textures, so a new tile shower installation is an excellent way to put your own stamp on the look and style of your home. Of course, that wide variety of options can also make it difficult to find the perfect choice for your particular remodels.
Porcelain and ceramic tile are the most popular options by far because they've got the durability to hold up well in high-traffic areas, and they're good at sealing out water. Porcelain and ceramic shower tiles are made from basically the same materials, but they have different fabrication processes. Subway tiles, which are rectangular and usually on the smaller side, are a popular format because they're the appropriate size to complement most remodels without feeling overwhelmingly busy or awkwardly large.
Opt for Mosaic Tile for Shower Floors
Generally speaking, mosaic tile is the optimal choice for the floor of your shower remodel. Vancouver, WA, homes will look artistic with the tiny size of each individual tile (usually around 1x2 inches) means that the installation can fit the pan perfectly and gently slope inwards in clean lines to keep water moving towards the shower drain. They also provide a little extra grip under your feet and are a great way to complement or contrast with the tiles on your wall.
3. Include In-Shower Storage
When planning a shower remodel in Vancouver, WA, residents sometimes neglect to include storage inside the stall for items that need to be kept close at hand. That could include shampoo and conditioner bottles, soap, shaving cream, loofahs, and dozens of other possible products, depending on your particular grooming routine. If you plan to use a removable rack that hangs on your shower head, make sure the fixture is the correct type to support it properly. You may also choose to have cubbies that are indented in the tile wall to provide shelf space or borrow some room on a wide tiled bench.
4. Choose Glass Shower Doors
If you've ever accidentally gotten tangled up in a dirty, plastic shower curtain—or even had one graze you while you're trying to wash—you already know why glass partitions and glass-hinged shower doors are such a great idea. Aside from the huge bonus of eliminating shower curtains for good, they also let light pass into or through the shower area much more easily, so you can take advantage of your current lighting set-up and maximize natural light as much as possible. A glass shower enclosure is easy to clean and makes the whole room feel more open.
5. Caulking is Crucial
You may be wondering if the grout is really going to be able to prevent water from leaking. That's a fair question—grout is cement-based, and cement is somewhat porous, so it isn't necessarily the most watertight material. It's worth noting that grout is a masonry product that forms a strong bond with the backboard and thin-set behind tiles. If it sat soaking in water for a long time, it would crumble or crack apart and spring a leak, but spray from your bathing fixture isn't likely to cause an issue.
However, it is still a good idea to give it a little extra protection against costly water leaks. By having your handyman caulk over top of grout lines during a Vancouver shower remodel, you can avoid any potential moisture seepage. More importantly, the silicone barrier formed by caulking will prevent dirt and bacteria from getting into the tiny, porous holes of grout and festering, making grout look dingy and discolored. Since silicone provides a smooth, watertight surface, it also makes cleaning easier. Another option is to use epoxy grout, which is not cement-based and therefore offers far greater water resistance.
Replace Caulk Every Five Years
While the caulk is a necessary part of a Vancouver shower remodel and is used in many other places around your house as well, it does have a drawback—it needs to be replaced every five years in an area like the bathroom that is highly prone to water exposure. After about five years, it will start to peel away from the grout and compromise both water resistance and appearance. You can count on your local Vancouver handyman to take care of routine caulking services in your bathroom and elsewhere around your property.
6. Don't Forget Ventilation and Lighting
Adequate lighting and ventilation are extremely important considerations for a Vancouver shower remodel, but they're often overlooked. Natural light is a plus, especially from a bathroom skylight, but that's not always feasible. It may not be necessary to have a lighting fixture directly above the stall, as long as there's one near enough to shine lots of light in there. Bath-rated fixtures are another option that is safe to have in close proximity to water.
Proper ventilation such as a shower vent fan is critical because hot water steams up bathrooms, and all that humid air condenses on surfaces, seeping in and causing serious water damage like softened, crumbling drywall and rotten wood trim. A bath fan sucks up steam and exhausts it outdoors, helping to keep your bathroom dry so you can avoid the moisture incursion problems that are associated with poor ventilation.
7. Add Safety and Comfort Amenities
Whether you have mobility limitations or you'd like to make your home more comfortable and welcoming for family members and friends who have difficulty moving around, it makes sense to consider adding some accessibility modifications to your remodel plans. That could include a barrier-free shower entry, seating such as a built-in bench, and grab bars to lean on or steady oneself.
If you're not planning to remove your old tile during your remodel, you may be concerned that grab bar installation can't be done. We actually don't need to remove your old tile at all to put up the grab bars, though we will have to drill holes in them. Once the grab bars are installed, the holes will be completely concealed, and we'll caulk around the edges to prevent moisture from getting in.
Install Vertical and Horizontal Grab Bars
When it comes to a large shower stall or a tub-shower combination, the best practice is to place a vertical bar on the wall opposite the faucet and a horizontal bar running along the side wall. The sidebar should be as long as possible, ideally spanning the length of the shower, and it must be about 30 inches above the floor. It's also a good idea to include another vertical bar near the faucet handles to make getting in and out a lot easier and provide support when transitioning to or from a seated position.
Portable Seating Options are Available
Some stalls don't have room for a permanent bench seat installation, or it would be preferable to adjust between having a seat or not having it so a wheelchair can be accommodated, or there's extra floor space for people who would rather have more foot room. In that case, portable seats are a Vancouver shower remodel alternative worth looking into. In many cases, they are more comfortable and accessible than a bench for someone with reduced mobility, and they can be easily folded up and stowed away in a closet when they are not needed.
Want the Benefits of an Expert Vancouver Shower Remodel for Your Home?
Homeowners and commercial property owners alike can get the same outstanding workmanship and excellent customer service from the team of professionals at Mr. Handyman of Vancouver, Camas, and Ridgefield, regardless of whether they are in Vancouver, WA, or a nearby part of Clark County like Brush Prairie, Washougal or Battle Ground. We are experienced with a wide range of home repair, maintenance, and improvement projects in the homes and businesses in this area.
Contact us today by picking up the phone and calling us to schedule an appointment at a time that's convenient for you or to speak with our friendly customer service representatives about what we can do to make your home more comfortable and appealing. We can help with everything from remodeling to routine projects like door repair.